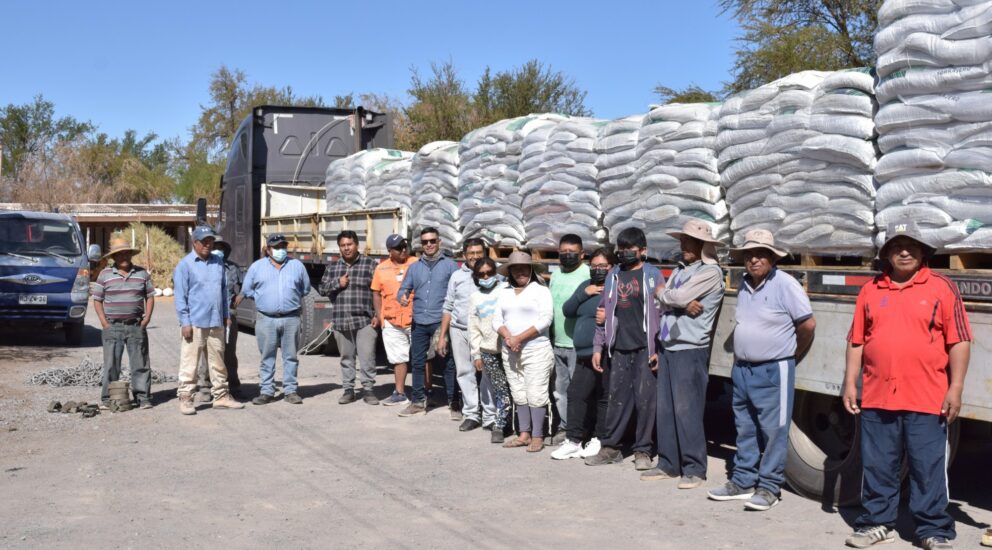 Twenty tons of animal feed donated to ranchers in Pampa del Tamarugal
08/Aug/2022
The contribution is one of many led by SQM through its Atacama Tierra Fértil farming and ranching program in northern Chile.
Members of the Pampa del Tamarugal Rural Aymara Association received 20 tons of feed for their sheep and goat herds in the different sectors of the pampa and the reserve. This donation was led by SQM as part of diverse initiatives it carries out to promote farming and ranching in the Tarapacá and Antofagasta regions.
Jesús Mollo Gómez, the association's secretary, explained that "preserving our Aymara culture through ranching and passing this knowledge down to our children is fundamental, so it is very important to work with private companies that contribute to our development. The association hopes to continue working on this type of initiative to rebuild our herds and make our work sustainable over time."
At the meeting to deliver the feed, Gary Mérida, SQM's Head of Community Relations, explained: "As part of SQM's Sustainability Plan to create shared social value and sustainably develop neighboring communities, our company engages in this type of work with ranchers, supporting them with feed for their sheep and goat herds. This is the second delivery in 2022 of fresh, nutritional feed for their animals. The program also involves other lines of work with ranchers."
The Aymara indigenous populations have occupied different sectors throughout history, from the antiplano to the pampa, including the foothills of the Andes and valleys in between. Pampa del Tamarugal is currently an ecological and environmental reserve and is protected by the state through the National System of Protected Wild Areas.
In this context, Bernarda Ticuna Mamani, a rancher from Pampa del Tamarugal, expressed her gratitude to the company for this donation, adding: "I have raised and educated my children by working as a rancher. Because of the current food crisis, it is very important to receive this help, so I thank SQM for this feed and for enabling us to continue our ranching traditions here in Pampa del Tamarugal."
SQM's Atacama Tierra Fértil Program was set up in 2008 to provide farmers with technical advising and collaboration from the company's own multidisciplinary team of professionals to develop their crops and production.