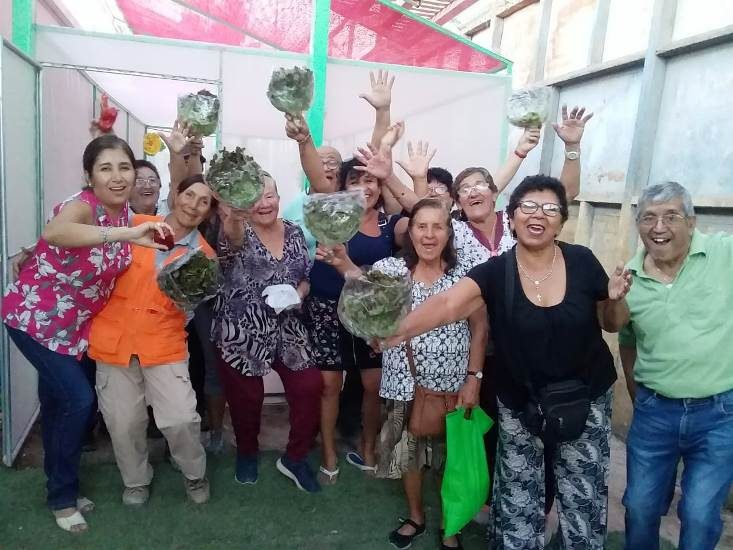 Senior Citizens from María Elena Learn to Grow Hydroponic Crops
20/Jan/2020
(Español) Con el objetivo de mejorar la calidad de vida de la población más longeva de la comuna pampina, Hidroponía Chile, el Consultorio de Salud Familiar y SQM, dictaron un taller de hidroponía para capacitar a los adultos mayores en la producción hidropónica de diversos cultivos.
In order to improve the quality of life of older residents of the pampa community, Hidroponía Chile, the local family health clinic and SQM joined forces to give a workshop on hydroponics to teach senior citizens how to produce a variety of hydroponic crops.
During the three-week program, 20 men and women participated in the first hydroponics workshop given in María Elena for senior citizens. The workshop took place at the town's "Community Garden", where participants gained knowledge and farming techniques that range from building a greenhouse to sowing and germinating seeds, culminating with the harvest, which will take place within three months.
The workshop participants, who planted lettuce, bell peppers and chard, valued the initiative, which gave them a boost of energy and spiced up their routines.
The workshop was given by Jorge Arenas, manager of Hidroponía Chile, who confirmed: "It was a great experience. The participation of the senior citizens was very positive. They were brimming with energy, and always open to learn more about this new way of farming, which is a perfect fit for the climate conditions in María Elena."
"A very nice dynamic was created with the senior citizens; they participated a lot and were very interested in learning more. Such opportunities give them a new way to interact and put aside conversations about medicine and illnesses," explained Brisa Araya, the director of the health clinic.
Pablo Pisani, Director of Communications, Sustainability and Public Affairs at SQM, highlighted that: "We are very happy with the response from our senior citizens, who approached this training as an innovative therapy or treatment to improve their quality of life. In the future, this initiative could incorporate more commercial elements so they can sell their produce, and it can also be part of their diet to improve their eating."
The workshop was given in the town's 27-m2 Community Garden, which features exterior shading, a drip irrigation system and a floating root table with recirculating water.