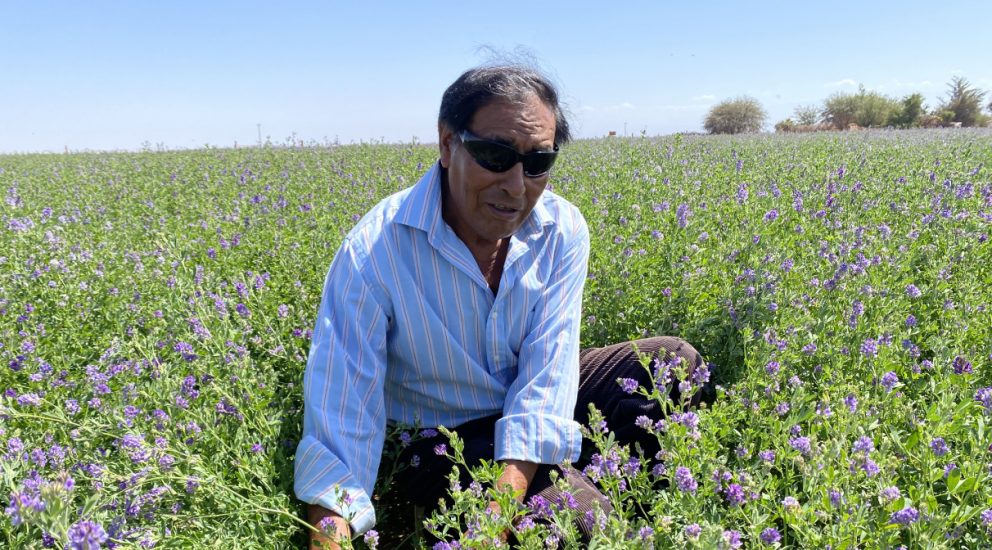 Farmers in Pintados Transform Desert into Garden
In the Tamarugal pampa, the salinity of the soil forms a natural phenomenon known as "Active Curls" ("Crespos Activos"); farmers in the agricultural association Asociación Tierra de Jehová in Pintados have converted this dry earth characteristic of the Atacama Desert into fertile land for growing alfalfa and other crops.
The soil in the Tamarugal pampa is clay-loam and it has a high content of salts such as sodium, chloride and sulfates. This morphology limited the farmers in Pintados for years since working with land in these conditions requires additional resources and labor.
In order to improve and increase the soil's yield, the association's 14 members began using a "soil washing" technique. The objective of this process is to transform saline soil into farmable land. They began the process, which consists of removing the soil with machinery and then applying guano and sand, with support from SQM's Tamarugal Tierra Fértil agricultural program.
José Quispe, an association member, is one of the individuals driving the transition that the community and its farming practices are undergoing. For him, the results of this joint work with SQM are evident since 3 hectares of alfalfa and other crops such as onion, green onion, chard, among others, are already being produced.
"The support we have from the public and private sectors has been essential for us as farmers. Eight members from the association are working the earth while the other six are conducting research to continue making progress. Without a doubt, the supplies donated by SQM such as sand and technical advising have been key in strengthening local farming," the farmer commented.
Alejandro Riquelme, an agricultural engineer from SQM's Tamarugal Tierra Fértil Program, explained: "We are very proud of the results. We have managed to reverse a problem that the farmers were facing due to the soil's high salinity. This joint effort dates back a few years thanks to the support agreement we currently have with the association because of the potential, commitment and dedication we see from the farmers."
The professional added: "We have a series of challenges ahead of us. For example, today we are beginning to work with a drip irrigation system, which makes the production process much more sustainable. Before they relied on flood irrigation, which does not optimize water use."
Another innovation from the farmers is the use of solar panels connected to two water tanks, one to collect water and another to integrate and feed the drip irrigation system.
As part of its support, SQM also donated a tractor and 100 kilos of potassium nitrate. This 100% natural product is produced by the company in northern Chile and sold on six continents.