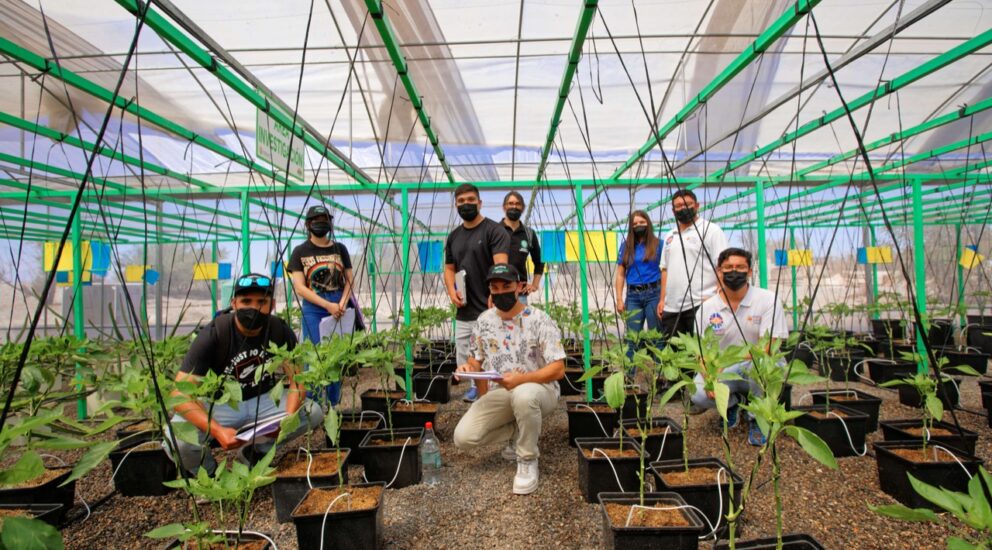 Students from UNAP's Environmental Engineering Program participated in practical course at experimental greenhouse in La Tirana
03/Aug/2022
The students worked on identifying the main elements used in hydroponics and evaluating the environmental impact that this type of farming has on the region, among other topics.
Pampa del Tamarugal, specifically the town of La Tirana, is home to the Agriculture and Livestock Research and Development Center, which includes an experimental hydroponics greenhouse developed by SQM and Fundación La Semilla through an agreement with the Municipality of Pozo Almonte. The facility welcomed students from the environmental engineering program at Universidad Arturo Prat to conduct part of their practical curriculum there during the first semester of 2022.
This initiative is aligned with both the center's main objectives of being a model for social, educational and training purposes and the core elements of the company's Sustainability Plan.
As explained by Pablo Pisani, Director of Communities and Public Affairs for SQM's Nitrate and Iodine businesses: "These on-site classes for students from Tarapacá were an important component for us. Through the Atacama Tierra Fértil Program, which has been in existence for 10 years, we strive to be a point of reference that demonstrates how farming and ranching can be taken to a higher technical level, which allows for interesting business models for the different neighboring communities."
Among the special features of this experimental center are the ability to control humidity and solar radiation, as well as a modern system that optimizes water use in an area with very extreme weather conditions.
UNAP Chancellor Alberto Martínez highlighted the initiatives developed by the working group made up of representatives from the university, SQM and the local municipality. "This multi-sector work enabled an entire, semester-long class to take place with on-site learning, as we call it, and we are very proud that our students are putting into real practice the knowledge that they are acquiring in the class."
For his part, Juan Segovia, a professor of environmental engineering at UNAP, added that "the students analyzed lettuce, pepper and chard crops and identified the main elements being used, such as the amount of fertilizer, water or energy, and evaluated the environmental impacts generated by this type of industry, based on which they prepared technical recommendations on how to improve this experimental hydroponic system."
In addition to the technical knowledge acquired by the students, there are many other important aspects of their learning, such as teamwork and positive leadership.
"It was a very pleasant experience because you realize how much we have learned as students and we were also able to delve deeper from the more technical conversations given by the professionals there to help us improve and build our knowledge," remarked Guillermo Mellado a student at UNAP.
Finally, the Mayor of Pozo Almonte, Richard Godoy, recognized the complex water situation in Tarapacá and the country as a whole, "as a result, innovation, development and the installed capacity of private companies enable us to dream about a better future, which is why we value this tremendous project in Tarapacá. I hope it is an alternative for making changes to the production matrix in our region."