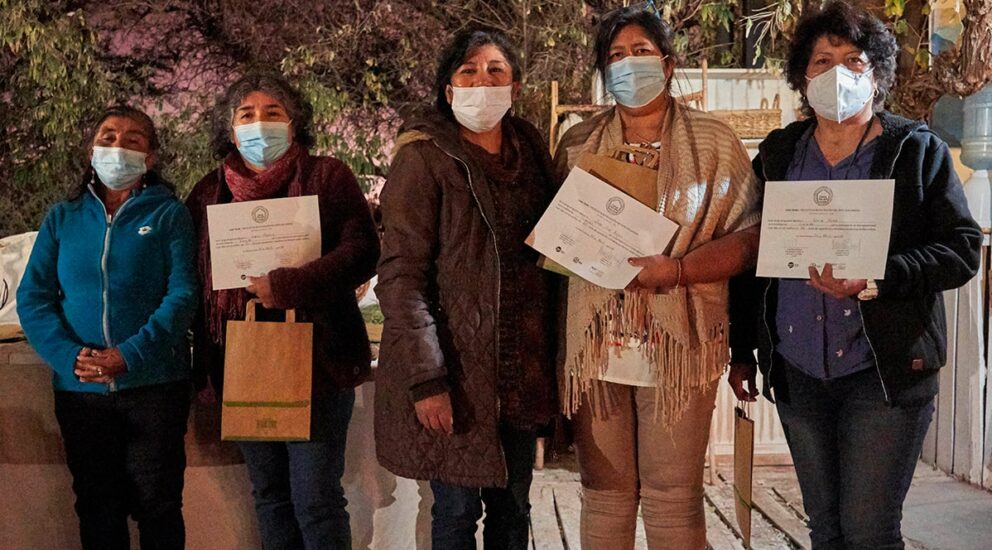 Casa Telar: Salar de Atacama artisans certified in Andean textile techniques
17/May/2022
The initiative, which was launched in 2018 and in its most recent version trained 50 individuals, seeks to strengthen knowledge of this textile art in the territory, adding value to this ancient practice and its expressions of territorial identity.
Revitalizing the textile art of the Lickan Antay people is the main goal of Casa Telar, which was launched in partnership with the community in 2018 and recently achieved a new milestone when its members became certified textile artisans. The participants attended courses on both theory and practice, successfully completing this new cycle of learning.
The project, sponsored by SQM and Fundación ONA, arose from the interest shown by weavers from the communities of Larache, Socaire, Talabre and Toconao, who took it on as a personal and community-wide quest aimed at learning, teaching and creating business opportunities. It will enable them to build skills and supplement their income through the textile trade, thereby strengthening the family economies of its members.
During the certification ceremony, the students (both women and men) were applauded for their hard work and commitment. Toconao resident Inés Cruz, who received an award for the "Greatest Commitment and Spirit," commented: "Weaving is important to us, and all or most of us have it in our blood. It is part of the culture we have to preserve and maintain over time, recovering textile-making, and the ancient techniques to practice it, so we can transmit them to our children."
Laura Segovia of the Larache community was also singled out, with the "Most Improved Learner" award. After receiving it, the weaver explained: "You can say you want to revive the skills, but keeping them up is hard; but here we are, fighting to continue learning."
Talabre resident Antonia Mondaca, for her part, was voted "Best Classmate." "It's a really lovely experience. I've been practicing this craft since I was a little girl. I am thankful for the certification they gave me and grateful that they will continue to support us going forward. It's been a very good experience," she said.
Speaking about the program's history and the opportunities it has provided, SQM VP of Corporate Services José Miguel Berguño indicated that: "We are very proud of the outcomes of this program over its five-year history, as it has enabled us to reconnect with ancestral traditions and the culture related to textile art. We at SQM are very pleased to support and to work together to recover this art, and in that way to foster the development of those who live in the Salar de Atacama area, by revitalizing this heritage and creating shared social value.  We certainly value the drive, experience, talent and perseverance of the participants for achieving so much."
According to Macarena Peña, the Director of Fundación ONA, which implemented the project, "through Casa Telar we will continue to help raise the profile of the textile-making craft, and revalue the ancient techniques that make the products of its members so unique. It is important to mention that the camelid fiber used for weaving comes from locally-raised llamas." In that regard, the raw material used strengthens the production and value chains, as llama herders in the area provide the fiber to make the diverse textile products.
María Alejandra Zuleta, SQM's Head of Community Affairs for the Salar de Atacama, commented: "By creating these collaborative learning opportunities and adapting them at different stages of the pandemic, we have been able to keep these communities vibrantly connected through textile-making, enabling us to promote and preserve their ancient legacies."
With this certification, Casa Telar will focus on creating different products of tremendous cultural value and unique quality that can be sold. This will not only enliven the local production chain, but will also increase community members' regard for their own culture and traditions.