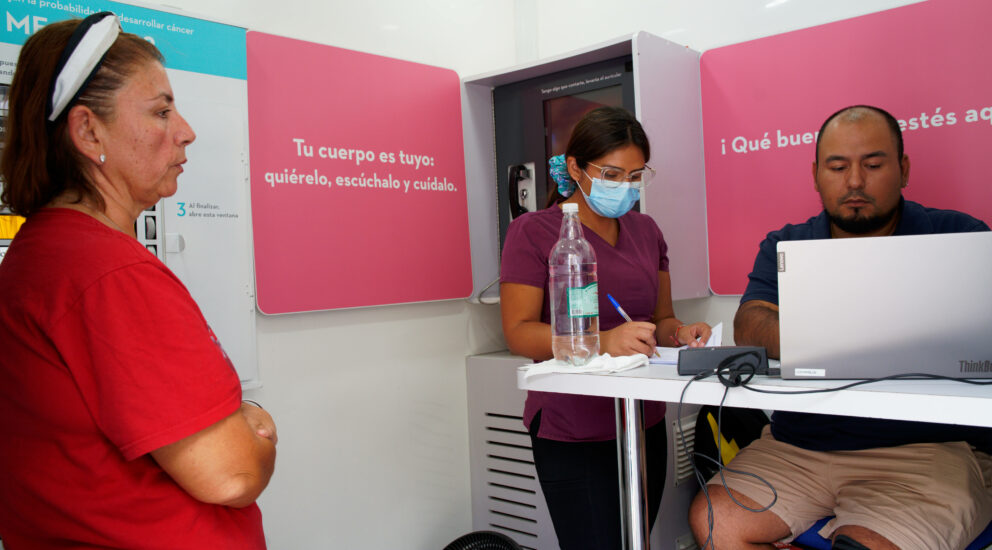 Mobile Clinic Tours El Tamarugal Offering Breast Cancer Screenings
24/Feb/2023
More than 400 women from remote towns in the districts of Huara and Pozo Almonte benefited from a mobile clinic offering free mammograms.
According to data from the International Agency for Research on Cancer (IARC), the incidence of breast cancer in Chile is 55 per 100,000 women. To make matters worse, it is one of the most lethal cancers in our country. Early detection is one of the main ways to reduce deaths from this disease.
In order to help improve the quality of life of women in El Tamarugal Province, SQM joined forces with the municipalities of Huara and Pozo Almonte and the Arturo López Pérez Foundation (FALP) to provide mammography screenings in the towns of Pisagua, Bajo Soga, Huara, Pozo Almonte, La Tirana and La Huayca over the last few weeks.
"As a company we are very pleased to be able to reach out to remote towns like Huara and Pozo Almonte with this type of initiative. We know demand for this type of exams spiked after the pandemic, which is why we signed an agreement with the Arturo López Pérez Foundation to provide mammograms to women in these communities as part of the ongoing work we do with the municipalities," said Gary Mérida, Head of Community Relations at SQM, during one of the screening initiatives.
"It's a great initiative where we can take care of ourselves right here in La Huayca and not spend money on transportation. I had a mammogram about two years ago in Iquique and it is very important to do it more often, so I am grateful for this attention because we will soon have our results right here at the health center," said Fresia Cortés, a beneficiary in La Huayca.
The patients also received a brief talk by FALP professionals on prevention and early detection of breast nodules or cysts, a self-examination that seeks to reduce the alarming figures of this cancer in the country.
"This social activity fills us with satisfaction since we are working to prevent such a serious disease and also get to share with neighbors who appreciate this opportunity. It is a team effort together with the local health center, which gave us a list of the people who are treated here in order to make sure that the benefit reaches those who need it," said Gabriela Jara, FALP medical technologist.
This initiative is directly related to the company's Sustainability Plan, focused on integral and sustainable development of the communities surrounding its operations.