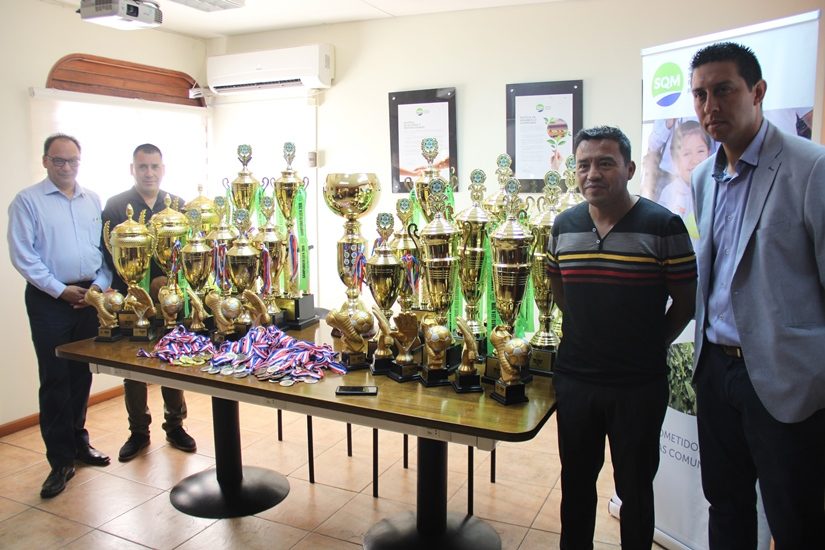 Salar Athletics Club Celebrates Successful 2019
20/Jan/2020
SQM Salar added a new title to its portfolio: The El Ancla Amateur Soccer Association's Senior Cup. The win brought a successful year of soccer and basketball to a close.
SQM Salar's Senior Team defeated five rivals to take the El Ancla Amateur Soccer Association title. The win is just one of the triumphs that Salar Athletics enjoyed in 2019. The organization also won the soccer and basketball championships in the senior, children's and women's divisions.
The Salar Athletics Club seeks to build culture and social awareness through sports, encouraging athletes to compete at a high level and to enjoy the social aspect of the organization. "We've worked with SQM to maintain a robust social program oriented towards athletics institutions for the past ten years. This year, we decided to support the Antofagasta Soccer School League (LEFA), donating all of the trophies and medals that were given to the winners," notes Club President Claudio Castillo.
"We are very proud to contribute to Chilean sports. It isn't just about soccer. It is also about creating change and helping to develop social awareness among children and their families that allows them to make change in society," Castillo added.
The LEFA was founded over ten years ago and hosts various clubs and formal and new schools, serving over 1,700 children throughout the Antofagasta Region.
The organization's leadership decided to close out the year by recognizing the people who have become allies and drivers of development for local sports. They highlighted the efforts of Potassium Lithium Operations Manager Gilbert Maldonado and Salar del Carmen Production Manager Humberto Carvajal. In accordance with tradition, the club also organized Christmas celebrations to benefit less fortunate communities in Antofagasta.