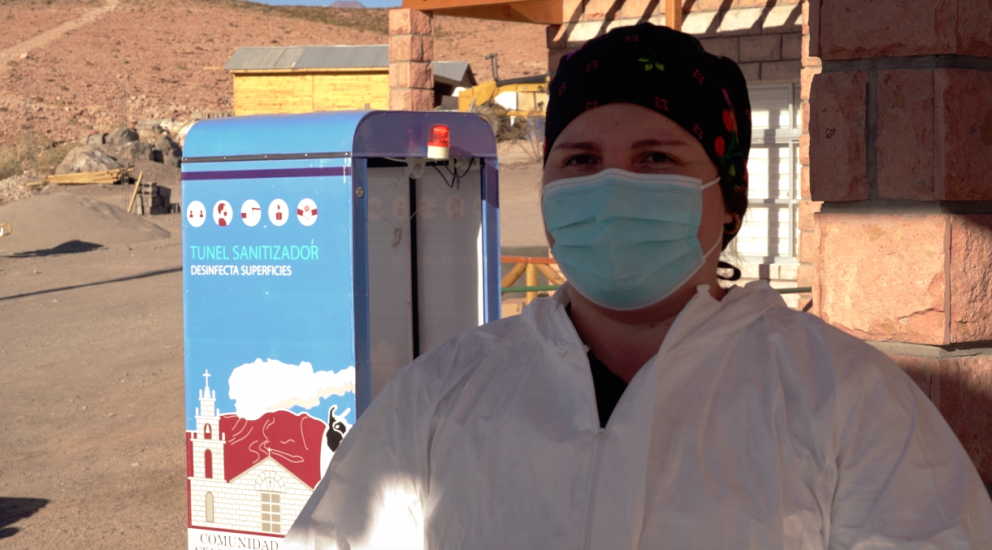 Community of Talabre Now Has Medical Team and Quarantine Residence
21/Sep/2020
In order to reduce COVID-19 contagion statistics and protect local families, neighbors replicate strategy implemented by other communities in the Salar de Atacama with support from SQM.
A medical team that will see patients at the Rural Medical Clinic in Talabre and make house calls for COVID-19 positive patients, preventative quarantines, a public-use disinfection tunnel and a quarantine residence are just a few of the initiatives that the community is using to combat the pandemic every day.
"It is very important for the town of Talabre to have a medical team, since we are a neglected community in this sense. The virus has hit us very hard but we are turning the corner thanks to organization by local residents," explained Elisa Soza, president of the Talabre Atacameña Indigenous Community.
She added that "today we can say that we have not detected any more cases in our community and we are much better prepared to cope with this virus."
With SQM's support, efforts have been made to reduce the spread of COVID-19 and stock the town with supplies. This has been accomplished by working to prevent, disinfect, shelter in place and provide a medical team to combat the virus quickly and opportunely.
Ángela Valerio, the town's general physician, emphasized that "Talabre is a complicated community in terms of healthcare because of its remoteness. People don't have many options for medical attention. Therefore, I think it's perfect that they are receiving this assistance and that synergies are generated with private companies. That way we can do everything we can to cope with this pandemic in the best way possible."
On the topic, Alejandro Bucher, Environment and Community Senior Vice-President for SQM Salar, pointed out, "This is part of a collaboration agreement that arose from the community and is designed to support the different towns in Salar de Atacama during the pandemic. We have a conviction to help with supplies, medical teams and disinfection measures, both at our facilities and outside, and thus to make a positive contribution to our neighbors. Today we continue to strengthen our health measures and have expanded medical teams in the different towns around Salar de Atacama."
HEALTH MEASURES
More than 30 people in Talabre have been examined by the medical team. Some of these visits have been house calls, while others are checkups for children, youth and older adults at the town's rural health clinic. In addition, a full quarantine residence was set up for COVID-19 positive patients from the community.
"This residence was built to help residents that have tested positive to a CRP test and cannot quarantine at home. This is very important to the community, which has several large families with children who they want to protect. Through these measures, we are going to prevent continued spread and ensure the neighbors have a place where they can quarantine safely," remarked Abigail Lique, coordinator of the tourism team for the Talabre Atacameña Indigenous Community.
The local general physician also said, "Currently we are working all day and at night we are on call for emergencies. We will do this until December. Last week we began doing house calls for COVID-19 positive patients and this week we are seeing patients for all types of consultations. Today we continue to care for patients with a variety of diseases and we will also soon welcome a group of more specialized physicians visiting from San Pedro de Atacama."
Comunidad
Salar de Atacama
SQM