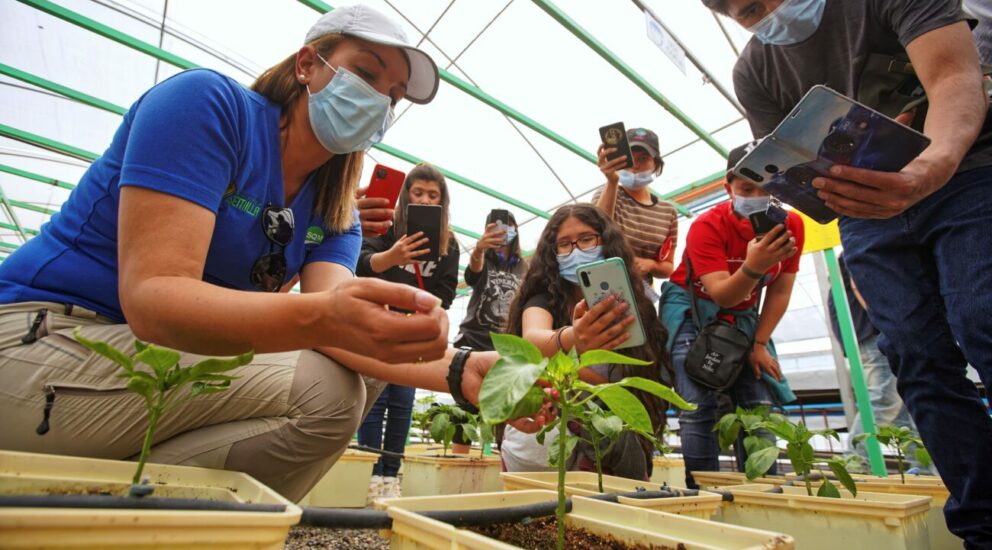 Successful First Farming and Ranching Innovation and Entrepreneurship Conference Attracted Over 300 People
26/Jul/2022
The event, held at the Los Pinos Camp Site in La Tirana, was open to the entire community. It featured training and innovation workshops as well as an agricultural entrepreneurship fair and guided tours for students from Tarapacá.
The First Farming and Ranching Innovation and Entrepreneurship Conference in the Tarapacá Region attracted a large audience. It was organized by SQM, the Regional Secretariat for Agriculture and the Municipality of Pozo Almonte as part of festivities to commemorate National Peasants' Day.
The traditional Pawa, an ancestral Aymara land tribute ceremony, kicked off the event. Attendees included the provincial delegate from El Tamarugal, Luz González; the Regional Secretary for Agriculture, Rubén López; the Regional Secretary for Education, Claudia Silva; the Mayor of Pozo Almonte, Richard Godoy; SQM's Senior Vice-President of Planning and Iodine-Nitrates Projects, Rodrigo Vera, as well as several regional and district councilpersons.
"As a company we are very happy to be part of this great farming and ranching innovation conference, which reaffirms our commitment to the community and the sustainable development of farming and ranching in Tarapacá. Our Sustainability Plan confirms this commitment through diverse initiatives that we have brought to life in partnership with communities and groups from Pintados, La Tirana, Pozo Almonte, Huara, Bajo Soga, Pisagua, among other towns. These programs aim to develop and optimize people's efforts and natural resources in work as noble as farming," commented SQM executive Rodrigo Vera at the inauguration.
Meanwhile, the Regional Secretary for Agriculture, Rubén López, said that this relationship with the private sector will enable us to move local farming and ranching into the future. Tarapacá is the north of farming in Chile and today we have the chance to sow the desert. I am proud to see young people from these seven districts visiting the greenhouse and participating in workshops on environmental education."
During the event, attendees participated in four presentations given by top professionals on topics like the feasibility of farming products in northern Chile; new nutrients and luminosity for agricultural development; technological advances in the industry and success stories in Chile and around the world.
In addition, student delegations from the region's seven districts participated in guided tours of the greenhouse, where they saw first-hand the hydroponic process and livened up diverse environmental education workshops given by Verdical.
Pozo Almonte Mayor Richard Godoy remarked that "in this ecosystem where peasants, farmers and ranchers co-exist, we must work together and in harmony as we have done for all these years and we must strengthen those alliances to continue to contribute to the development of our towns."
The farming and livestock event also featured an Agricultural Entrepreneurship Fair where 20 local farmers showcased their products, ranging from fresh vegetables to honey, eggs, fruit, cheese, handicrafts and other goods.
Elba Carrasco, an entrepreneur from La Huayca, stated that after two and a half years without this type of event, "Today I have the opportunity to bring my carob bean products like jams, syrup, chocolates, cookies, flour and coffee, all made using very natural processes. This initiative helps us show and sell our products, so we are grateful for the invitation. It is important for private companies to remain interested in entrepreneurs."
Pamela Chandía, a resident of Pintados, added that "this gathering helps us a lot to advertise our products and for the people from the province to learn about the many products made in this desert, such as honey, vegetables, fruit, jams, etc. This is a source of advertising for us."
Regarding the conference and the joint public/private sector work, the presidential delegate for the province of El Tamarugal, Luz González, said, "These partnerships enable us to innovate and strengthen entrepreneurship among our farmers. El Tamarugal is home to the largest percentage of farm workers. They strengthen our food system and contribute to the quality of life of our families," she added.
At the event, officials and attendees also toured the Pozo Almonte Agricultural Research and Development Center, which has a large experimental greenhouse and a cheesemaking facility. A few weeks ago the center hosted an intensive course for 13 residents of El Tamarugal to become certified in the process of manufacturing products derived from goat milk. All these initiatives are part of the community development plan that SQM has with communities near its operations, including the Atacama Tierra Fértil Program to support local farming and ranching.
Sustainable Development Goals