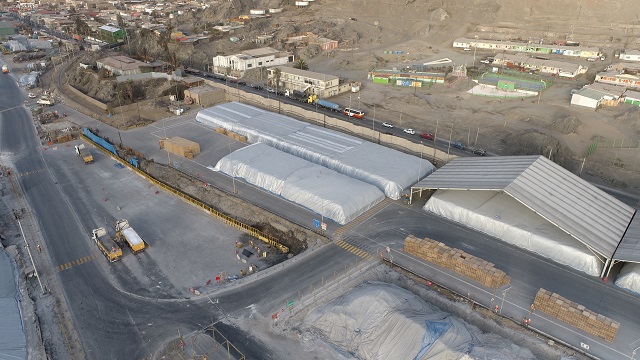 Port Prepares for DEWA Project in Dubai
14/Oct/2020
A major project is underway in Tocopilla to receive and ship solar salts that will be used in the DEWA project in Dubai.
The CADE yard at the Port of Tocopilla is currently undergoing multiple changes to increase total storage by around 3,300 m2. This will give it the space necessary to receive solar salts to be shipped to Dubai to breathe life into the DEWA project.
The agreement involves shipping more than 400,000 metric tons over a three-year period, starting in april of this year.
This expansion will allow the port to: boost storage capacity by 30% to 56 MTon; improve safety by expanding its fire fighting network; and be more environmentally sustainable, thanks to cobblestone pavers installed to reduce suspended particulate matter generated by machinery used in the storage and shipping process. As recalled by Cristian Álvarez, Head of Production and Packaging, "a while back there was a 'cloud of dust' that obstructed visibility and slowed loading and unloading. Today these tasks are quicker and cleaner, enabling us to meet environmental standards in line with the green SQM we want to build," he remarked.
Another highlight of this remodeling work is a new, safe circuit for truck transport to receive and ship products. It also improves cargo control in the yard, making it easier to determine the availability of products in good condition and reducing the amount of cargo that does not meet specifications due to breakage or filth.
The port's Project Area is actively participating in these changes, which also included dismantling an old material storage warehouse and implementing LED lighting, which helps us comply with the environmental decree concerning light pollution.
All these changes were implemented in 80 days, during which time the Project and Packaging areas worked together to keep an operational control that included modifying procedures to continue operating and meet all operating standards.
With this expansion, the Packaging Area looks to continue being the company's best alternative in safety, production, storage and shipment, both "in quality and in taking care of each logistics unit (bulk bags/pallets/bultos), so that each customer receives their cargo in good condition. We hope to continue along this path of continuous improvement; today we focused on storage, tomorrow we will improve packaging," concluded Álvarez.