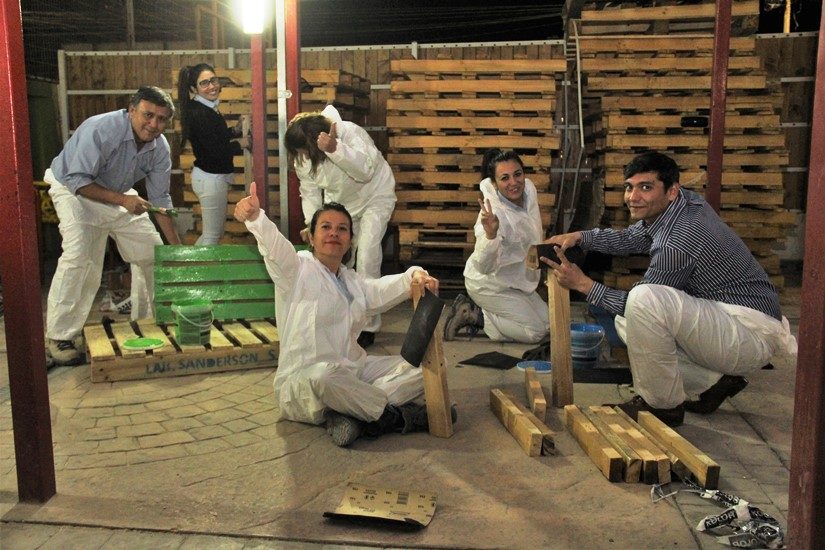 Volunteers in Action in María Elena
05/Dec/2019
More than 50 volunteers from Coya Sur and Pedro de Valdivia have breathed life into five initiatives, directly benefiting the residents of the pampa town.
Our corporate volunteer program, "Lend a Hand to Your Community" has sparked major interest in our employees, mainly because of the impact its projects have on neighbors and the volunteers' vocation of service.
Of the five initiatives, two are social in nature and three are related to education. One of the most noteworthy, both for the workers and the community of María Elena, involved building furniture for the fourth-grade classroom at Arturo Pérez Canto School.
"When I heard about the volunteer program, I didn't think twice. I am always willing to help and am grateful for the invitation to join them," asserted Raul Puebla, a worker in the thermofusion area in Coya Sur and leader of the furniture project. "It is important to participate because it is very gratifying to see how this furniture will be used and how useful it will be," he added.
Paulina Garrido works in the Human Resources Department and is very happy to participate. "The People Area is always willing to support and help with this type of initiative. It was a very beautiful experience; I'd invite the rest of my coworkers to take part and enjoy it."
Educational support programs are also being developed, such as one for the management program at the Humanities and Science Professional Technical High School, with talks given by the workers themselves to explain the Lean methodology and the M1 experience; and talks and technical visits for students from the chemistry lab technician program.
As far as social programs, currently volunteers are working on remodeling and repairing a container that will be re-purposed for the local health service's adolescent program.
"At the elementary school, we are working alongside teachers and students to build a greenhouse, which is being financed by SQM. It is a very nice project and will have a big impact on local children," remarked Leonor González, Head of Community Affairs and program leader in María Elena.
All these activities will continue in November and through the end of the year. Join, participate and do your part