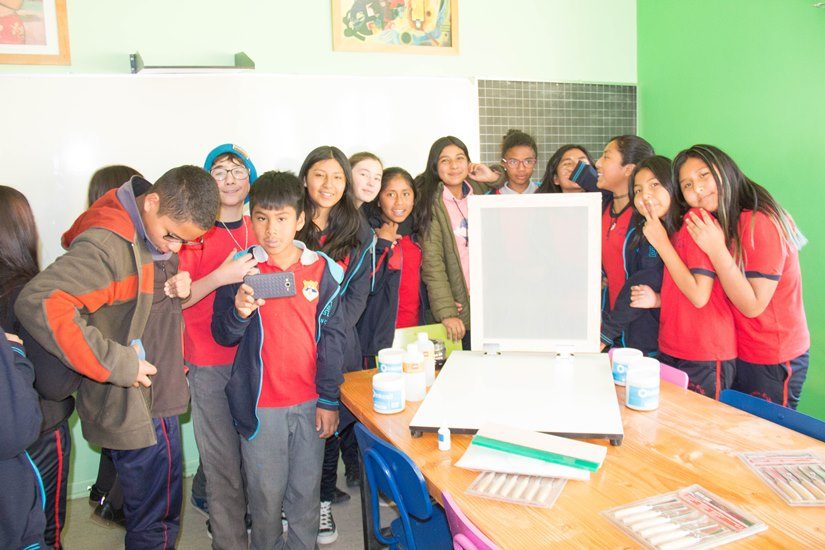 First Art Room Inaugurated in San Pedro de Atacama
27/Aug/2019
In order to strengthen and promote artistic expression, SQM joined forces with the Crea+ Foundation and the Municipal Education Department to implement a fully-equipped Art Room to be used by more than 400 first to fourth-grade students at School E-26 in San Pedro de Atacama.
The project arose from a need expressed by the art teacher, Maria Elena González, and was completed thanks to a public-private alliance between SQM, the Crea+ Foundation and the Municipal Education Department. These joint efforts gave life to the + Cultura Program, the results of which can already be seen: The school's first art room, known as "Pilpinto", which means butterfly in the Atacameño tongue of Kunza, was implemented and equipped with a variety of materials, tools and furnishings.
The space, designed to be used by more than 400 first- to fourth-grade students from School E-26, has a clear objective of developing creative processes that expand their imagination and highlighting the importance of the artistic expressions of the Lickan Antay culture. It also helps strengthen the district's cultural and social values, with local boys and girls being the first to benefit.
"As a teacher, I have always dreamed of having a space dedicated specifically to art. So, I am very happy that this project has come to fruition and am thankful for all the people that worked to make it happen because it will directly benefit our students and the community at large," commented María Elena González, visual arts teacher at School E-26.
Gilbert Maldonado, SQM's Salt Flat Operations Manager, remarked that "as a worker at the company I am proud to have inaugurated this facility because it is an immediate response to the needs of the community, and what could be better than encouraging creativity in kids, highlighting the importance of their ancestral culture and giving them tools to create."
María Teresa Véliz, a local councilwoman for San Pedro de Atacama, pointed out: "I believe that any type of initiative generated within the district is a milestone. This specific project is related to cultural sensitivity, which is certainly related to education."
+ Cultura Program
As part of efforts to be a supportive resource for the communities that live in the Salar de Atacama, SQM began working with the Crea+ Foundation to support cultural development and preserve heritage and the arts in San Pedro de Atacama. From this relationship, the + Cultura Program came about this year. This program includes several initiatives carried out in close partnership with district schools and other organizations. These initiatives aim to integrate and implement a set of activities to revive the local culture and strengthen the work of the schools.
Education and culture are fundamental components of the work SQM carries out with communities near its operations. Based on that perspective, it focuses on reviving and strengthening artistic expressions that have been developed in nearby towns and are part of their ancestral and cultural legacy.