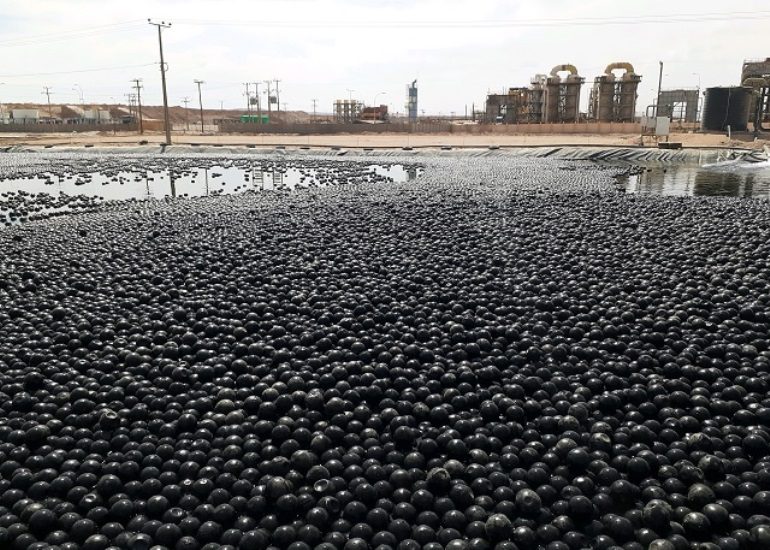 Optimizing Hydric Resources in Nueva Victoria
31/Aug/2020
This project is designed to improve hydric resource efficiency, blocking the sun with high-density polyethylene spheres to reduce water evaporation in storage ponds at our facilities.
"Every company faces the ongoing challenge of using water more efficiently, particularly given the current context of climate change that we are facing in the world, which involves long droughts like the ones that our country has experienced," notes NV Head of Hydric Resources, Mario Vargas.
SQM has undertaken this challenge, which sustainability poses to every company in the world, in various areas, including efficient use of natural resources, making sustainability a corporate value and adhering to the United Nations Global Compact and its 17 Sustainable Development Goals (SDG).
"The efficient use of hydric resources is a huge challenge for mining operations in terms of both the operations themselves and for other areas of consumption such as accommodation facilities, dining halls or offices. Given the high levels of radiation in northern Chile, the sun does not help us. It evaporates large quantities of water that could be available for processes," Vargas adds.
The ability to use this water in production processes or domestic consumption instead of losing it to evaporation generates added value from improved use of available water, which even boosts productivity.
For all of these reasons, we began conducting tests in ponds of water in the leaching area at Nueva Victoria using HDPE, or high-density polyethylene, spheres filled with water. They cover the exposed liquid surface and reduce water evaporation, significantly decreasing the loss of this resource.
The team then decided to cover a 2,400 square meter pond with a layer of HDPE bags. The idea was to observe the physical behavior and effectiveness of this pilot test, which yielded very good results. However, in an effort to achieve continuous improvement, HDPE hexagons with reduced space between each hexagon will soon be installed in a second pond to evaluate another option and determine which is best.
"The test is currently yielding results at the pilot and industrial levels of a near-70% decrease in evaporation. That is a significant volume of water that we can use in Nueva Victoria, and it has generated interest in taking this further," explains Hydrogeological Analyst Engineer Claudio Cayo regarding the results of the tests and the high-density polyethylene hexagon pilot.
The HDPE spheres and hexagons are made from recycled materials, thus increasing their environmental value since the resource recycles and reuses industrial solid waste. They have a useful life of approximately 15 years and stand up to high levels of solar radiation and high wind speeds, two of the main factors that influence water evaporation.
"We welcome this type of initiative because it contributes to production and sustainability. The idea is to evaluate the progress made through this test so that it can be incorporated into new projects, allowing us to implement more sustainable production processes and use resources more efficiently," comments Sandra Araya, Deputy Manager of Environmental Projects within the Mining Operations Division.
We congratulate the entire team on this innovative initiative, which helps to optimize water consumption in the middle of the pampa and allows us to take an important step forward on our journey towards sustainability.
Minería
Nueva Victoria
Sustentabilidad