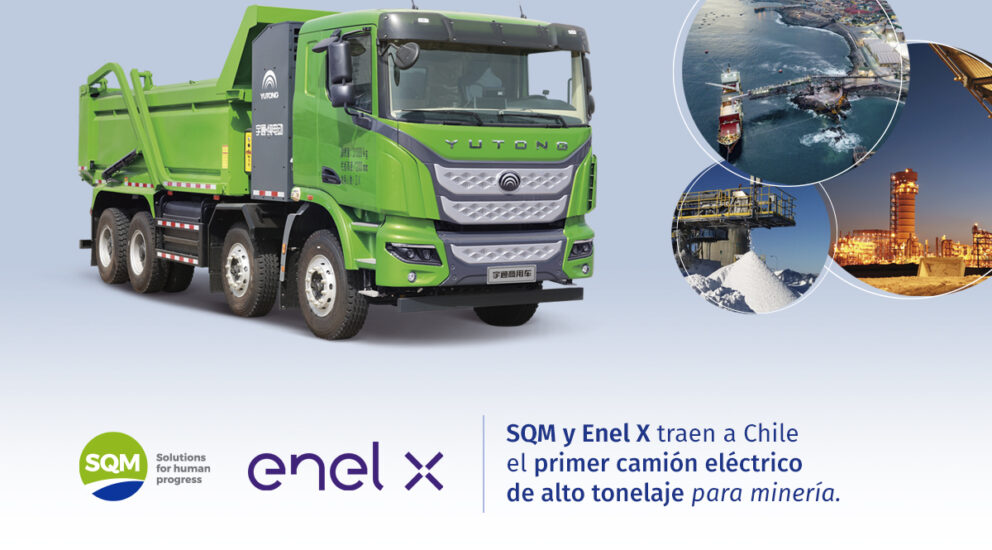 ENEL X AND SQM TO BRING FIRST ELECTRIC TRUCK FOR LARGE-SCALE MINING TO CHILE
21/Oct/2021
• With a range of up to 200 kilometers and 28 tons of capacity, Chile's first electric mining truck will be used at SQM's operations in the Antofagasta Region. The goal is to test the technology and progressively replace high-tonnage diesel trucks.
Each electric mining truck with these features can eliminate 12 tons of CO2 per year.
In an effort to test its range, capacity and operability, Enel X and SQM are bringing the "E-Truck" to Chile. It will be the first high-tonnage electric truck to be used in large-scale mining in the country.
The 28-ton capacity electric vehicle will be used at SQM's operations in the Antofagasta Region. In collaboration with the mining company, Enel X will install a high capacity charging station unlike any other in Chile.
The new "E-truck" is expected to make 86-kilometer trips from the Coya Sur plant in María Elena to the port of Tocopilla, traveling an estimated 7,500 kilometers per month. This will eliminate approximately 12 tons of CO2 per year.
The project is designed to test the autonomy of electric trucks for use in mining and their ability to function at the same level as comparable diesel mining trucks. It will also validate the truck's performance and its high power charging infrastructure, and will determine how it adapts to the plant's regular schedule, its work sites and its high salinity. 
Enel X and SQM developed a leasing model for the purchase of the electric truck and the installation of a 150 kW charging station that can fully charge the truck's battery in three hours. The charging infrastructure will be installed at the Coya Sur plant in María Elena, guaranteeing almost 200 kilometers of autonomy.
José Miguel Berguño, SQM's Senior Vice President of Nitrate Operations, remarked: "This initiative is part of our Corporate Sustainability Plan. Together with other goals and environmental commitments, it is designed to make the company carbon neutral by 2040. This is an important milestone for us as global leaders in the production of lithium, a key input for the development of electromobility. The initiative joins others, such as installing an off-grid electrical charging station at the Carmen Lithium Chemical Plant and incorporating maintenance shops for electric vehicles, which is a pioneering initiative in Chilean mining."
"The introduction of the first high-tonnage electric mining truck is a new milestone in the development of electromobility in Chile, which we are proud to be leading with our partners at SQM. This is a fundamental step in the efforts to move towards an increasingly clean energy matrix, and it also contributes to decarbonizing and electrifying the country's most important production sector," observed Enel X Chile CEO Karla Zapata. 
The first high-tonnage electric truck to operate in Chile's large-scale mining industry is a 28-ton Yutong ZKH5310ZLJP6BEV with a 422 kWh battery pack.
If the project is successful, the companies will add the Salar de Atacama-Carmen Lithium Chemical Plant route to the initiative. This is the highest traffic route for the lithium process, with 230 trucks in service. SQM work sites could replace 320 high-capacity diesel trucks with electric vehicles, 90 of which are used on the same route as the first truck, over a five-year period.
Enel X offers smart charging solutions meant to address customers' needs by implementing various technologies that allow them to charge vehicles with different formats at different speeds and in a variety of locations. These modular, scalable, turnkey solutions are designed for individuals, companies, institutions and industries.
About Enel X  
Enel X is the Enel Group's global business line offering services that accelerate innovation and drive the energy transition. A global leader in advanced energy solution sector, Enel X manages services such as demand response for around 6 GW of total capacity at global level and 124 MW of storage capacity installed worldwide, as well as around 175,000 public and private electric vehicle charging points made available around the globe.
About SQM
Based in northern Chile, SQM has provided solutions for human progress for 53 years through its five business lines. Its products are essential for the health, food and technology industries and for the generation of the clean energies that move the world.
SQM was built and is managed based on a culture of excellence, safety, sustainability and integrity. It seeks to position itself as a leader in sustainability in order to create a "green" brand through ongoing efforts to responsibly manage natural resources, care for the environment, build close, trust-based relationships with local communities and create shared social value.
Electromovilidad
Litio
SQM