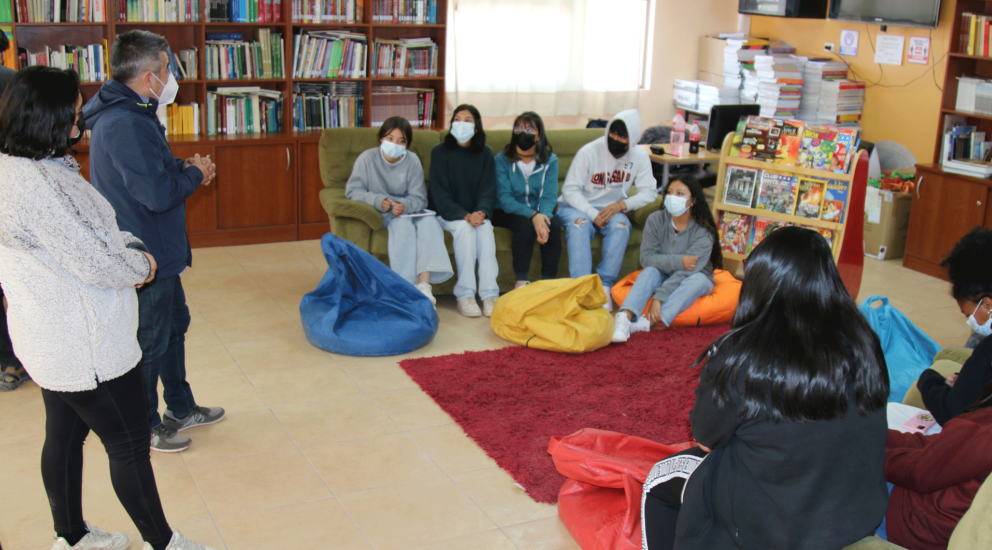 School community at Liceo Likan Antai High School in San Pedro de Atacama participated in workshops on leadership and getting along with others
09/Aug/2022
The opportunity for dialogue aimed at generating a personal space for reflection centered around the emotions and leadership skills of each student through group workshops and conversations. The educational activity was supported by Fundación Semilla and SQM.
The school community at Likan Antai High School in San Pedro de Atacama participated in workshops on getting along with others that brought together different stakeholders from the school. Teachers and students were given time to present ideas, develop social skills and share with each other at this gathering on school grounds. All of this was done to help them adapt and integrate back into the classroom after home schooling during the pandemic.
For Jonatan Varas, a 12th grade student in the tourism track, getting along with others at school is a key part of a student's learning process. "For me it is very important because, without a doubt, getting along at school is essential, especially with in-person learning. It allows us to work in teams while having harmonious relationships." 
A similar vision was had by Guillermo Avendaño, the coordinator of professional-technical programs at the school, who underscored: "It is statistically proven that outcomes are better when students and teachers get along in a classroom or school. When this exists, it goes hand in hand with good behavior. When boys and girls get along, it allows them to learn much more of what is taught on a daily basis." 
As a result, Marcos Salinas, the director of the "Leading Schools" program at Fundación La Semilla, said: "We are very happy to conduct this workshop to improve and fortify community work that teachers are doing to strengthen the educational process within technical degree programs taught at the school." 
Benji Fuenzalida, the head of community production at SQM Salar, commented: "As a company we believe that education is a cornerstone of the comprehensive and sustainable development of people and the community. That is why we wanted to support this training opportunity for students and teachers and expand it to all specialties at the school after having worked side by side with the farming program for the past decade. Today our work is with all of the school's programs, serving the new needs that emerged out of the pandemic."   
SQM's support is part of its Sustainability Plan focused on the sustainable development of the communities near its operations, concentrating on the creation of shared social value, respect and care for the environment, as well as the comprehensive development of the residents of the communities with which the company engages. 
Sustainable Development Goals