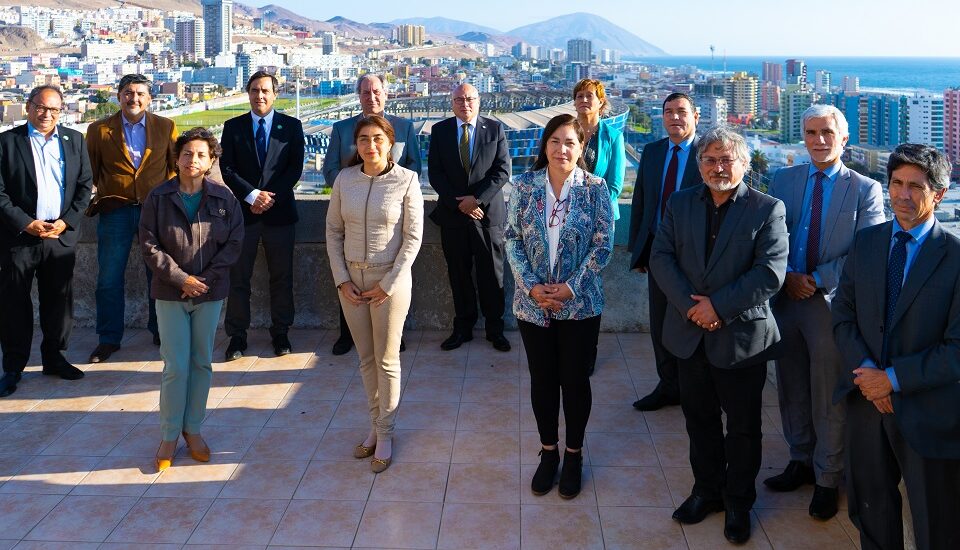 SQM and Corporación Clúster Minero sign framework collaboration agreement
14/Apr/2022
The ceremony marked a major reactivation of the mining association and comes hand in hand with a contribution from SQM for research and development over the next four years.
Officials from the foundation Corporación Clúster Minero for the Antofagasta Region, led by its president, Marko Razmilic, and director Aurora Williams, signed the Framework Collaboration Agreement to encourage integration between this entity and SQM, represented by José Miguel Berguño, Senior VP of Corporate Services. The goal is to expand knowledge and academic activities and develop science and technology projects of common interest.
The ceremony began with a few words from Razmilic, who applauded the forging of this agreement with SQM, under which the two similar entities will join forces to address regional mining policy, research, development and innovation and the evaluation and implementation of projects of common interest. The parties expect the signing of this Agreement to yield great results for the region.
During the brief yet meaningful signing ceremony, recognition was also given to the funds that SQM has made available to Corporación Clúster and which will strengthen research projects undertaken in the Antofagasta Region.
Marko Razmilic himself commented, "This first injection of funds breathes life into our foundation, and therefore helps create the symbiosis that will allow the mining industry to develop better and have better suppliers, and this will greatly enhance the welfare of the region. This fund will be available to Corporación Clúster Minero's board and will be earmarked for research, and we are confident that SQM's gesture will encourage other companies to join this great challenge."
On behalf of SQM, José Miguel Berguño, Senior VP of Corporate Services, reiterated: "Being part of Corporación Clúster Minero reflects SQM's commitment to the development of the region and its people, and we are willing to collaborate with all of the sector's stakeholders.  This research fund we have contributed is envisioned for the region, and so we have made it available to the foundation, which will be the one to decide on the best way to distribute these resources and achieve great progress for our people."
Other guests at the ceremony included most members of Corporación Clúster Minero's board, officials from the government and academia, and other prominent public and private mining sector figures.
For Aurora Williams, director of Corporación Clúster, it was a rewarding day, a day of coming together with the hope of integrating to create a mining industry that is more valuable in all regards. "This agreement we have signed ratifies the goal to create and bolster social value in the territories. This agreement with SQM reaffirms the public, private, and academic sectors' across-the-board commitment to this foundation, fostering unity, strengthening institutions and underlining the value of the entire mining sector from different viewpoints and perspectives that will lead us on a better path forward," she concluded.