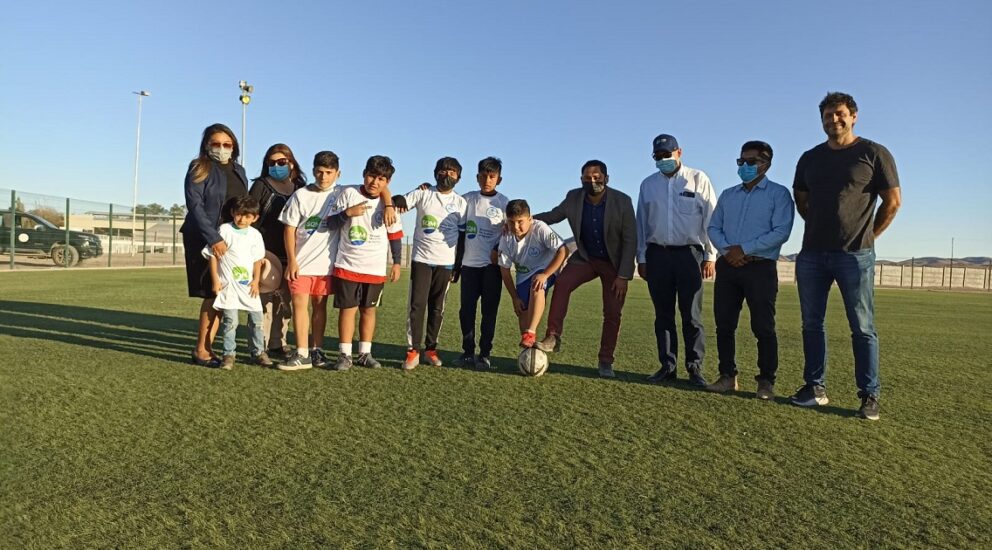 Fundación Miradas Compartidas and SQM kick off workshop series for disabled children and youth in Antofagasta, Tocopilla and María Elena
17/May/2022
Soccer, theater and motor skills are the themes of this joint initiative offered by Miradas Compartidas and SQM to foster social integration among more than 70 student participants in the Antofagasta Region.
A new series of inclusive workshops was just launched by Fundación Miradas Compartidas, with support from SQM in Antofagasta. The recreational activities, including soccer, theater and motor skills workshops, will be held in Antofagasta, Tocopilla and María Elena with the support from local municipalities, under a collaboration agreement focused on socially integrating young people in the region.
The students benefit directly from the workshops, which give them the opportunity not only to have fun, but also to play sports, which improves their quality of life as well as their physical and mental health. The workshops also give the participants a chance to improve their communication skills, which fosters team work, social engagement and interaction with their surroundings.
Diego Rojas, the ministerial representative for sports in the Antofagasta Region, was on hand at the launch of the soccer school, where the students received the official jersey of the 2022 season, highlighting: "Here we see private enterprise, public institutions and civil society gather around a group of people who are sometimes made invisible. Today, we are giving these young people an opportunity to develop themselves through sports, which instills important values and provides tools for everyone."
Pablo Pisani, Director of Communities and Public Affairs for SQM's Nitrate and Iodine businesses, explained: "We are very happy because this is the fifth year we have offered this program in Antofagasta with the active participation of our corporate volunteers, who connect with the young people through soccer practice and matches. We believe our company is making significant progress in terms of inclusion; we are building a virtuous cycle of inclusion and we love being at the forefront of this process."
Miradas Compartidas has been working in the area of inclusion in Chile for 11 years, providing opportunities through artistic, athletic and vocational workshops, positively impacting the quality of life of people with disabilities.
Felipe Olavarría, founder and CEO of Miradas Compartidas, applauded SQM's support. "This is the fifth year we have organized the soccer school with SQM. For us, this partnership is really important, and is reflected not only in sports, but also in all the workplace inclusion programs."
Ximena Arancibia, Acting Director of the National Disability Service, spoke last, applauding the work that the foundation carries out with SQM: "I want to highlight the inclusive perspective, with participation under equal conditions, not only in sports but also in the day to day workplace inclusion those conditions generate.  I very much value this initiative from the company and the foundation, which directly benefits young people of the region and their families."
Importantly, this partnership between SQM and Miradas Compartidas is also operating in the Tarapacá Region, benefiting children and youth in Huara, Pozo Almonte and Alto Hospicio who are actively participating in recreational, sports and artistic workshops.