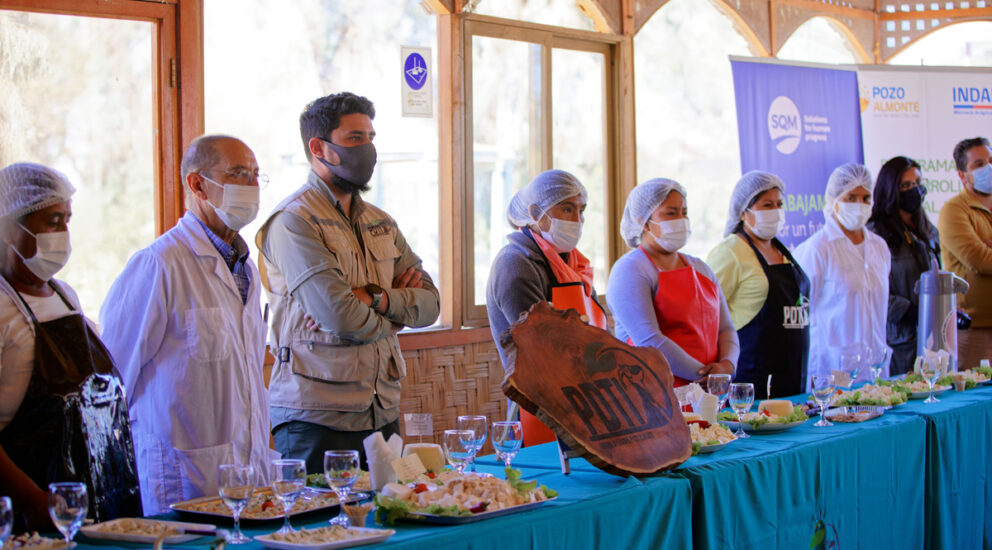 Tamarugal Goat Farmers Develop Goat Milk Products
29/Jun/2022
In a collective effort between INDAP, the municipality of Pozo Almonte and SQM, goat farmers in the province learned how to produce cheese and other goat milk products that will enable them to implement a new business model.
The products presented by the 13 beneficiaries of the Goat Milk Products and Byproducts course ranged from unripened, semi-ripe and aged cheeses to ricotta, ice cream, butter and dulce de leche. The course was implemented by INDAP's Indigenous Territorial Development Program (PDTI), with support from the municipality of Pozo Almonte and SQM. The 10-day training course, held at the cheese making facility of the Agricultural Research Center in La Tirana, is an SQM project that is also supported by the municipality of Pozo Almonte. The course also enabled farmers in the province to learn a new business model that will strengthen the circular economy of the territory.
The closing and certification ceremony included a tasting of the products and was attended by Richard Godoy, the mayor of Pozo Almonte, SQM Deputy Manager of Social Programs, Atilio Narváez, municipal council members and other invited guests.
"When we started this research center with SQM, we envisioned results like this—that those who benefited from it would create first-rate products like those we have tasted today. I wish to thank the company and the team at PDTI that have been part of this process, as well as the beneficiaries of this course, who have demonstrated the quality of their products. Today, we face an even bigger challenge—to place these products in the best restaurants and supermarkets around the globe. It is important to continue working together. It proves that public-private partnerships work, and benefit our neighbors," commented the Mayor of Pozo Almonte, Richard Godoy.
The dairy had to curtail its operations during the pandemic, so this course represents the relaunching of its activities, to foster the development of local farmers in this arena, explained Gary Mérida, SQM's Head of Community Relations for Nueva Victoria. "This Pozo Almonte agricultural research and development center is very powerful, offering many opportunities to transfer knowledge to local farmers and ranchers. Initiatives like this one allow us to develop a more sustainable economy in the area, and that has always been the work we focus on in our Sustainability Plan—to join in and strengthen initiatives that are being developed."
With the knowledge they have gained, the 13 participants in the course can now make their products and look for new product lines based on goat milk. "It's been an extraordinary experience, as we not only got to spend time with our fellow students, we also learned how to make unripened and aged cheeses and many other things you can make with goat's milk. It's a very good thing that this strategy is proceeding, because when the municipality works together with INDAP and SQM, very good things happen, like this course. Individually, we don't have the capacity to be large-scale producers, but through partnerships, cooperatives or associations, we can think bigger," said July Benavides, a beneficiary of the course.
Speaking about the teaching approach and the impact the course has had on its beneficiaries, the Coordinator of PDTI Pozo Almonte, Israel Vélez, added, "This initiative began in November 2021 with a 3-day workshop, and in this second part we extended it to 10 days. It was a joint effort with the municipality of Pozo Almonte and SQM, in which the important thing was the commitment of those involved and the learning-by-doing methodology, which allowed the participants to expand their range of products and make their milk production more efficient."
The dairy is installed beside the La Tirana experimental greenhouse and now has an operating permit that allows those who use it to continue making their products while they make preparations to launch this new business model.