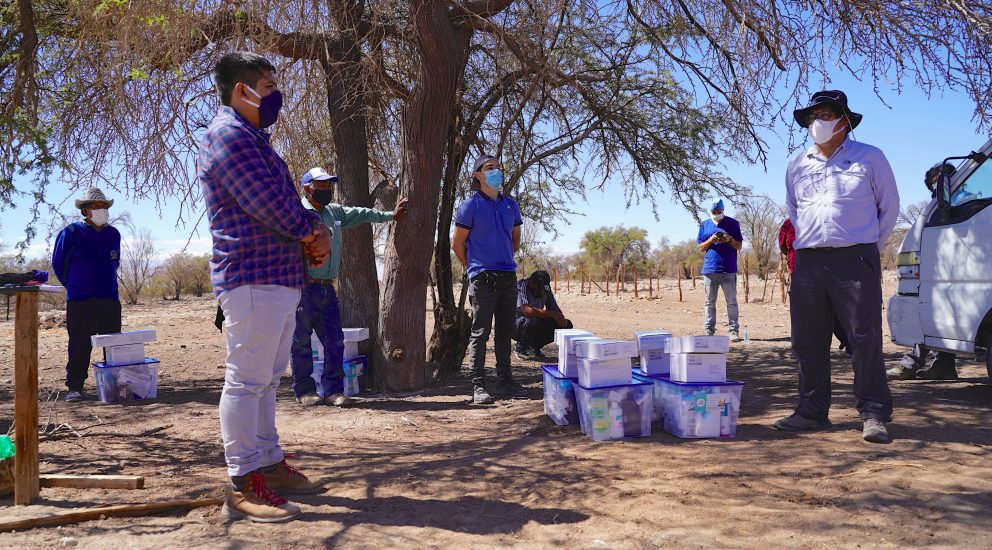 Ranchers from Pampa del Tamarugal Receive Shredders and Veterinary Kits to Face Public Health Crisis
21/Sep/2020
Thanks to SQM's "Atacama Tierra Fértil" agricultural program, four "chippers" and 22 veterinary kits were donated to ranchers and farmers from Pozo Almonte who have had a hard time feeding their sheep and goats during the pandemic.
Local ranchers received four portable shredders that will help them prepare additional feed for their animals. This was done to energize the ranching industry in Pampa del Tamarugal, which suffered losses following the cancellation of the La Tirana Festival–a large event where they usually sell their animals.
The donation also included 22 veterinary kits with the necessary supplies to care for sick animals. This support will be accompanied by technical advising to equip the beneficiaries with the tools and knowledge they need to take care of their animals during the pandemic. The day the items were distributed, the ranchers also participated in the first on-site training and were given a telephone number to call with any questions.
The donation was made by SQM through its "Atacama Tierra Fértil" agricultural program and helps fortify the strong bond the mining company has built with local ranchers. This is not the first contribution; the mining company recently provided 37.5 tons of palletized alfalfa to feed their sheep and goats.
Gary Mérida, SQM's Head of Community Relations, explained: "This new round of aid for the ranchers in Pampa del Tamarugal reinforces our commitment as a company to local farming and ranching. Due to the public health contingency we are facing, we are boosting our contribution to the communities that have been hardest hit by this new reality."
Meanwhile, Richard Challapa, president of the Pampa del Tamarugal Ranchers' Association, commented: "This new support is so great for us, since feed has been scarce for our animals because of aging trees and climate change. The 21 of us ranchers left in the area are trying to hold on, so we are very appreciative of the ongoing support we receive from SQM."
Local ranchers Glomira Choque and Sofía Condori benefited from the donation. During the symbolic donation ceremony, both women agreed that this new contribution helps reinforce the bond they have with SQM, and will directly benefit local ranchers in Pampa del Tamarugal.