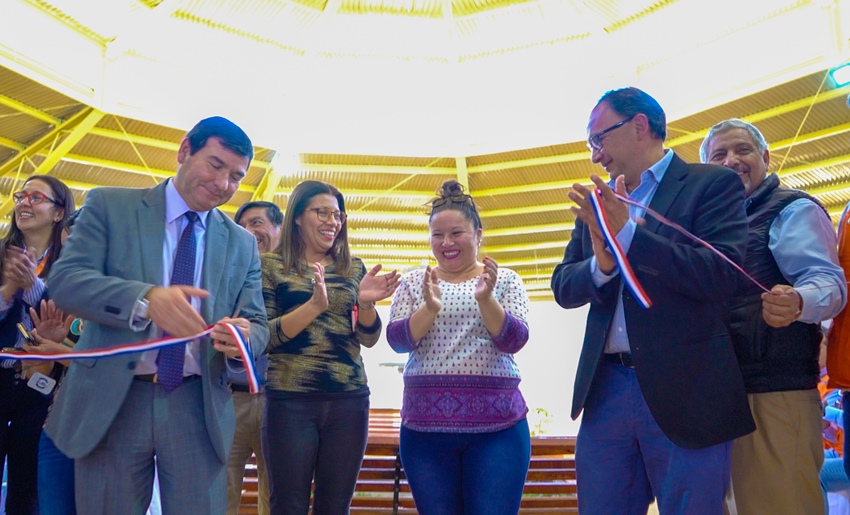 Tenants and Entrepreneurs in María Elena Re-open Emblematic "Round Market"
27/Aug/2019
After fire consumed 25% of the structure in 2018, SQM joined forces with affected tenants to restore the building. Today, eight months later, this piece of local heritage opens its doors to the community of María Elena.
Since the glory days of the nitrates industry, the Round Market has been a gathering point for residents of María Elena that come to buy a variety of products. In 2018 the facility was shut down after a fire forced its tenants to close their businesses while the Municipality of María Elena and SQM worked to restore the building.
Eight months later, the Round Market opened its doors to the community, a milestone celebrated in an emotional ceremony commemorating the re-inauguration of the space and the structural improvements made to bring it up to code and incorporate suggestions from the Ministry of Culture, Art and Heritage.
During the information gathering process, 14 affected tenants were identified and their stores were rebuilt to high safety standards, upgrading the electrical system, which now has a general fuse box that centralizes electrical distribution for the facility. Now each tenant has its own meter.
Also, security cameras and a guard house were installed and the bathrooms were remodeled.
Carolina Piñones, a representative from the Round Market's leadership board, commented: "We are very happy to open the doors to the public with a remodeled space. We joined forces with SQM and different public entities that helped us restore and improve this heritage building. This stimulus will help strengthen trade and tourism, while sharing our history and heritage, since the marketplace dates back to 1912."
Pablo Pisani, Director of Communications, Sustainability and Public Affairs at SQM, explained that: "We are very satisfied with the results since we managed to restore this heritage building in María Elena and make improvements to the entire infrastructure, including new bathrooms, a new electrical system, common areas with a beautiful fountain and a fresh coat of paint. The shops not affected by the fire also benefited from this heritage restoration project."
The executive also expressed his appreciation for the work done by Sercotec through the Proloa Foundation, which helped purchase furnishings, display cases and merchandise for the shops.
The Mayor of María Elena, Omar Norambuena, participated in the activity and acknowledged the value of the public-private alliance formed with SQM since it helped restore and highlight the importance of the town's Pampa heritage.