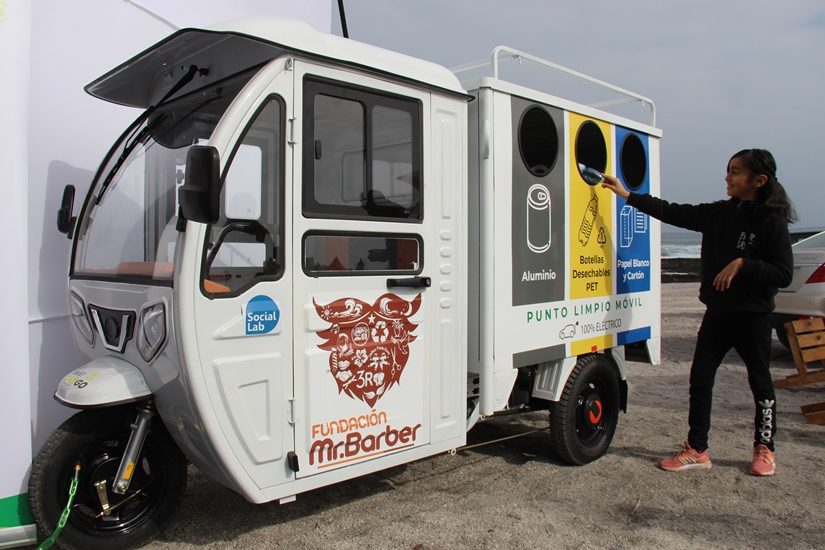 María Elena Debuts Electric Motorcycle that Will Serve as a Recycling Center
20/Aug/2019
Electromobility and recycling are important components of global policies designed to combat climate change. María Elena is at the forefront of these issues with its "Recycling from Classroom to Home" program. As part of this program, the Pampa town received an electric Citroneta that will collect recyclable waste and transport it to recycling centers.
The modern, electric vehicle was officially unveiled at the Grand Slam Antofagasta Bodyboard Festival, where it worked every day of the competition to gather recycling materials such as: white paper, cardboard, aluminum cans and plastic bottles.
The 500 kg capacity trimoto is fully electric thanks to its lithium batteries. This sustainable, environmentally friendly vehicle also does not generate noise pollution.
This new, state-of-the-art piece of equipment will reinforce the work plan in place since 2017 between the Municipality of María Elena, the Mr. Barber Foundation and SQM, which has demonstrated positive results since the program's first recycling center was implemented. After being sorted, recyclable materials are sent to recycling plants in Calama and Antofagasta and ultimately transported to Santiago to be turned into reutilizable material.
Carolina Elgueta, director of the Mr. Barber Foundation, commented that the district of María Elena already has a culture of recycling, and the foundation has worked on different training initiatives, mostly targeted towards boys and girls, that have reached more than 400 students. "Now we will start working with this vehicle, which will move around the district to gather recyclable materials and deposit them at one of 16 recycling centers around the city for further processing."
These initiatives are part of a robust environmental education program being implemented at schools in María Elena: "Recycling from the Classroom and Home", which uses fun, educational workshops to develop skills and technical-practical knowledge so that students can identify opportunities for environmental improvements and how they can contribute, from their surroundings, to sustainable development.
Pablo Pisani, Director of Communications, Sustainability and Public Affairs for SQM, remarked that it is very positive to see so many people committed and confirmed that "all local residents should be proud to be the first district to develop such a successful sustainable plan, which hopefully will be replicated in other cities in the future."
The Mayor of María Elena, Omar Norambuena, invited the community to continue to take care of these spaces and to be proud of all the work carried out over the past two years.
Comunidad
Electromovilidad
María Elena
reciclaje
SQM