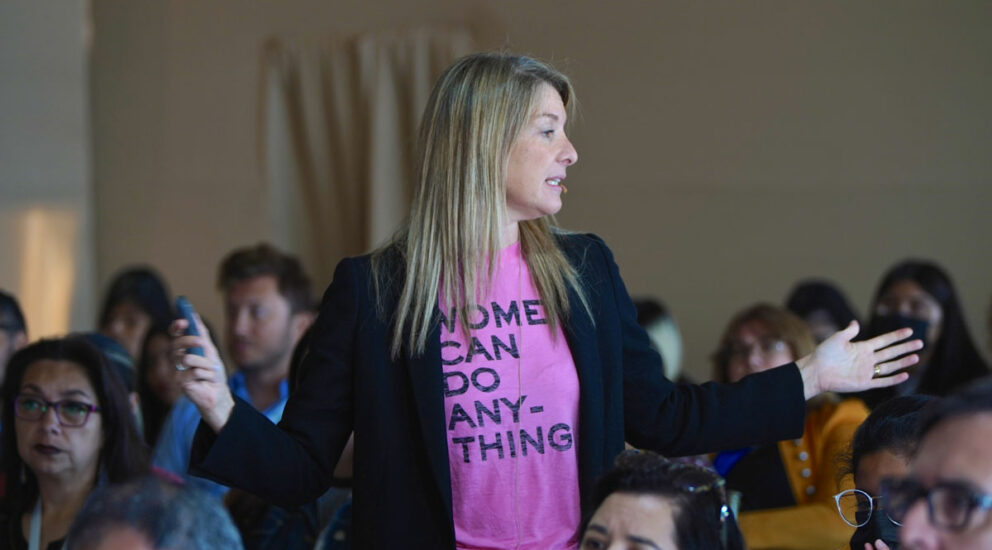 Tarapacá Women Give Life to Seminar on Female Participation in the Mining Industry
21/Nov/2022
The event included roundtables where participants discussed various topics related to the inclusion of women, as well as existing gaps and opportunities in the mining industry.
Nearly 100 female students and working women gave life to the seminar "Vamos por + Mujeres en la Minería" ("Let's Get More Women in Mining"), organized by SQM, which featured presentations by Marcela Sabat, executive director of the MC Equidad Foundation; Nora Araya, representative of the CREIDE Foundation and María de los Ángeles Romo, SQM's Corporate Venture director.
The event, held at the Gavina Hotel in Iquique, was led by SQM's Vice President of Corporate Services, José Miguel Berguño, and the Presidential Delegate for the Province of El Tamarugal, Luz González Milla. Together with women from various municipalities in the region, these leaders analyzed the gaps and opportunities for female inclusion in mining.
"For SQM, one of the current challenges is to be a leader in different areas. Inclusion and diversity is something we are very proud of, as we currently have around 20% female participation, but we want much more. This seminar seeks to reflect with these women on how to gain and leverage these spaces to work collaboratively in the industry and how to develop their skills and talents to make a fulfilling life plan that covers their interests and motivates them to grow every day as a person," said the SQM executive.
The highest government authority in El Tamarugal referred to the importance of addressing these issues through multisectoral work. "There are gaps and opportunities in female participation in mining, which have undoubtedly been narrowing over time and what better than to continue working through these public-private partnerships," she added.
During the day-long event, the attendees participated in three working groups, which were led by the speakers and addressed issues such as education for the new generations, regulatory gaps for women in the workplace and career development in masculine spaces.
"This initiative is very useful for society. It is very meaningful that a company like SQM wants to make a social impact with a gender perspective and work with adolescents and women from Tarapacá. They are capable and can achieve whatever they want in their lives and that vision can have a great impact on companies and society," commented Marcela Sabat Fernández, executive director of the MC Equidad Foundation.
Referring to one of the main objectives of the conference, Natalia Pizarro, SQM's Vice President of People and Performance, said that "with aspire for the women who are with us today to see the mining industry as a possibility for development and help us put an end to the various prejudices that exist in these workplaces."
Maite Farías, a third year telecommunications student at Metodista William Taylor Bicentennial High School in Alto Hospicio, highlighted the activity, commenting that "it has been very interesting because it is a space where we can open up opportunities for women who really want to dedicate themselves to mining. Often the opportunity does not exist and these instances show us that it is possible to envisage real gender equality."
The day culminated with a series of presentations from representatives of each working group on the issues addressed and several opportunities for improvement that organizations can consider when addressing women's inclusion.