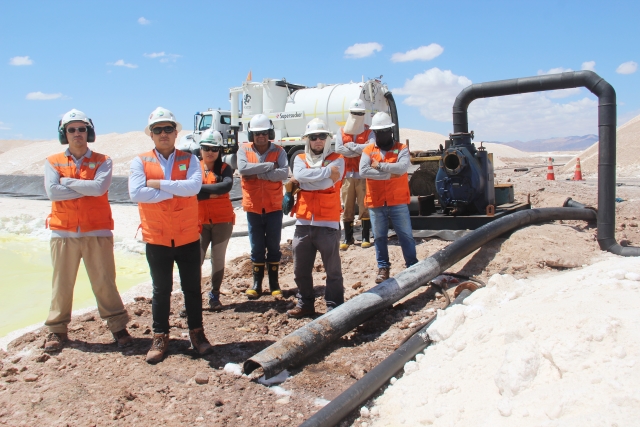 New Equipment to be Used in Brine Recovery in Atacama
01/Sep/2020
Innovative changes to brine recovery and capture processes improve performance at Salar de Atacama. Here, we present one of these innovations: The Super Sucker.
"The drainage process was very different two years ago. Brine recovery was performed manually in the ponds, stretching ducts and hoses the length of the ponds to bring the brine to the vertical suction pumps," recalls Lithium Pond Terrain Supervisor César Segovia. He adds, "This work had to be supported by the operator, who used paddles and manual sweepers to push the brine towards the intake points."
Today, thanks to the vision of executives, supervisors and employees, the process has drastically changed. The Production Area purchased mini loaders and trucks with suction equipment and other equipment and machinery have also been added to increase efficiency and safety and reduce physical effort and potential risks.
The idea was to recover more residual brine from the ponds. To that end, "We set a goal of achieving rates of 60 to 90 m3 per day during the last quarter of 2018." However, thanks to our team's contribution and new technology, we achieved peak recovery of 160 m3 per day in 2019. This was possible because of greater operational efficiency as a result of analyzing our indicators on a daily basis in M1 Performance Dialogues," explains Pond Operations Supervisor Gerardo Espinoza.
The result of those dialogues was the decision to incorporate mini loaders. They are meant to load the captured brine from the trenches and feet of the lines into intake points so it can be suctioned by one of the drainage pumps or the two Super Sucker trucks that have been added to areas without pumps.
"The crews used to take nearly two hours to remove the brine, and we needed more people, logistics and support from complementary equipment such as vertical 2×2 pumps to complete this task," says Salar de Atacama Super Sucker operator Jimmy Urzúa. "Now it takes just 25 minutes and three people: the truck operator, an assistant who oversees hose maneuverability and the mini loader operator," Urzúa adds.
Thanks to this "technological revolution," the process is more efficient. This does not mean removing more brine, but rather streamlining pond drainage.
The Super Sucker trucks (Freightliner M2 112) have Super Product suction equipment with a 15 m3 tank and suction capacity of 1,500 liters per minute. The Case SR200 mini loaders have a blade and rubber crawlers for better maneuverability and surface terrain protection.
All of the achievements that we have made since 2018 were unthinkable, but they have been possible thanks to the contribution of the entire Salar Production Area team and the focus on a common goal.
"We know that we are facing a huge challenge this year. We are confident and prepared to take it on because of this innovation and others like it. The changes that our area has implemented will contribute a great deal to our operators' performance and safety," notes Lithium Operations Supervisor Carlos Lizama. He adds, "With the training level and new skills acquired by drainage team members, other areas have wanted to join us and have even asked for support recovering brine from plants, canals, bilges and other areas.
"Based on these results, and in order to continuously improve, in 2020 we hope to add rapid discharge pumps to our suction trucks so that we can reach pond brine drainage recovery rates of over 200 m3 per day," observes Pool Operations Supervisor Gerardo Espi
Minería
Salar
Sustentabilidad