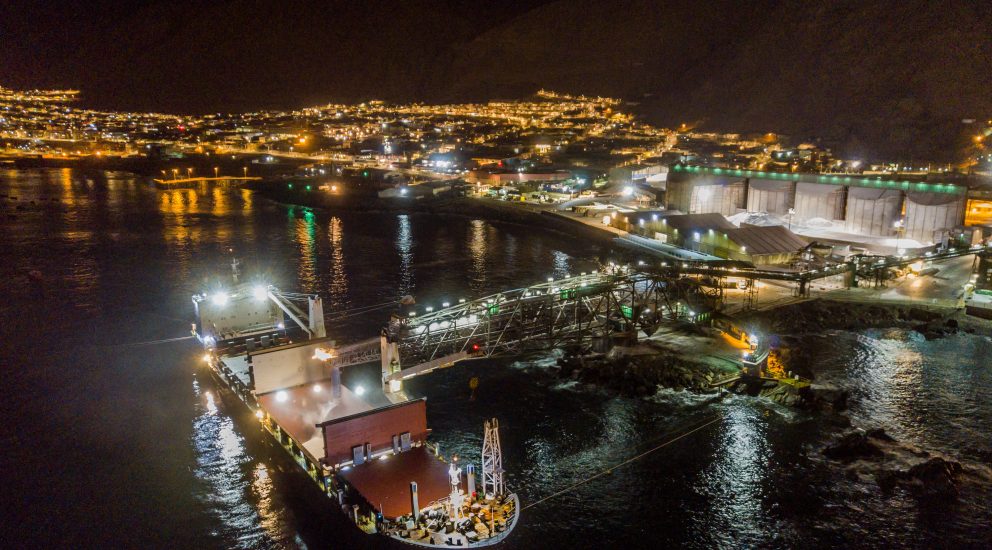 Port of Tocopilla: From Nitrates to Industries That Are Strategic for Sustainability
14/Oct/2020
Since the glory days of the nitrates industry more than a century ago, and during the sector's reinvention in the 1980s, the Port of Tocopilla, currently managed by SQM, has played a key role in the city's development as one of the country's leading ports.
In 1880, after having been annexed by Chile, Tocopilla achieved the category of major port, given its strategic role in the domestic economy at the time. In the 1930s, the pampa was connected to the Port of Tocopilla by rail, resulting in the proliferation of new nitrates offices like María Elena in 1926 and Pedro de Valdivia in 1931, among others.
The nitrates era ended, but SQM reinvented this industry by innovating with a new unique production process that left "white gold" behind to clear the way for potassium nitrate, a 100% natural specialty fertilizer with the smallest carbon footprint in the market; Tocopilla continues to be the gateway to the world for this and other products, such as potassium chloride and solar salts, that have established Chile as a producer of key inputs for the sustainable development of humanity.
Continuous Improvement
Since the 1959 construction of the iconic mechanical arm that streamlined loading using conveyor belts to transport bulk product directly to vessel cargo holds, the port began a phase of continuous improvement to modernize its facilities and optimize the logistics process. All this was done with a sustainable outlook that ensures worker safety and wellbeing, together with a firm commitment to the environment. This reinvention process was intensified in 2014 by implementing the Lean methodology, a Japanese management model that aims to add value to processes by generating a cultural change inside the company.
SQM constantly reviews and adapts its infrastructure to improve its operational and environmental performance. Several projects have emerged from these efforts, such as expanding storage yards to boost storage capacity by 30% and installing environmental netting around yards to cut emissions. Another initiative worth highlighting is cobblestone paving to reduce dust generated by trucks, thus guaranteeing the quality of the products stored there. The project looks to cover 100% of the port's facilities, which will give it an international standard.
Currently, the port employs more than 300 men and women from Tocopilla, who make it possible for Chile, through SQM's products, to be present in industries that are strategic for human development, such as food and the clean energies that move the world. These individuals, along with their families and the community, participate in diverse sustainability initiatives and programs for the district that are backed by SQM under its four-prong community action plan: Social Development, Education and Culture, Recovering Heritage and Healthy Living.
"History has taught us that innovation is key," explained Pablo Pisani, Director of Communications, Sustainability and Public Affairs at SQM, who went on to specify: "We dared to reinvent this industry, and today we are proud that the new nitrate is potassium nitrate, a product invented in northern Chile, which is currently the preferred raw material for enhancing food through sustainable agriculture. The Port of Tocopilla plays a fundamental role in the production chain, enabling us to reach 110 countries with our products."
SQM also exports solar salts from Tocopilla to provide energy continuity to concentrated solar power plants. This 100% natural product generates clean and innovative energies that guarantee energy stability 24 hours a day, 365 days a year.
SQM, in line with its four corporate values of Sustainability, Safety, Integrity and Excellence, has been able to adapt to the changing conditions of the global market. The basis of that adaptation has been its human capital and its capacity to innovate in production, commercial, logistics and management processes, as well as its clear purpose of manufacturing products for a sustainable world and its responsible operations that minimize its emissions, water use and carbon footprint, while caring for the environment.