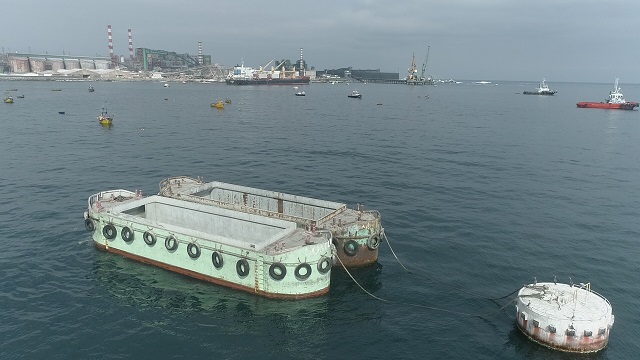 Bolstering Solar Salt Shipments from Tocopilla
14/Oct/2020
The number of vessels for loading this product at SQM's port rose from 7 to 9.
Efforts to expand the available fleet of barges began eight months ago. Today, the port's Maritime Operations Area adds two new barges to its fleet to strengthen the loading system for bagged products.
To accomplish this, the company had to fully restructure the line and recondition the dry dock area, which was out of service due to constant heavy swells that prevented it from being repaired and, therefore, from working properly.
The work was divided into three stages: repair and maintenance of the docking line and carriage; hoisting of the vessels and, lastly, undocking, a process carried out with strict safety measures, identifying and controlling the risks in each stage to ensure success from start to finish.
During the work, which involved diverse areas of the port, leaders that stood out include Milton Leiva, who is in charge of physical resources in the Maritime Operations Area, and Joaquín Barra, planning engineer. These individuals, together with their work teams, kept track of progress and identified opportunities for improvement using M1 tools to reassemble the structure used for undocking barges and anchor it to the seabed.
With the work completed, barges 403 and 404 were incorporated into the fleet, increasing the number of vessels from 7 to 9 and reinforcing its loading capacity for bagged products (bulk bags). These bags are loaded onto the barges, able to withstand up to 120 tons each, and transported from historic dock 5 to the ships berthed at the mechanical arm.
"The objective of all this work was to guarantee loading rates for bagged products," commented Héctor Álvarez, Director of Maritime and Land Operations, who added that "we set the goal of outfitting these spaces and vessels, which could not be used because the dry dock was not in optimal conditions."
This expansion will help ensure successful loading of the solar salts we produce in Coya Sur and enable solar thermal power plants to operate. These plants currently have competitive advantages over other renewable energies because they can operate continuously, generating energy day, night and when it is cloudy.
These solar salt shipments are scheduled for October of this year and will now be done from a world-class port that is capable of large-scale loading. "Currently, our rates for normal loading are 2,600 to 3,100 tons per day, but for solar salts we hope to reach 4,500 tons per day at minimum," added Álvarez.
Another positive element is that old barges can be dry docked (repaired) from here on out without affecting productivity and normal operations.
Now drydocking to maintain barges can be done in Tocopilla, saving the high costs of using drydocks in Mejillones or Iquique.
This wraps up one of the area's scheduled phases to modernize processes and adapt to new market demands, while always striving to meet safety, sustainability and quality standards.
Operaciones Marítimas
Tocopilla