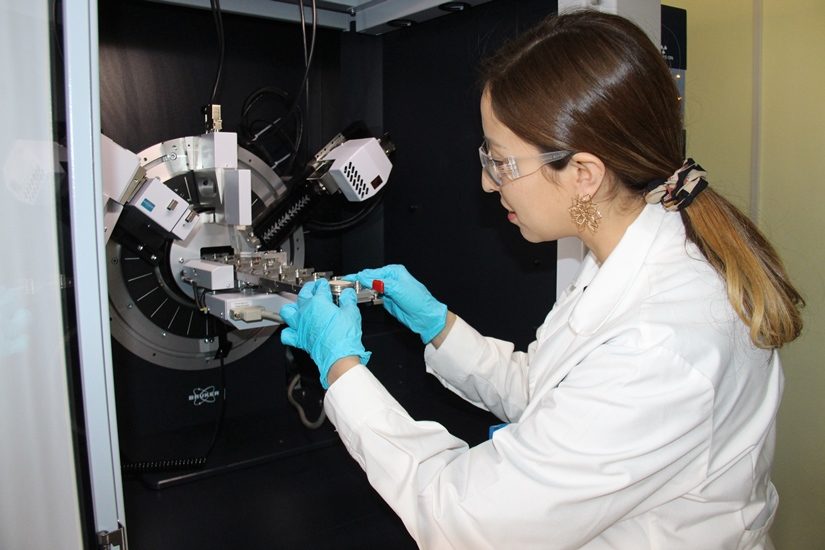 SQM Uses Cutting-Edge Technology for Quality Assurance
01/Jul/2019
This equipment will provide detailed, precise information on samples from the Company's various operations.
At SQM, innovation is part of our way of doing work. Over the course of our history, we have often been challenged to build our industry and develop markets using our own professionals and talents, developing or improving techniques.
Under this premise, and in order to ensure the quality of our products and processes, we are constantly investing in cutting-edge equipment and technology.
As part of this, we find ourselves in the SEM & XRD Laboratory in Antofagasta, where research assistants Alessandra Rossetti and Yaresly Manqui analyze samples from the Company's various work sites. The lab has two state-of-the-art machines that can be used to conduct detailed analyses of solid samples of minerals and salts.
The first is a Scanning Electron Microscope (SEM) that is used to analyze samples in order to optimize processes and quality control of Soqui products as well as to identify metallic particles in lithium samples and detect iodine in NV samples, among other elements.
"We have had SEM for five years. Its high resolution gives us information on the surface of microparticles. This is an elemental analysis that supports processes and guarantees the quality of the products," explains Laboratory Manager Karen Bello.
The second is X-ray Diffraction Equipment (XRD), one of the most effective machines of its kind on the market today. It provides more detailed reviews of qualitative and quantitative analysis of crystalline phases of any type of material. Its main characteristics are its high performance and reliability in basic and applied research for the study of materials.
"This equipment will complement the data that we obtain from the SEM, which identifies mineralogical phases. In other words, it gives us the name of the compounds present in the samples and their estimated concentration," Karen adds.
These important data are provided to various areas, allowing us to obtain better quality products. "SQM is making an important investment in technology. In this case, the equipment cost approximately US$700,000, and we are continuing to conduct research so that we can stay on the cutting edge of technology. It opens up a world of new opportunities," she concludes.
Innovación
Laboratorio
SQM