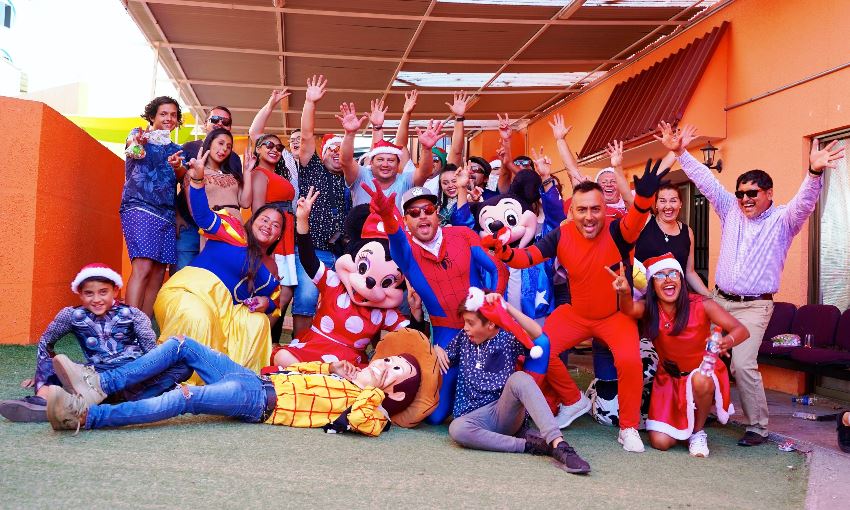 SQM's Community Christmas Celebration
03/Jan/2020
Games, laughter, gifts, sweets and Santa Claus were the stars of the various Christmas parties held in María Elena, Quillagua, Antofagasta, Iquique, Tocopilla and other locations.
From the pampa to the coastal cities of Tarapacá and Antofagasta, the Community Affairs Team and members of the SQM "Lend A Hand to Your Community" corporate volunteer program celebrated Christmas with children and senior citizens, offering them an opportunity to have fun and socialize.
The activities held in María Elena included the "Pampa Christmas" story hour, which was held at the Pampa Toy Museum, transporting participants back to the Christmas traditions of the golden days of the nitrates industry. The celebration held at the Integra Preschool, which was once again a beneficiary of these efforts, also honored the region's heritage.
Christmas fun was also had in the Aymara community in Quillagua. The group "Clown's Corner" captivated the audience in the local stadium with circus acts and magic tricks.
Meanwhile, in Tocopilla a Christmas Eve celebration was held in the fishing cove for fishermen and their families. The event, which reflects SQM's commitment to the Union of Independent Seafood Divers and Artisan Fisherman, featured music, games, toys and entertainment. A Christmas party also was held in the port for the children who attend the Estrellita del Pacífico Preschool.
In Antofagasta, we celebrated with the members of Fundación Miradas Compartidas, which fosters the integration and inclusion of young people with intellectual challenges. The Christmas celebration followed an intense soccer match that marked the culmination of a successful two-year collaboration that has forged close connections between our corporate volunteers and Foundation members.
One of the most meaningful activities was held in Iquique, where Nueva Victoria site volunteers joined in the Christmas parade, building a float and driving it around the city. The parade ended with a surprise celebration for the girls at the María Ayuda Home that included games, gifts and fun.
Nueva Victoria volunteer and employee Claudio Aguilera explained that, "Following one of the traditions of northern Chile, we built a float with folks from every part of the company. We visited each employee's house and had also made a commitment to visit the María Ayuda Home. The goal of all of this was to offer a moment of reflection, to spend time together, and to have fun."
For his part, Community Relations Director Gary Mérida noted that, "These activities are very important because the Christmas spirit is shared by SQM employees and also with the social institutions that we support through volunteer work. These are beautiful spaces in which we can spend some time together, give out gifts, reflect and enjoy ourselves."
Celebrations also were held at the Colonia Agrícola de Pintados Elementary School and the Atacama Community Senior Center in Santiago de Río Grande.