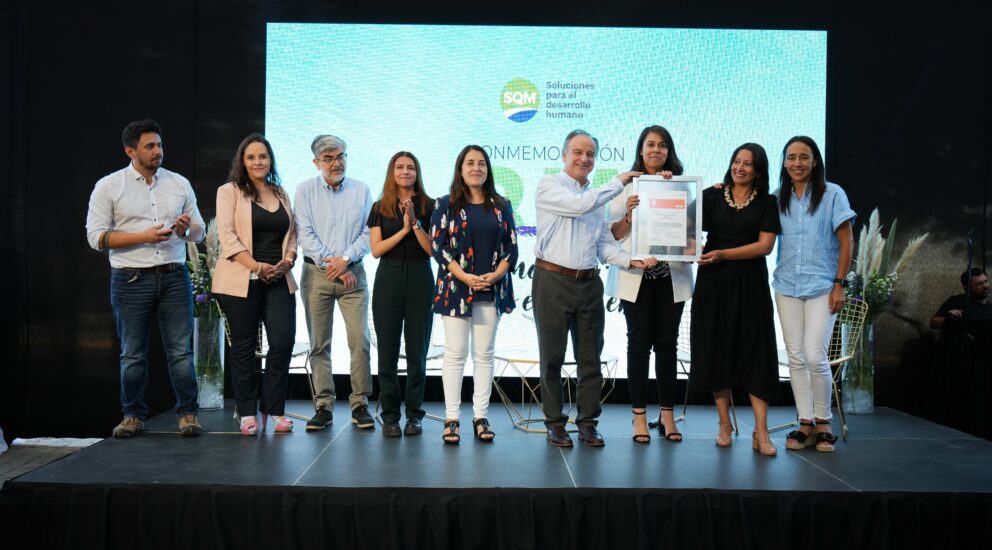 SQM Commemorates Women's Month with a Packed Schedule of Events Focused on Promoting Gender Equity in the Industry
27/Mar/2023
The Company commemorated Women's Month with a series of activities organized as part of the program "Vamos por +Mujeres en Minería (Let's Get More Women in Mining)." The line-up featured seminars, talks, the signing of agreements and the certification of the Mentoring Program for Job Placement held in Santiago, Iquique, Antofagasta and María Elena.
The Company ratified its commitment to inclusion and to promoting women's participation. Thanks to the diverse strategies employed, as of year-end 2022 women accounted for 20% of its workforce. This achievement was recognized at this year's International Women's Day celebration. A wide range of activities were held under the slogan "Vamos por +Mujeres en Minería (Let's Get More Women in Mining)."
The events were launched in Santiago on March 8th at a ceremony that allowed the Company to mark this important date along with its employees. Organizers highlighted the fact that these inclusion-focused activities enabled the entity to reach its equality goals and discussed upcoming targets, particularly the goal of having women account for 25% of its workforce by 2025.
The first day of the series also included opportunities to highlight the areas with the best indicators and initiatives. The Company also recognized five students from Pontificia Universidad Católica who successfully completed the Mentoring Program for Job Placement promoted in collaboration with the Gender Equality Network (Red por la Equidad de Género, REDEG). In addition, SQM took this opportunity to announce that it had reached an important milestone: earning certification under the Chilean NCH 3262 standard on Gender Equality and Work, Family and Personal Life Balance.
SQM Board Chairman Gonzalo Guerrero remarked, "Overall, 20% of our workforce is female, and that number is 30% at the professional level. But we must do more. Our goal is for 25% of the workforce and 35% of our professional staff to be women by 2025. We hope to be able to make even more progress and surpass these goals. A company like SQM that contributes to human progress and has a robust Sustainability Plan must have gender equity."
The Company worked with the Antofagasta Region's Regional Mining Ministry Secretariat and secured sponsorship from Universidad Católica del Norte and the Mining Ministry to organize the seminar "Women in STEM: Progress and Challenges Related to Women in Science, Technology, Engineering and Innovation."
The seminar, which was held in Antofagasta, included a keynote address by Rudanac Biotec founder and renowned biotechnologist Nadac Reales and a panel on promoting inclusion in training and development in the sciences. The initiative was replicated in María Elena as part of an event for students from the municipality's Humanities and Science Professional Technical High School.
Nadac Reales del Canto, who presented at the events held in Antofagasta and María Elena and was also recognized by Forbes as one of the "Most Powerful Women in Chile," noted, "This was a very important gathering. In addition to talking about the technology that I develop, I was able to share my experience building a career in the sciences so that they can see that it is possible. It can encourage them to strive to reach goals related to STEM careers."
Regional Mining Secretary Macarena Barramuño, who also participated as a panelist at the meeting, noted, "Our goal is to reach girls and teens in our region to let them know that they can be part of the mining sector, recognizing their capacity to get there, grow within the industry and pursue STEM-related degrees."
The event also featured the certification of ten students in their final year in the Universidad Católica del Norte Civil Industrial Engineering program who participated in the Mentoring Program for Job Placement. REDEG Executive Director Lilian Denahm, whose organization promoted the initiative with SQM, commented, "We are very grateful for the opportunity that SQM provided to encourage more women to join the industry and receive mentoring from executives in this field. SQM also sponsored their professional internship, which is critical to completing this level of their academic training."
Tarapacá Region
Meanwhile, the seminar "Women in STEM: Innovation and Development from the Region" was held in the Tarapacá Region. The event was organized with Universidad Arturo Prat and included the Company's launch of its Mentoring Program for Job Placement thanks to the agreement signed with the university.
Universidad Arturo Prat Acting Provost Ninoska Zencovich stated, "This agreement is very important for us because it will allow our students to see real opportunities for entering the business world and pursuing training in careers in which women have a growing presence."
Regarding the activities, SQM Deputy Manager of Talent Attraction and Diversity Bárbara Blümel observed, "As a Company, we are committed to involving more women in STEM-related fields. Paving the way for female students in technical high schools and local universities is a key challenge that will allow them to be part of our workforce in the future. This is just the starting point for the ideas that SQM has for 2023."
One of SQM's goals is for 25% of its workforce to be women by 2025.
Local March 8th Celebrations
The Company also met with various community leaders and business community representatives to celebrate Women's Month in the Antofagasta and Tarapacá regions, including towns like Quillagua, Tocopilla, Bajo Soga, Huara and La Tirana.
Caleta Urco was also part of the celebrations in order to include "Las Urqueñas," a group that receives advising services from the Atacama Tierra Fértil program on their efforts to practice hydroponic farming in the coastal area.  Its members received important news during the meeting: its facilities will soon be powered by photovoltaic panels and lithium batteries, which will contribute to the sustainable development of local farming as an example of production diversification. This initiative will be executed by LitioHM, one of the winners of the SQM program "More Lithium, Smaller Footprint."