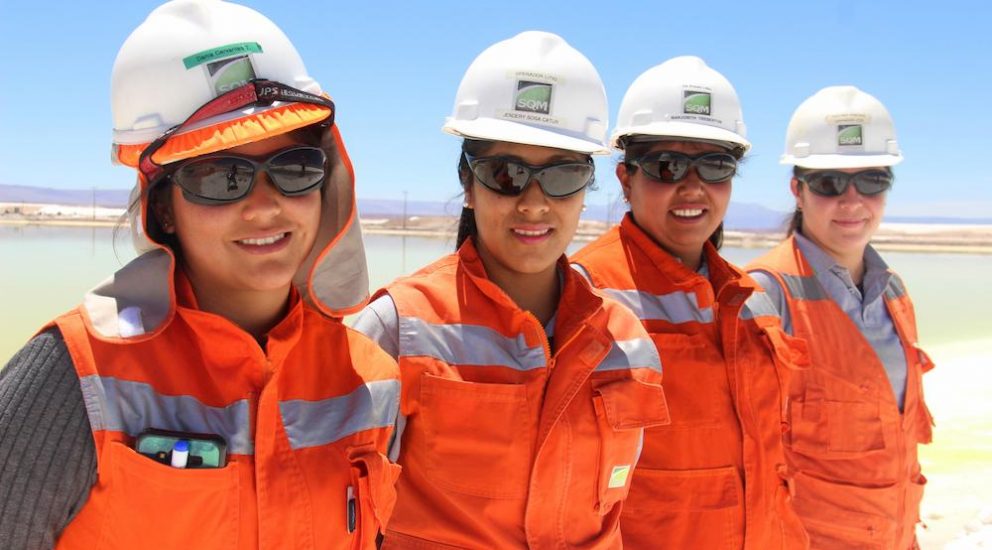 SQM Boosts Percentage of Female Staff to 16,1%
24/Jul/2019
The Chilean company, which participates in strategic industries for human development, has increased its hiring of women, doubling the national average for the mining sector in 2018.
The incorporation of new talent such as operators, plant chiefs, process engineers, administrators, chemical analysts and other professionals has allowed SQM to reach a level of 16,1% female employment, doubling the national average for mining, which is 7.6%.
This achievement ratifies SQM's position as a diverse and multidisciplinary company composed of men and women from different age groups and nationalities who contribute their capacities to the Company's global development.
"We are very proud of this result because it has been a long road, and we face many challenges in the area of gender equity that we are working to overcome," explained Deputy Manager of People and Performance Bárbara Blumel.
"We want to bring about a cultural change within the Company. SQM recruits excellent professionals and is seeking to encourage women to join this field, which has historically been led by men. We want to ensure that they remain in the field and develop within the Company," the executive added.
Contributing to Gender Equity
SQM actively participates in various spaces that encourage best labor practices for gender equity. One of these is the Women and Mining Panel in Santiago, which was promoted by the Ministry of Mining and Ministry of Women and Gender Equity. The event culminated in the signing of the "Decalogue of the Mining Industry for the Incorporation of Women and Alignment of Work, Family and Personal Life," which featured the noteworthy participation and support of SQM's senior management.
The Company also plays an active role in gender dialogues led by the Regional Ministerial Secretariats of Antofagasta and Tarapacá, which seek to generate a regional strategy that encourages the incorporation of female human capital.
We also participate in various fora and conferences focused on gender equity and equality organized by entities such as ICARE, ministries, WIM and Red EG as well as different types of job fairs for women in Antofagasta.
In more corporate terms, the Company also provides benefits to new mothers who are working at the María Elena, Coya Sur and Pedro de Valdivia sites. They may opt to use a room in the town of María Elena so that they can bring children under the age of two with them for their shifts. There are also plans to create a childcare facility in the area during 2019 that would operate seven days a week in an effort to support employees during their work shifts and 7 x 7 shifts.
The Santiago corporate building now has a nursing room and changing stations as part of an effort to make motherhood compatible with work.
The recruitment area introduced performance indicators for selection processes to establish a minimum percentage of female candidates, all of whom must meet the profile and skills required for the position. These indicators have allowed the Company to recruit women for positions that had previously only been held by men.
It is important to note that SQM consistently works to raise awareness among its employees regarding gender equity, inclusiveness, workplace harassment and sexual harassment in order to be able to support the Company's various areas around these topics