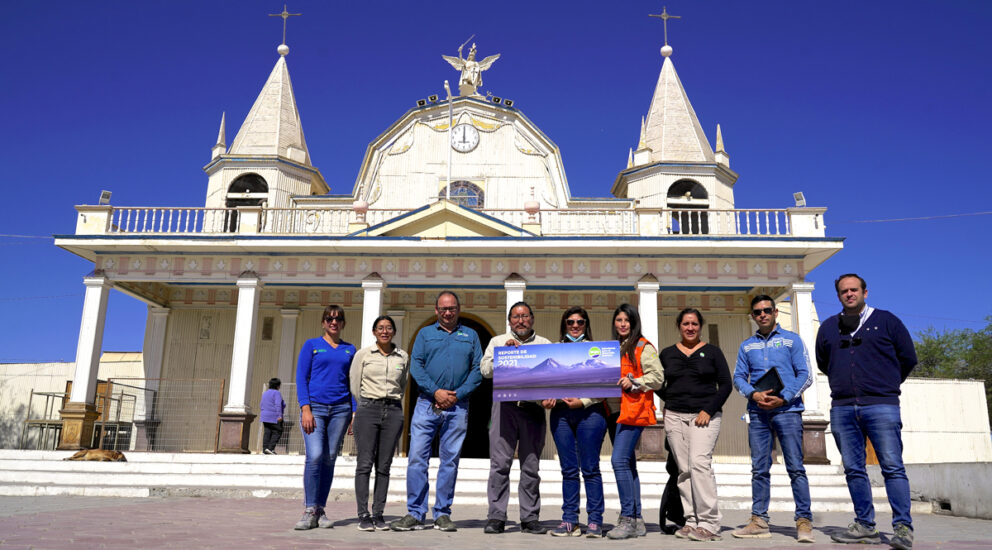 SQM Holds Dialogue Sessions with Communities about Sustainability Progress
13/Aug/2022
Representatives of the towns close to the company's operations in the Tarapacá and Antofagasta regions participated in a series of presentations on the latest version of its responsible business strategy, highlighting its guidelines and commitment to implementing the 17 Sustainable Development Goals of the United Nations in its work with communities.
In a space of dialogue and reflection, SQM presented its 2021 Sustainability Report to community members and authorities from the towns near its operations. Specifically, it communicated figures, goals and progress related to co-creating value with communities through diverse projects under four lines of action: Education; Social Development; Cultural and Historical Heritage and Community Wellbeing, Health and Safety.
Along this line, in 2021 the company invested a total of US$5,449,296 and engaged with 158 institutions, foundations and corporations in Chile, giving rise to 32 work and community engagement groups and opportunities for multi-sector coordination, all still active, and benefiting thousands of families in the country's Norte Grande.
According to Pablo Pisani, Director of Communities and Public Affairs for SQM's Nitrate and Iodine businesses, who led these initiatives: "We are very pleased to convey what we have done during the year through this report. It demonstrates our robust work in sustainability, which is in sync with the communities near our operations. We have achieved this engagement through working groups that show our team commitment to contribute to resolving the issues and needs of towns in the Tarapacá and Antofagasta regions."
Commitment to the Tarapacá Region
In 13 years of work alongside Tarapacá communities, SQM has managed to co-create development opportunities involving renewable energy for extracting water, road improvement and educational, agricultural and ranching challenges faced by local families.
This was confirmed by neighbors from the Pintados Agricultural Colony, La Tirana, Victoria, Huara, Bajo Soga and Pisagua who were familiar with the chemical company's efforts, such as Edwin Moscoso, the president of the Juventud del Desierto Association, who underscored: "We really appreciated this presentation and are grateful to the company, since we have been able to implement important social and agricultural initiatives for our community."
In this context, Claudio Yampára, president of the Misky Uma Cooperative in Bajo Soga added: "I am convinced that we will do great work. There are eight entities in this area focused primarily on strengthening farming and improving roads to be able to better transport our products."
Meanwhile, José Bartolo, Mayor of Huara expressed thanks for the company's invitation, indicating that "we hope that we can continue to grow as a community along with the educational, agricultural or heritage projects that we can generate together with the private sector, since friendly mining combined with technological development makes for sustainable industry."
Progress in the Antofagasta Region
This exercise in transparency and dialogue also made its way through towns near the company's operations in the Antofagasta Region, congregating community members, authorities, neighbors and leaders from María Elena, Tocopilla and Quillagua.
Caren Zamora, councilwoman from María Elena and a participant at the event, remarked, "These spaces are important because we can dialogue with SQM, expressing our concerns and needs as both a community and as organizations, because this company is always with us and, at the same time, we also give them our support."
Gary Ibacache, president of the neighborhood sports council Liga Deportiva Vecinal in Tocopilla, also joined these events, which he rated as very pertinent. "We are thankful for this invitation because SQM helps us a lot. For example, with the soccer organization Mini Mundial de Fútbol 2022, where the company made donations and has played an important role in developing our group. We hope to continue to work together for local sports," emphasized the leader.
"I am thankful for SQM's invitation to the presentation of its annual report, where we participated along with all of our neighbors, seeing the progress and the number of projects that the company is accomplishing in all the communities where they operate," confirmed Maritza Cabezas, in representation of Neighborhood Council No. 7 of Quillagua.
Comunidades
Reporte Sostenibilidad
Sostenibilidad