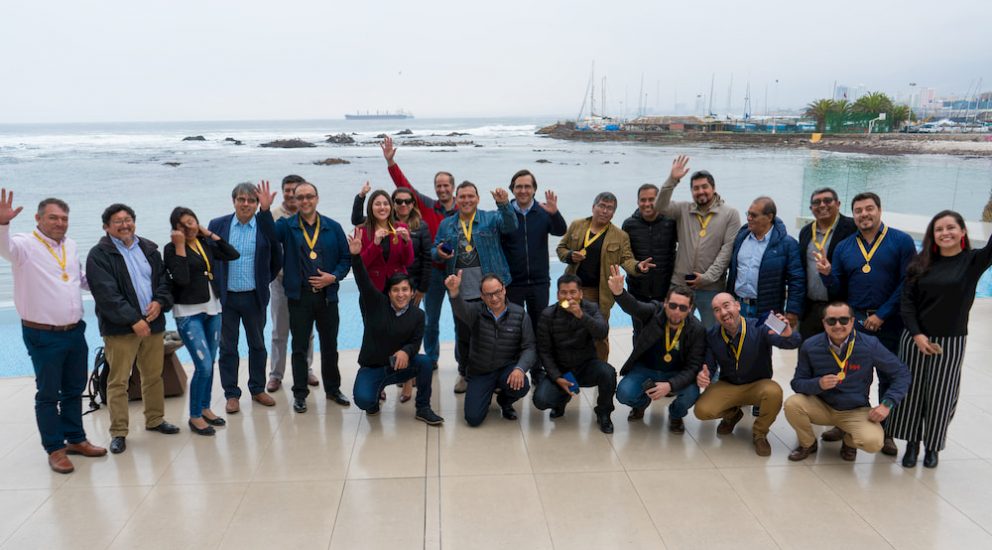 SQM Promotes Healthy Living Through 21 Athletic Initiatives
29/Jul/2019
The Sport Grant Program--organized by the Company for the second straight year--awarded grants to workers that submitted project proposals designed to promote different sports in the cities and towns near its operations. Héctor Torres, the head trainer for CDA, participated in the ceremony.
The 2019 edition of the Sport Grant Program attracted 25% more applicants than the prior year. In all, more than 30 projects were submitted and 21 were selected from among the program's four lines of action: instructional, recreational, competitive and high performance.
The winning initiatives were implemented in the towns of María Elena, Tocopilla, Santiago, Toconao, Iquique and Antofagasta, among others. Their projects were presented by Company workers that play some sport at a competitive level, participate in sports organizations or represent relatives that are looking to promote sports and healthy living through diverse initiatives.
Fernando Molina is one of the SQM employees who benefited from the grants. He will organize a tennis tournament for SQM workers at the corporate building in Antofagasta. The athlete commented, "Often people think of tennis as an "elite" sport. However, with the funds provided by SQM, we can see it as a more approachable sport that can be played at many different levels. I really appreciate the initiative. Thanks to the funds awarded to this project, we will promote physical activity and generate spaces for camaraderie with our coworkers."
Local athlete Hernán Torres participated in the recognition ceremony. The trainer for the Antofagasta Sporting Club (Club de Deportes Antofagasta or CDA) encouraged and congratulated the Company's workers for their commitment to sports. "There are many projects with different focuses that ultimately contribute to the same goal: promoting healthy living. The affiliations and teamwork that will come out of these projects is the best part of sports," he explained.
José Miguel Berguño, SQM's Nitrates and Iodine Operations Senior Vice President, expressed, "Our company has been in business for 50 years and is very committed to its employees and the community. At SQM, we are proud to promote athletic initiatives for the second year in a row and, given the program's positive results, we will continue to encourage healthy lifestyles and promote sports-related values."
Winning Projects
Some of the projects that will be carried out during the year include: a soccer academy in Tocopilla to teach the sport to children; a sports club made up of workers from Salar de Atacama who live in the Coquimbo Region; "Dancing for a Healthy Life" to provide Zumba classes to residents of Toconao. In that same town, kid and youth half-court soccer tournaments will also be organized. In Antofagasta, a corporate soccer tournament will be held and in Iquique the grant will provide support for Aixa Catalán, the current national archery champion, who also received funds last year.
The Company will also support initiatives related to mountain biking, cold water swimming, 10K runs, marathon running and basketball.