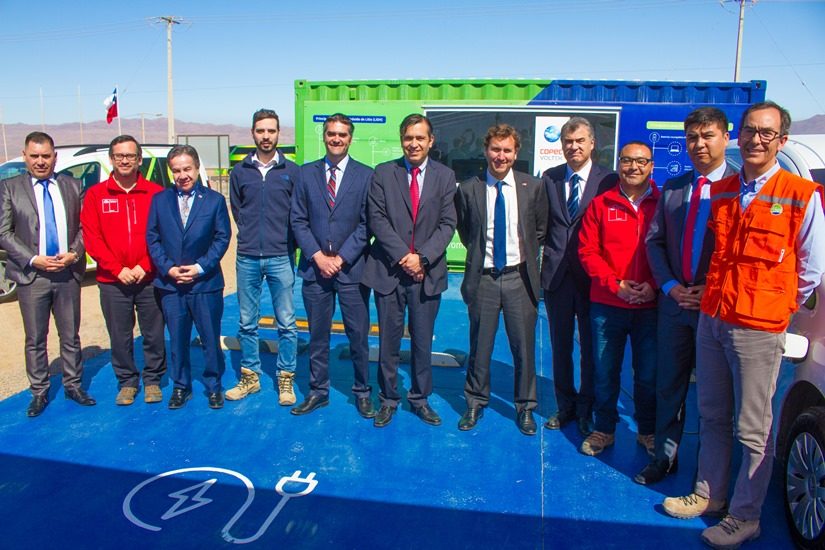 South America's first solar eco-charger for electric cars inaugurated in Antofagasta
24/Sep/2019
In an effort to respond to climate change and in advance of COP 25 in Chile, SQM and Copec developed a unique electric charger that uses solar energy and a lithium battery system.
The first solar eco-charger that works off-grid has been unveiled in Salar del Carmen, the site where SQM produces lithium hydroxide and lithium carbonate, both of which are essential for the global development of electromobility. The device uses solar energy captured through 46 photovoltaic panels and has a lithium battery back-up system that consists of nine modules.
The inaugural ceremony led by Corfo Executive Vice President Pablo Terrazas, Regional Governor Marco Antonio Díaz, SQM Vice President of Operations Potassium – Lithium Carlos Díaz and Copec Corporate Development and Management Director Leonardo Ljubetic marks a milestone in the green revolution in the mining and mobility industries. This is the first project of its kind to be implemented in South America and to incorporate the use of clean energies, which have a direct impact on reducing greenhouse gas emissions.
"We have responsibly taken on our role as global leaders in lithium production, and we seek to actively contribute to the development of electromobility. We have taken the first step to promote this technology at our sites because having this type of charging point aligns with our systematic commitment to raising our sustainability standards by contributing to efforts to reduce polluting emissions through our fleet of electric cars," noted Carlos Díaz, Vice President of Operations Potassium – Lithium.
Copec's Director of Corporate Development and Management, Leonardo Ljubetic, explained, "We are promoting the birth of a new Copec and creating the corporate structure required to invest in and develop innovative projects such as the solar eco-charger. Our vision of the future brings together new forms of mobility, renewable energy sources and distributed storage systems based on artificial intelligence. The initiative that we are inaugurating today brings this all together and seeks to encourage Chilean companies to lead the new industrial era that Chile needs to achieve sustainable development."
Following a tour of the facilities, the officials celebrated by symbolically charging a SQM electric car using the new eco-charger. The mining company, which has a presence in industries that are strategic for human development through its business lines, announced that it will soon replicate this initiative at all of its sites in the Antofagasta Region: Tocopilla, Salar de Atacama and María Elena. This will position the project as the first solar eco-charger circuit in northern Chile.
At the end of the event, Corfo Executive Vice President Pablo Terrazas noted that, "Today we are witnessing an important milestone that places care for the environment and electromobility at center stage. The fact that one of the leading companies in lithium production is replacing fossil fuel vehicles with a fleet of electric cars sets a good example. This allows us to cement the route of electromobility in Chile and to serve as an example for other countries."
The executive added that, "We are very proud of this initiative and we will continue to work in this direction because we are aware that we are promoting the Clean Technologies Institute in the Antofagasta Region, which seeks to create a technological development and innovation entity that can make strides in areas such as electromobility."
It is important to note that the Industrial Association of Antofagasta (AIA) recently recognized this innovation by SQM and Copec for its contribution to the development of electromobility in the Antofagasta Region in the "Technological Contribution" category.
Eco cargador
Electromovilidad
Energías limpias
Litio
litio verde
SQM