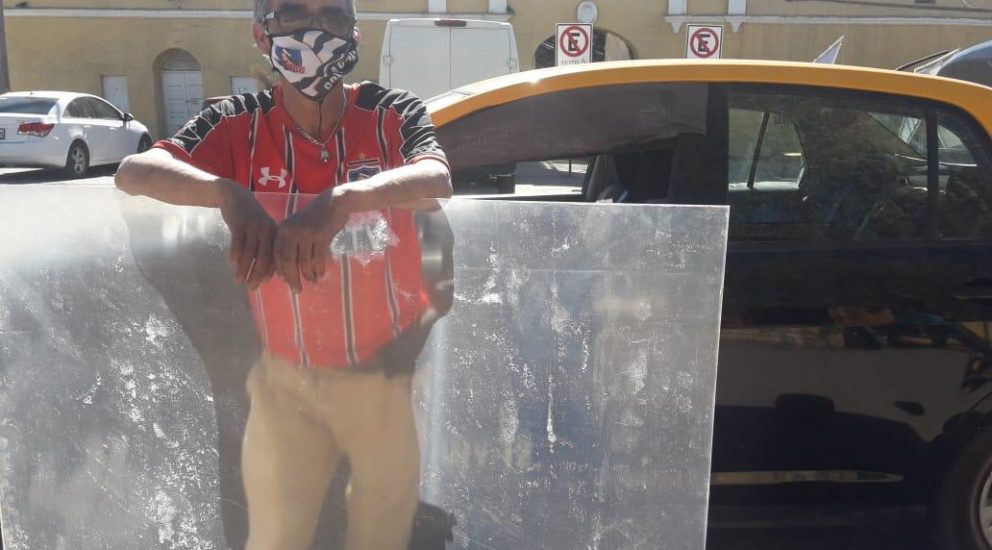 SQM Joins Forces with María Elena Taxi Drivers to Combat the Spread of Covid-19
14/Oct/2020
As part of its four-prong community action plan to help towns near its operations deal with the spread of coronavirus, the mining company continues to promote a series of initiatives in María Elena. One of the latest projects in this community was a donation of acrylic partitions to the taxi drivers' union to protect both drivers and passengers and help prevent the spread of the virus.
SQM continues to support multiple activities and initiatives in several communities near its operations in four action areas: Economic Recovery, Education and Healthy Living, Social Wellbeing and Health. Its efforts in the fourth area have included periodic donations of sanitary kits for the 24 taxi drivers working in María Elena, in addition to the recent contribution of 16 acrylic partitions to protect passengers using this means of transportation.
"We are very happy about this new support because it gives us peace of mind and protects both the drivers and our customers. We are grateful to the company for their ongoing concern, which has also included regular donations of cleaning supplies," said Carlos Valencia, president of the María Elena Taxi Drivers' Union.
"We have been there for the community throughout the public health crisis in a variety of ways. At a time like this, it is very important to continue and step up sanitary measures, which is why we have decided to support María Elena's committed taxi drivers, who are doing their job under strict safety measures in order to not put the population at risk. The acrylic partition donation was complemented by sanitary kits so that drivers can regularly clean their vehicles, and have other supplies on hand for their own protection, such as hand sanitizer, quaternary ammonium and face masks," explained Pablo Pisani, Director of Communications, Sustainability and Public Affairs at SQM.
Of the 24 taxi drivers that belong to the union, only 14 are currently working. The remaining members are sheltering in place because they belong to higher risk groups.