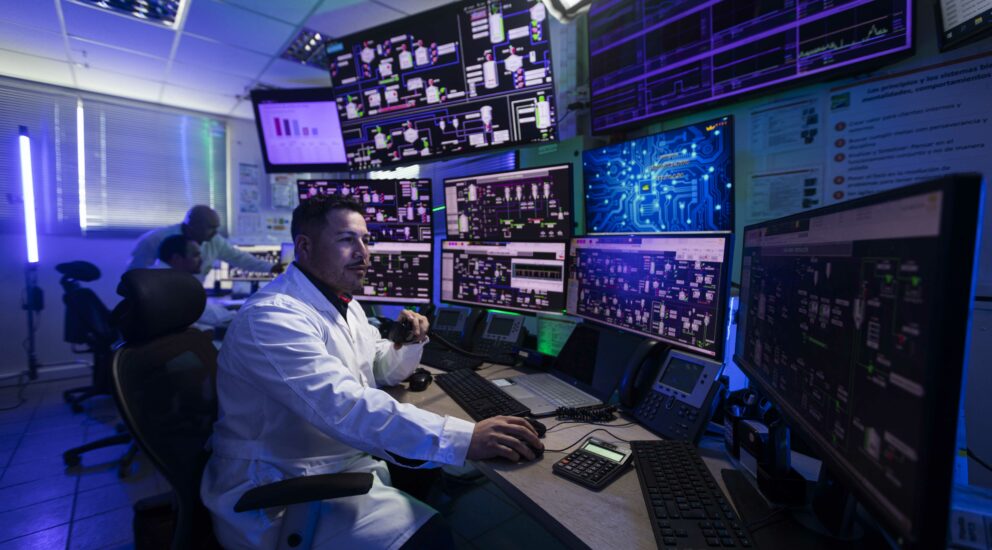 SQM inaugurates the third call of open innovation proposals for More Lithium, Less Footprint
22/May/2023
As in previous years, the call is aimed at entrepreneurs, startups, R&D centers, universities and SMEs, among others, that work with electromobility and energy storage solutions. In this version, a third area of focus will be added, concentrating on solutions that enhance access to and care of water for consumption and/or use in production.
Promoting the experimentation, piloting and implementation of new solutions related to the transition to clean energy, electric mobility and care of water resources in communities in the regions of Antofagasta and Tarapacá, is the main objective of the call "More Lithium, Less Footprint" promoted for the third consecutive year by SQM, in conjunction with the innovation accelerator INNSPIRAL.
This third version, similar to previous ones, seeks to convene solutions related to electric mobility and stationary energy storage, while adding a third focus of interest, related to access and care of water resources, in the search for projects which increase the availability of drinking water, improve the quality of this vital element and optimize its management for self-consumption and/or production use in desert agriculture within communities in the regions of Antofagasta and Tarapacá.
More Lithium, Less Footprint III will offer a prize fund of US$120,000 to be distributed among the winners and used for project implementation. In turn, the three winners will receive expert mentoring and assistance from SQM to implement their solutions in communities in the north of the country.
José Miguel Berguño, SQM Senior VP of Corporate Services, commented that: "Innovation and sustainability are key pillars of our business model, which has allowed us to become a world leader in lithium production, with one of the lowest carbon footprints in the market. In this context, we are always facing new challenges to advance towards a technological and sustainable industry, capable of generating added value while also promoting the innovative ecosystem."
The executive then added: "As a company we are very proud to launch a new version of the call, which this year has a special emphasis on innovation and startups from the north of the country that stand out for promoting the development of new business opportunities with an environmental and social impact".
In the last two versions of the call, nearly 100 startups have already participated, including Antü Energía, Movener and Refil—winners of the first version—and Remote Waters, Endurance Electric and Litoihm—winners of the second version, who are already carrying out their pilot projects with La Tirana, Quillagua, Bajo Soja, Caleta Urco, among other communities in the regions of Antofagasta and Tarapacá. Iván Vera, president and founder of INNSPIRAL, emphasizes "we are optimistic and enthusiastic about the creation of a high-value technology industry for the economic growth of the region and the country. In northern Chile, this is taking place through the connection between large mining companies, their suppliers and technology-based ventures from universities and R&D centers in the regions of Antofagasta, Tarapacá and other parts of the country. Programs such as More Lithium, Less Footprint, led by SQM, are promoting this trend. This type of competition, organized by large mining companies, stimulates the creation of new knowledge and new innovation, fostering collaboration among the region's stakeholders. It is a new, excellent opportunity for technology startups to implement and scale their solutions with high internationalization potential. We are witnessing the emergence of high-tech exports from Chile."
Applications are open as of Monday, May 22nd at www.openinnspiral.com,and startups can apply until Thursday, June 15th at 23:59 hours.
SQM Lithium Ventures
The winner of each focus of More Lithium, Less Footprint III will be automatically pre-selected as a startup for the last stage of the selection process for the second SQM Lithium Ventures Corporate Acceleration Program, to be developed during the second half of 2023. This will allow them to compete for a place to participate in the SQM Lithium Ventures acceleration program, which will include participation in different modules (e.g. need assessment, advisory boards, mentoring and workshops, training and academy, tests, pilots, technical visits, among others) and a Demo Day for the program. 
Electromovilidad
energía
Innovación
STARTUP