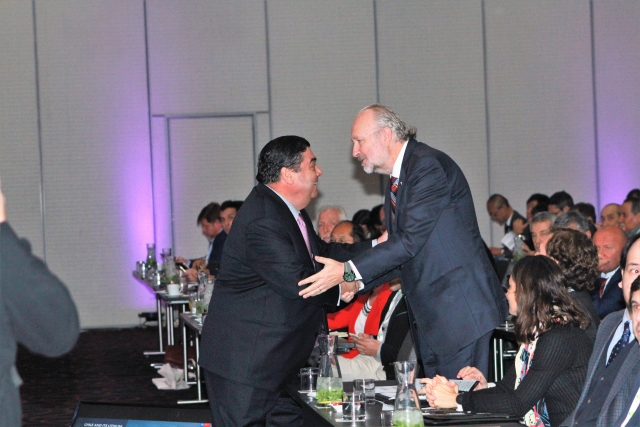 SQM Participates in International Lithium Event
24/Jul/2019
Lithium Supply & Markets 2019—one of the most important lithium conferences in the world—returned to Chile after ten years, with SQM as the main sponsor.
​The last time Chile hosted this event was exactly 10 years ago, when the country organized the first Lithium Supply & Markets conference in 2009. Today, SQM is the main sponsor of the global event, which brings together industry experts from around the world.
The inaugural session was attended by Mining Minister Baldo Prokurica and Undersecretary of Mining Pablo Terrazas as well as other government officials. The SQM delegation was led by Board Chairman Alberto Salas and Potassium Lithium Operations Senior Vice-President, Carlos Díaz, and and Lithium and Iodine Commercial Senior Vice-President, Pablo Altimiras.
"As the home of the world's largest known lithium reserves, Chile plays a key role in the growth of this market by establishing clear rules that allow more investment to be made in sustainable operations that will allow it to recover its position as the leading exporter of lithium, providing confidence in and support for the green revolution in the automobile industry," stated Alberto Salas, who was responsible for opening the conference.
Demand for lithium is expected to triple by 2025 to one million tons. This will require 700,000 metric tons of new capacity, as the current level is 300,000.
"Today, the auto industry sells approximately 100 million cars. Penetration of full electric vehicles was nearly 3% in 2018. The estimates for the future of this market vary, but we believe that penetration rates of full electric vehicles could exceed 10% worldwide by 2025 and 15% in China," Salas added.
Discussion panels were held during the conference among production and supply leaders and investors. The topics included regulation, production and innovation in Chile, China, North America, Australia and Argentina; new technologies; the composition of batteries; future scenarios; and lithium prices.
Minister of Mining Baldo Prokurica stated that Chile will go from producing 96,000 tons of lithium carbonate to 230,000 tons in 2023 and outlined the country's current portfolio of projects, which represent total investments of US$1.8 billion.
Chile possesses 54.7% of known reserves of lithium and is the second largest global producer of the element after Australia. SQM maintains a leadership position in the industry and works to strengthen it each day and to continue to lead the development of innovative solutions for human development.
The goal of the conference was to analyze the present and future of the white metal, including in-depth discussions and participation by both presenters and audience members. Agreements and commercial networks were also generated within the industry.
The conference ended on June 14 with a visit by nearly 100 people to SQM's operating facilities in Salar de Atacama.