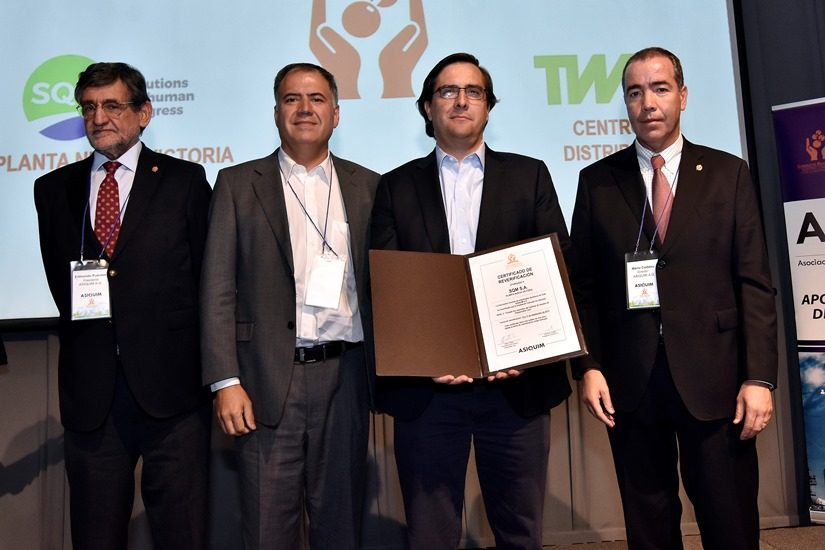 SQM Recertified in Responsible Conduct in the Chemical Industry
03/Jan/2020
The Chilean Chemical Industry Association's Responsible Care Commission recognized various Chilean companies at its annual ceremony. SQM received accreditation for its noteworthy work on the environment, health and safety.
SQM received Responsible Conduct accreditation for the first time in 2013, and reaffirmed its commitment by being recertified for three years in 2016. An audit conducted this year in Nueva Victoria, the world's largest iodine production site, will extend it for another three years, until 2022.
This commitment, which has been undertaken voluntarily by SQM, ensures that it will meet the six basic principles of Responsible Conduct. These are: continuous improvement in the areas of the environment, health and safety; efficient use of resources; openly reporting on performance; listening to, including and working with neighboring communities; cooperating with the government and other institutions to develop and implement standards; and providing assistance to promote responsible management of chemical products.
These efforts were recognized at the Chilean Chemical Industry Association's annual ceremony through its Responsible Care Commission. The entity's members praised SQM's ongoing efforts and its contribution to strengthening best practices.
José Miguel Berguño, Nitrate and Iodine Operations Senior Vice President at SQM, and Assistant Environmental Manager Ismael Aracena received the award on behalf of the institution, which decided to focus on the sustainable development of the industry in honor of its 25th anniversary.
"Our company focuses on excellence, and this reverification shows that we are headed in the right direction," José Miguel Berguño remarked. He added, "This management system has important weight at the global level, and that encourages us to take on the challenge of continuing to move down this path and to work on opportunities for improvement related to its six pillars. These provide a foundation for our work and promote the sustainable development of the industry in accordance with high standards in the areas of the environment, health and safety"
The awards given by ASIQUIM at its annual ceremony are included in the 2019 Responsible Care report. The document, which is the first of its kind, outlines the evolution of the management system over the course of the 25 years that it has been used in Chile along with the main performance indicators.