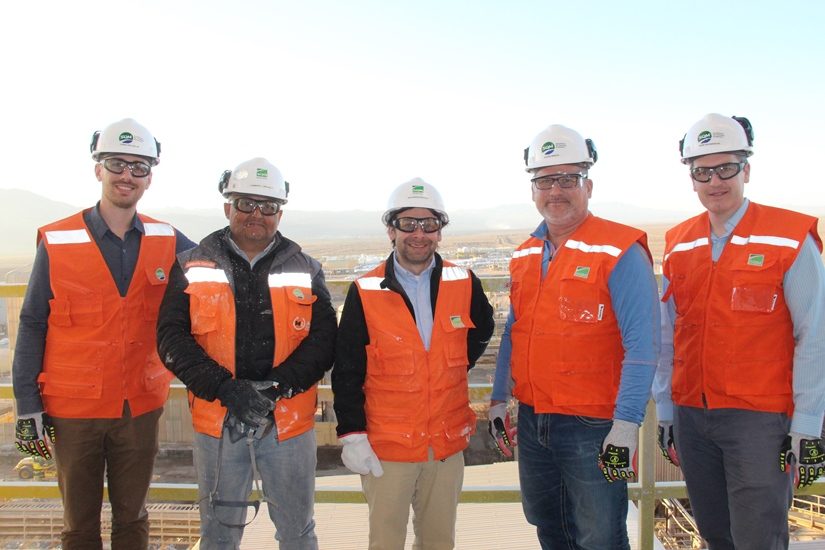 Assistant Deputy Minister of Natural Resources Canada's Lands and Minerals Sector Visits Lithium Operations in Antofagasta
27/Aug/2019
SQM produces lithium sustainably, reducing its carbon and water footprints and contributing to the development of communities near its operations. To learn more about this key input for the development of electromobility, Canadian official Glenn Mason toured SQM's operations as part of Mining Week for Asia Pacific Economic Cooperation (APEC) Chile 2019.
In recent years, electromobility has burst onto the scene as a clean, viable alternative for reducing dependence on fossil fuels. More than 5.6 million electric cars hit the road every day, representing 0.4% of all vehicles worldwide. By the year 2030, this number is expected to rise to 120 million, equivalent to over 30% of global new car sales.
According to the Electric Power Research Institute, the electrification of transportation could help reduce emissions by 430 to 550 million tons of CO2 by 2050, which is equivalent to the emissions from 80 to 100 million internal combustion vehicles.
In this context, lithium plays a key role in developing this technology given its chemical properties. As explained by Pablo Pisani, Communications, Sustainability and Public Affairs Manager at SQM: "One of the main facilitators of electromobility has been the lithium ion, which boasts a relatively low weight and volume in comparison to other metals that can potentially be used for manufacturing electric batteries. This is why demand for lithium has grown considerably over the past few years."
To learn more about SQM, green lithium production and the challenges presented by the market for this product, Glenn Mason, Assistant Deputy Minister of Natural Resources Canada's Lands and Minerals Sector, visited SQM's facilities in Salar del Carmen where lithium carbonate and lithium hydroxide are produced.
During the visit, the Canadian official explained the importance for both countries to be connected on mining matters, since each nation has a long track record in the industry. Mason then added: "SQM has been in business for more than 50 years and from the tour I could clearly appreciate that the company is a consolidated organization with high production and safety standards that have made it one of the main lithium producers in the world."
The visit was led by Alejandro Bucher, Senior Vice-President of Technology, Communities and the Environment for SQM, who spoke about the community work being developed in areas near the company's operations and its efforts to reduce its carbon footprint. Since 96% of the energy used by SQM is solar, lithium hydroxide and lithium carbonate produced from brine have a very small carbon footprint.
Another critical concern is the water footprint. When talking about water resources in the lithium industry, it is important to understand the difference between fresh water and brine, from which the mineral is extracted. Brine cannot be used for farming or human consumption. Also, a large part of the extracted brine is reinjected into the system once the lithium is removed.
Another key aspect for SQM is energy efficiency. And, unlike typical mining processes that rely on energy consumption for blasting, crushing and extraction, SQM uses solar radiation over a much longer processing time, which translates into a smaller energy footprint.
Carbonato de Litio
Electromovilidad
Litio
litio verde