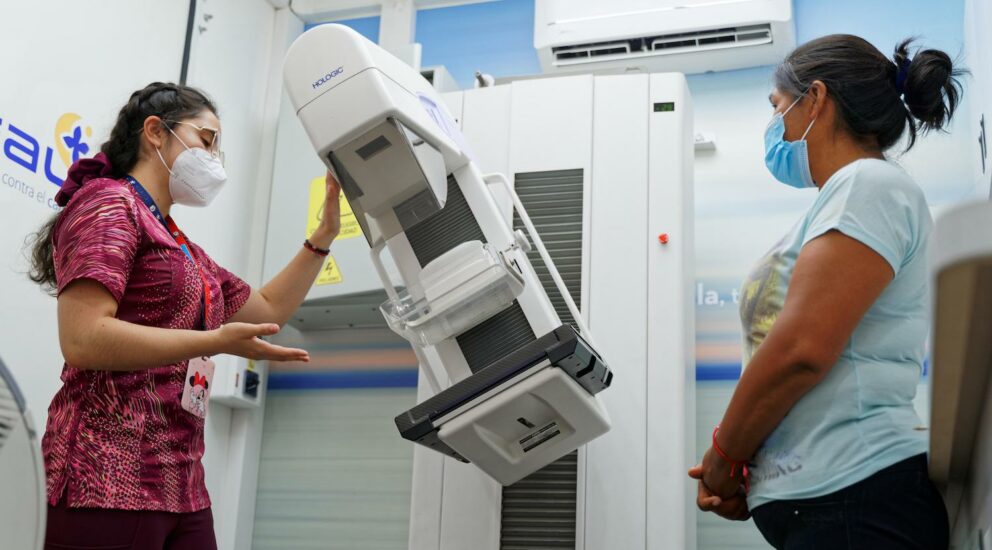 FALP and SQM join forces to promote breast cancer prevention
06/Nov/2023
According to WHO data, more than 685 thousand people were reported to have died from this pathology around the world in 2020. Essential ways to fight back include education, self-care and prevention. In this context, SQM and the Arturo López Pérez Foundation are conducting preventive screenings in the regions of Antofagasta and Tarapacá.
During breast cancer awareness month, the Arturo López Pérez Foundation (FALP) is carrying out a campaign called "Aunque cueste, primero nosotras. Detectar el cáncer de mama, cuanto antes mejor" [No matter the cost, ladies first. Breast cancer detection, the earlier the better], an initiative to educate people about the importance of having a mammogram, the only test to detect this cancer in its early stages.
SQM has joined this campaign to raise awareness among women in neighboring communities in the north of Chile and company employees so that they can recognize risk factors and do preventive exams.
About the initiative, SQM Corporate Affairs Manager Pablo Pisani said: "At SQM we are working on an internal campaign to support this initiative, providing tips for early detection. In addition, close to a thousand women in the Tamarugal Province and the Salar de Atacama have benefited from our mobile mammography clinic, an initiative that we promoted together with the Arturo López Pérez Foundation."
On behalf of FALP, its Donations and Charity Manager, Soledad Neumann, said: "We would like to thank SQM for its commitment to contribute to this campaign, to increase the scarce coverage of mammograms in our country by bringing this exclusive and effective test to women in the community to diagnose this disease, which has a 95% survival rate if diagnosed on time."
According to WHO data, in 2020 more than 685 thousand people worldwide died from this pathology and over 2.3 million were diagnosed. In our country, breast cancer has been the main cause of cancer death in recent decades, with more than 1,600 people dying (data from the International Agency for Research on Cancer, Globocan 2020).
For more information and to learn more about the current campaign, please see https://www.institutoncologicofalp.cl/landing/cancer-de-mama-2023/