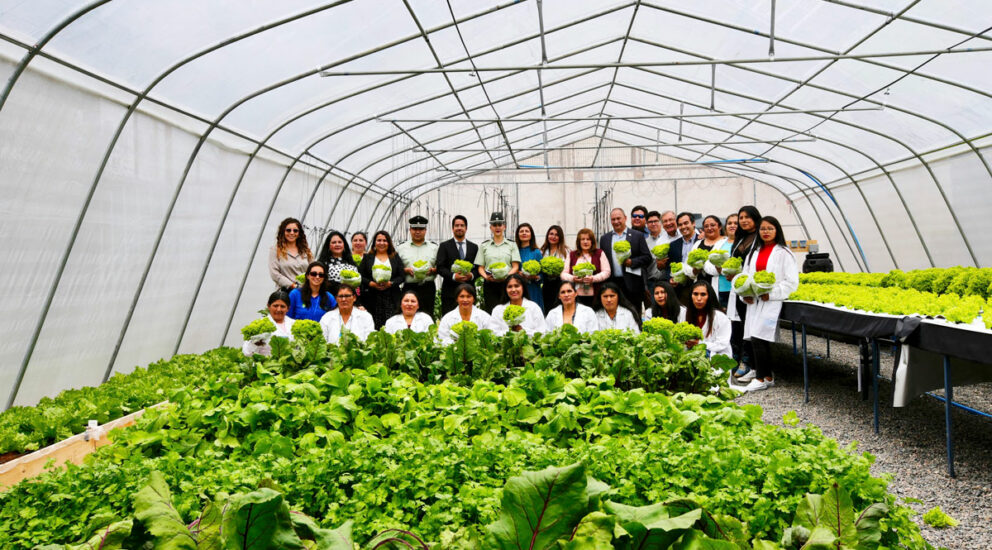 More than 1,200 heads of hydroponic lettuce will be produced by inmates at Iquique Correctional Center
02/Nov/2023
A hydroponic greenhouse promoted by SQM, the Chilean National Prison Administration (Gendarmería) and La Semilla Foundation seeks to provide technical skills to inmates of the women's Penitentiary Correctional Center, contributing to their labor and social reintegration.
Products such as lettuce, peppers, chili peppers, eggplants, radishes and beets are being produced using hydroponics at the greenhouse inaugurated inside the Iquique Penitentiary Correctional Center (Iquique PCC), as part of a collaborative agreement between SQM, the Chilean National Prison Administration and La Semilla Fondation. This pioneering initiative in the region and the country will benefit the entire prison community, which will be trained by a group of SQM agronomists in hydroponic techniques, contributing to their quality of life and reintegration into the labor market.
"It is a very nice project and a unique experience that SQM has given us together with the prison administration, from planting the seed to producing our first crops. We have learned things that are very useful for a better future," said Joselyn Quispe, an inmate who benefited from the project.
The initiative is part of SQM's ongoing public-private work with various institutions in the region. This particular project aims to strengthen productive development through its Atacama Tierra Fértil program and support from professionals in the field.
As explained by Pablo Pisani, Community Affairs Manager for SQM's Nitrate Iodine Division, "We are very happy to be at the Iquique PCC to inaugurate a project that has been a great success for all involved. SQM is the leading global producer of potassium nitrate, a specialty fertilizer that is essential for hydroponic projects like this. It is a tremendous opportunity for the inmates, who will learn new tools in high-tech agriculture, which is part of the present and future of farming in Tarapacá."
For its part, the Chilean National Prison Administration highlighted this initiative, which seeks to give inmates dignified reintegration into society, a key objective for the institution, which faithfully promotes this type of project. The regional director, Colonel Juan Carlos Zamora, referred to the matter, adding that "it is innovative work supported by a private company, with whom we have built this infrastructure to provide concrete tools for our inmates to develop and have other types of opportunities in and outside the prison system."
The facilities include a 240 m2 tunnel-type structure, with a floating-root hydroponic production area for leaf vegetables, a substrate production area for fruit crops and a work area for transplanting and harvesting. It also features a 550 l/h reverse osmosis water filtration plant to supply the greenhouse with quality water for irrigation.
The regional Justice and Human Rights Ministry official for the Tarapacá Region, Pablo Valenzuela, thanked the agencies involved for their commitment. "[They] provide a real opportunity for the inmates, through this public-private agreement that contributes to the Chilean National Prison Administration's role in social reintegration."
The inauguration ceremony was led by the Tarapacá regional official from the Justice and Human Rights Ministry, Pablo Valenzuela; the regional director of the Chilean National Prison Administration, Colonel Juan Carlos Zamora; Pablo Pisani, Corporate Affairs Manager for SQM's Nitrates Iodine Division; and Héctor Nordetti, executive director of La Semilla Foundation.
The three-party agreement will last until 2026 and hopes to benefit dozens of inmates with technical support provided by La Semilla Foundation and SQM's agronomists.