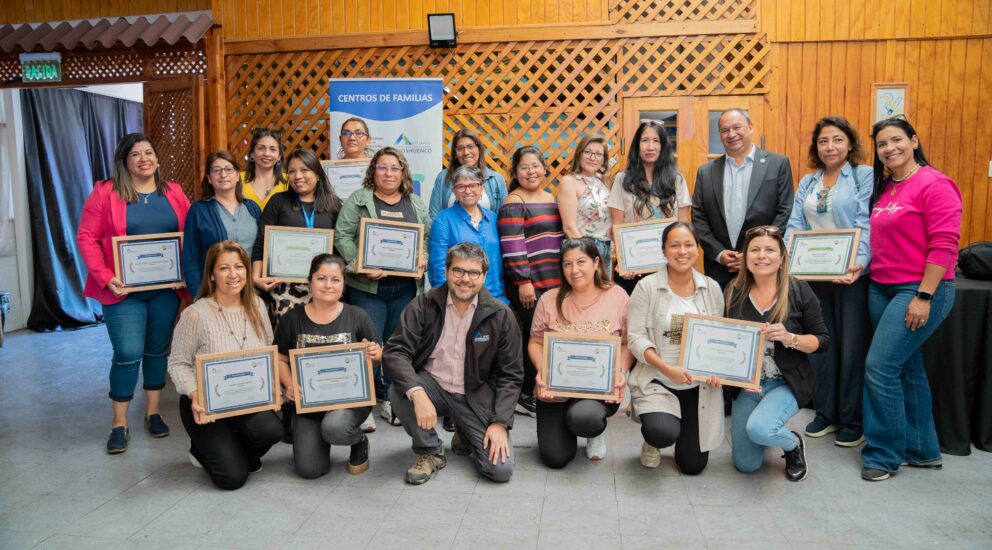 Choshuenco's educational program celebrated its first year together with sponsoring organizations and preschools in Antofagasta and Tarapacá
03/Nov/2023
In Tocopilla, a ceremony was held to recognize the organizations and preschools that are part of the Educational Transfer Agreement for Family Centers.
The main objective of this meeting, held in Tocopilla, was to commemorate the first year of work with the organizations and preschools that belong to the Educational Transfer Agreement for Family Centers, implemented by the Choshuenco Foundation in the Tarapacá and Antofagasta regions and supported by SQM.
The following preschools participated in this activity: Estrellitas del Pacífico, Mi Mundo de Colores, Papelucho y Ardillita, Pequeños Pozitos, Inti Phaxi, Los Pampinitos, Los Patroncitos and Camaroncito. Other guests included the representative of the National Board of Preschools (Junji) for Tocopilla-Quillagua, the provincial delegate of Tocopilla, the Executive Director of the Choshuenco Foundation and SQM's Corporate Affairs Manager.
This agreement seeks to provide educational establishments with teaching tools to eventually create nine family centers to strengthen the parenting skills of fathers, mothers and grandparents, thus enabling them to play a positive role as primary educators.
Patricia Díaz Galeas, executive director of the Niños en la Huella Foundation affiliated with the Pequeños Pozitos and Inti Phaxsi preschools, spoke to us about this collaboration: "We have maintained a fruitful alliance over the past two years with SQM and the Choshuenco Foundation. This has allowed us to reinforce the competencies of our technical teams through a transfer program that ultimately aims to create family centers. During this stage, we have worked on building new knowledge for the technical teams from the perspective of initial education. Not only do we seek to offer meaningful, quality learning experiences that are locally relevant, but we are also generating new knowledge to support the parenting and mental skills of our families."
Lizeth Manque Saavedra, a teaching assistant at the Pequeños Pozitos preschool, commented: "The work being done is of great importance for our district, which is small. We need this type of contribution so that more children can have access to education, which contributes to the growth of the community."
Rachel Cortés, Provincial Delegate of Tocopilla, highlighted the private sector's collaboration: "We greatly appreciate private enterprise's role in supporting our work in early education public policy. These strategic alliances will allow us to further stimulate our children. As we have emphasized, they are not only the future, but also the present."
Meanwhile, José Manuel Jaramillo Vergara, executive director of the Choshuenco Educational Foundation, said: "This helps boost attendance and enrollment, ensuring that children attend preschool and nurseries on a daily basis, as this is where their cognitive growth develops."
He also stressed the importance of support from the private sector: "We cannot address the country's challenges without the collaboration of the public and private sectors, as well as academia. In this case, SQM has worked tirelessly for the past three years in collaboration with these nine preschools, building links and trust to improve quality education in the community."
In that context, Pablo Pisani, Community Affairs Manager for SQM's Nitrate Iodine Division, explained: "We have been collaborating for three years with the Choshuenco Foundation on this program, which seeks to strengthen primary education through educational transfer and the creation of family centers. Our objective is to strengthen the teaching efforts of early childhood educators at these early ages and to establish a direct link with families and educational establishments.
This initiative is one in a series of educational initiatives promoted by SQM in northern Chile, such as: NorteEduca, AntofaEduca, Vilti Semann, Lab4U, among others.
Antofagasta
Chile
Educación
jardines
primerainfancia