Environment
SQM is strongly committed to sustainable development. Consequently, the Company carries out its operations in harmony with the environment, ensuring that natural resources and inputs are used in a sustainable manner and minimizing the possible impacts of our production processes. We have developed solid know-how of the ecosystems surrounding our operations, which enables us to implement the prevention, mitigation, monitoring and control plans necessary to ensure that these environments are protected. We work relentlessly to continually improve all our processes and operations.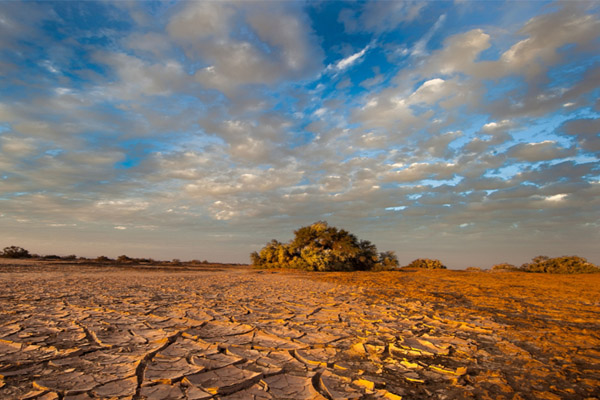 Environmental Protection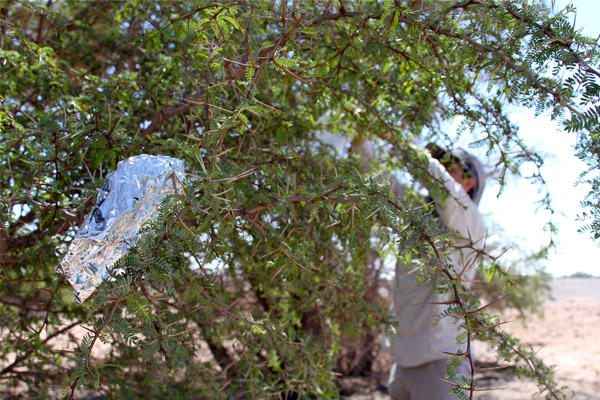 At SQM we carry out our operations conscientiously, in harmony with the environment and in compliance with environmental legislation in effect. It is essential that we work to ensure that natural resources and production inputs are used sustainably and to minimize the possible impacts of our production processes on the environment and neighboring communities. We conduct our activities in accordance with our Sustainable Development Policy in order to minimize environmental impact and incorporate environmental variables into our operations early on, beginning in the design stage. This helps us to implement control and mitigation measures and avoid contamination by properly managing waste and emissions.
Our operations are located in desert areas with scarce biodiversity. However, there are some areas near our operations with significant ecological value. In these areas we have implemented ongoing protection, monitoring and control plans to help protect the environment. The experience has provided us with a solid knowledge base of the ecosystems surrounding our operations, which has enabled us to draft and implement effective prevention, mitigation and monitoring plans. Each of our projects is submitted to the Environmental Impact Assessment System.
As of December 2019, we have environmental authorization for a total of 62 projects (16 by SQM Nitratos S.A, 12 by SQM Industrial S.A, 14 by SQM S.A and 20 by SQM Salar S.A.). Of these 62 projects, 11 were approved with an Environmental Impact Study (EIA) and 51 with an Environmental Impact Statement (DIA).
Water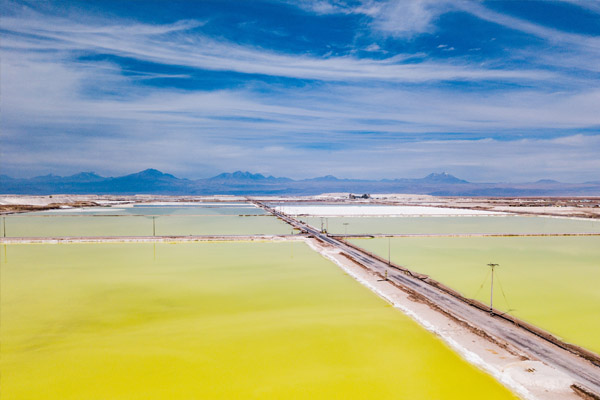 Since SQM's operations are located in areas with scarce wáter resources, the use of this resource is very important to our Company and it must be well managed in our production processes. We have water rights that have been duly authorized for our operations. The water extracted is salt, underground and surface
water.
SQM periodically informs authorities of water consumption for its production processes and Works constantly to identify ways to use water efficiently. It also evaluates each facility's wáter management indicators on a yearly basis.
We take measures to ensure efficient water use such as:
• Reincorporating all water treated in SQM sewage treatment plants into its production processes. This water is reutilized in our processes in María Elena, Pedro de Valdivia, Coya Sur, Nueva Victoria and Salar de Atacama. The Company's sewage treatment plants are maintained and monitored by specialized service providers.
• Reutilizing process solutions to reduce the consumption of fresh water.
• Using suppliers that offer industrial water from treated domestic waste water. The industrial water used at the Salar del Carmen facilities comes from waste water treated by the city of Antofagasta.
The Company has used these sources to supply almost 84.6% of the industrial wáter needed to produce lithium hydroxide and lithium carbonate at the Salar de Carmen facilities. The rest of the consumption requirements are met with purchased, desalinated seawater.
Extraction of fresh water for production purposes is strictly controlled by environmental assessments. This helps prevent damage to important environmental elements (vegetation, flora and fauna) in aquifers and surface wáter sources where the Company has water extraction rights. In conjunction with these studies, extensive hydrogeological modeling is designed and validated under the supervision of national and international experts, based on which the Company conducts ongoing monitoring of expected behavior. Of the total underground resources extracted for Nueva Victoria in 2019, 802,625 m3 were reinjected as part of the mitigation measures for the Pampa Hermosa project in Salar de Llamara.
In order to optimize consumption, we recirculate all waste wáter and water treated at SQM sewage treatment plants into our production processes, thus reutilizing all water. In 2019 we reused approximately 548,550 m3 based on operational estimates.
Domestic liquid waste from our offices in Antofagasta and at the Port of Tocopilla is disposed of in the public sewer system and, therefore, no dumping occurs that could affect biodiversity and protected. No effluent is discharged.
In the year 2019, no significant spills contaminating the soil or water (surface or groundwater) were reported at the Company's operating facilities and production sites.
1,343,699 m³ OF SEWAGE WERE REUTILIZED IN 2019.
WATER CONSUMPTION 2019: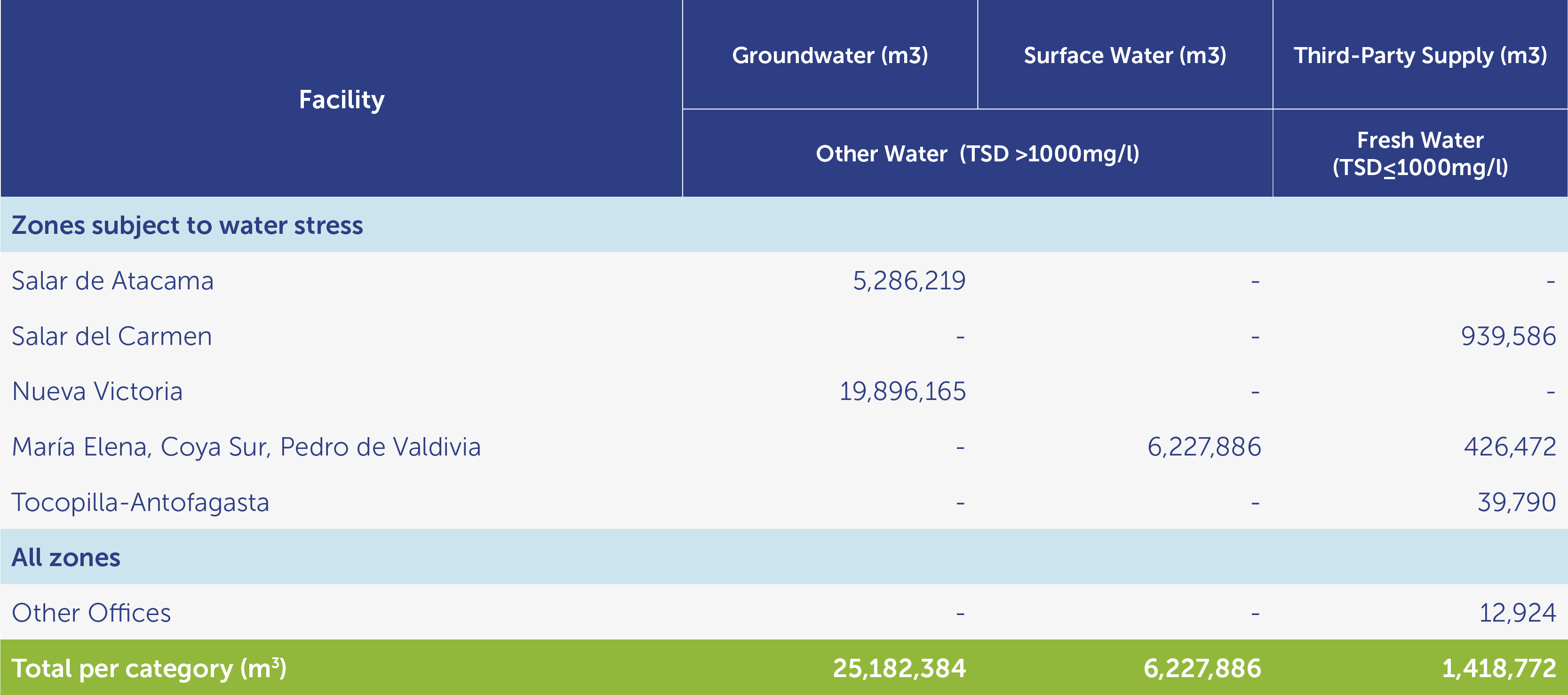 Waste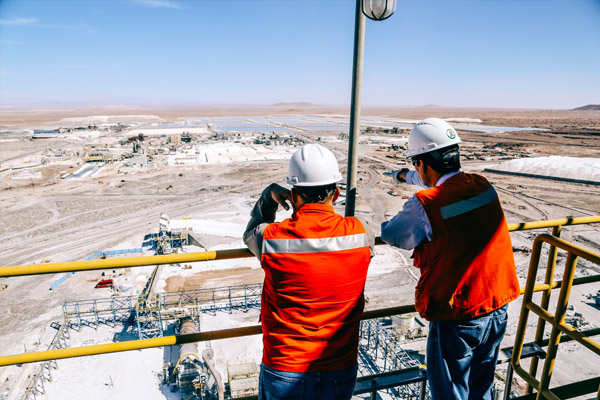 Given the importance of waste management to SQM's operations, it works hard to ensure waste is safely handled. which includes obtaining necessary authorization for transport companies and final disposal sites.
SQM has developed plans and procedures to manage both hazardous and non-hazardous waste. We have eight temporary storage sites for hazardous waste authorized by the Regional Health Agency (Seremi de Salud), six authorized temporary storage sites for non-hazardous industrial waste and an area for disposing of domestic waste generated at its operations.
In 2019, 82% of the hazardous industrial waste generated in our production facilities was sent off-site for final disposal using authorized transport, while the remainder was recycled or used to generate energy. Hazardous waste is transported in accordance with regulations in effect in Chile.
SQM manages solid domestic waste at all facilities and camp accommodations or disposes of this waste in authorized landfills.
In 2019 it did not generate any hazardous waste that was disposed of or treated internationally. Nineteen percent (18%) of the hazardous waste generated by its operations was recycled by external companies as alternative fuel.
The Company prioritizes recycling or reusing inputs, opting to eliminate waste only as a last resort, and when we do, we work with authorized waste management companies.
Most of our products are sold in bulk, which significantly reduces packaging and minimizes future waste.
Emissions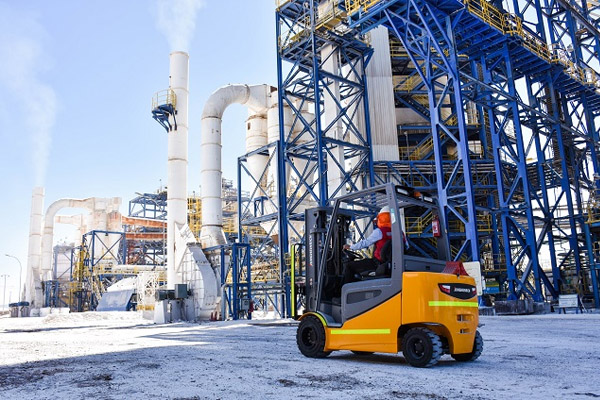 We continuously monitor air emissions at all facilities using detailed projections of expected environmental effects, emissions abatement equipment and proper monitoring of emissions.
We also maintain meteorological stations that are key in monitoring solar evaporation processes at facilities. In addition to these measures, as part of its existing environmental monitoring plans, the Company conducts isokinetic measurements on smokestacks (on dryers and boilers).
SQM has worked hard to manage and monitor emissions of particulate matter (PM10). For this, we have a vast air quality monitoring network in the town of María Elena and participate in the air quality monitoring efforts in Tocopilla.The Company has implemented a wide range of measures to fulfill commitments to control and reduce its PM10 atmospheric emissions in these towns as part of their decontamination plans.
• PM10 emissions in María Elena have decreased 97.8% from 2007 to date. This reduction can be attributed to operational changes implemented by SQM and has resulted in significantly improved local air quality and meeting of daily and annual PM10 standards.
• In the case of Tocopilla, PM10 emissions generated by SQM's port operations are minor as compared to other sources in the city. As part of the Tocopilla Decontamination Plan, commitments have been fulfilled and all measures necessary to mitigate emissions have been taken.
In 2019, SQM's port operations reported PM10 emissions of 4.56 tons, marking a reduction of 37% from its 2007 levels. In comparison to 2019 levels, this reduction is 24% below commitments made in the decontamination plan.
GREENHOUSE GASES (GHG)
SQM estimates the total carbón footprint in aggregate for its entire production chain and separately for several products.
These estimates consider all stages from the mineral extraction processes to the finished product.
GHG INTENSITY

Based on these calculations, we have estimated our GHG emissions for 2017, 2018 and 2019 to be less than one million tons of CO2 equivalent (CO2 eq) each year.
For 2019, GHG emissions totaled 647,209 tons of CO2 eq, which can be broken down into 241,443 tons of CO2 eq (Scope 1) and 405,766 tons of CO2 eq (Scope 2), and includes CO2, CH4 and N2O emissions. GHG emissions are estimated using the IPCC Guidelines for National Greenhouse Gas Inventories and electric power is calculated using the factors posted on the National Energy Commission's website. The factors correspond to the North Interconnected System (SING) and the Central Interconnected System (SIC) and are calculated as follows:
SCOPE 1: DIRECT EMISSIONS FROM FUEL CONSUMPTION:

SCOPE 2: INDIRECT EMISSIONS FROM ELECTRICITY CONSUMPTION:

THE RESULTS OF THIS CALCULATION WERE:

Energy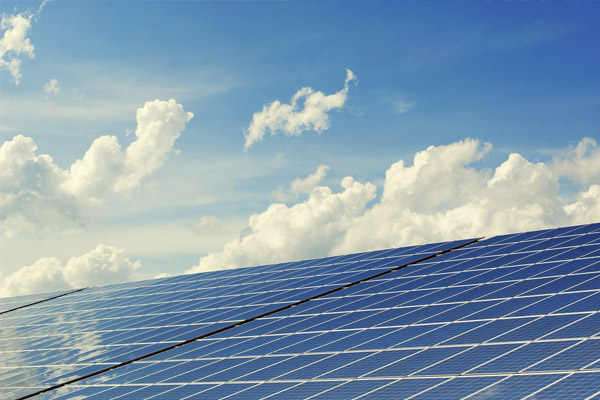 SQM uses a high percentage of solar energy, which is an important component of its production processes for solar evaporation ponds at the facilities in Coya Sur, Nueva Victoria and Salar de Atacama. This method gives it an advantage over other processes. It is only posible because the Atacama Desert, where SQM's operations are located, has extremely high levels of solar radiation, resulting in high evaporation rates and facilitating the processes employed to concentrate salts in ponds yearround. SQM's operations are also powered by electricity obtained from the National Electric System (SEN) and cleaner fuels such as oil and natural gas.
SQM has approximately 4,000 hectares of solar evaporation ponds, which allow it to harness significant amounts of solar energy, accounting for 91.1% of all energy consumed in our facilities.
91.1% OF THE TOTAL ENERGY USED AT OUR OPERATIONS COMES FROM SOLAR POWER
2019 ENERGY CONSUMPTION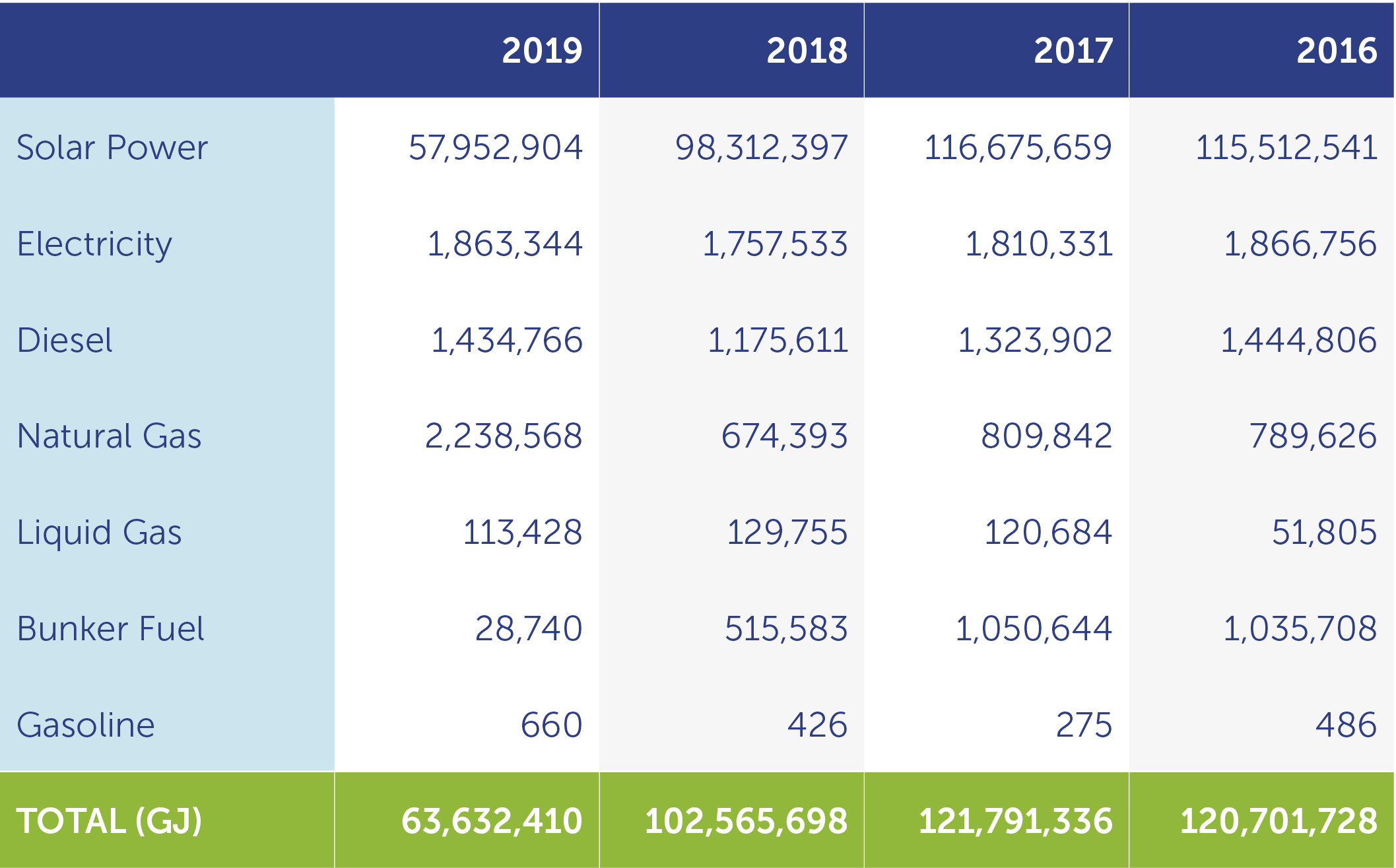 First Self-Sustainable Maintenance Workshop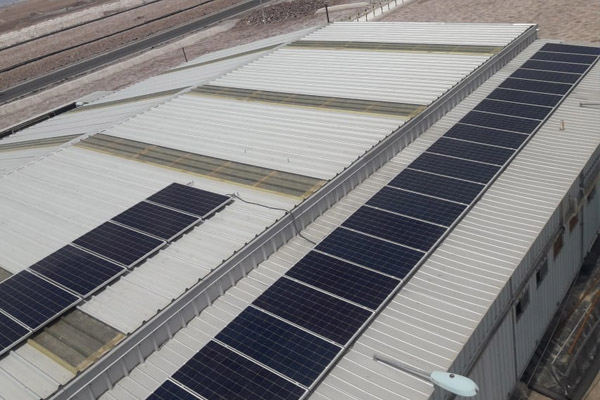 Northern Chile is known for its high solar radiation and low precipitation rates. That is what urged the Salar de Atacama's Superintendency of Mine Maintenance to develop an unprecedented project to use solar energy to power the Maintenance Shop in a way that is eco-friendlier and more respectful of the environment and neighboring communities.
The idea came from the workers, who challenged themselves to generate initiatives to help care for our environment.
The innovative idea is designed to co-generate clean energy at the shop using an 'On Grid' technology—a system that is connected to the power grid—that also aims to self-generate power using a system of solar panels. By using the panels installed on the roof, we have been able to provide 60% of the power required for the shop during the day," explained Muñoz.
The panels produce 68 kwh/day, for an annual production of 19 megawatts that are generated from 7:00 a.m.to 7:00 p.m. (the period of greatest solar radiation). After that time, the shop begins to pull electricity from the power grid until 06:59 a.m., when the photovoltaic panels once again feed the facility.
Driving Eletromobility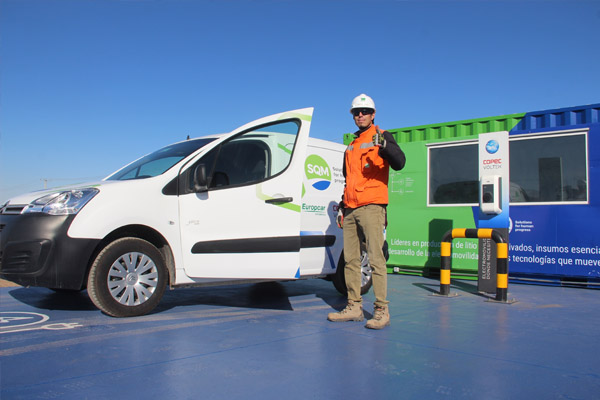 In order to reinforce and promote the use of clean energy, SQM and Copec inaugurated the first electric eco-charger in South America, in the Antofagasta Region, at its Salar del Carmen site. The eco-charger is designed to contribute to sustainable development and environmental care by reducing carbon dioxide (CO2) and greenhouse gas (GHG) emissions.
The initiative will constitute a contribution to governmentdriven energy policies such as "The 2018-2022 Energy Path," designed to modernize the Chilean power grid by way of a series of goals such as increasing the supply of e-vehicles on the market, expanding the reach of the charging station network, fostering research into electromobility and participating in various public-private projects.
This sustainable power system is fully off-grid, operating 24 hours a day, 365 days a year on 100% solar power that is generated by the 46 solar panels installed at a 15° angle in the 96-square-meter plot built for this purpose.
The system's small-scale photovoltaic plant absorbs the sun's energy which is then stored in the system's lithium batteries and later distributed through an electric charger equipped with a smart meter.
Solar charging stations Will soon be available at our sites in Antofagasta, María Elena, Tocopilla and Salar de Atacama.
One of the most important aspects of this operational milestone is that, in the midterm, SQM will be able to replace a percentage of its diesel-fueled vehicle fleet. For example, the Salar del Carmen warehouse now runs its daily errands in two electric vans.
SQM Employees Receive Environmentaltraining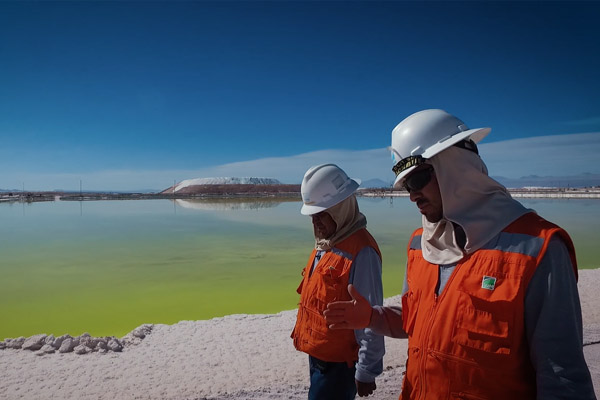 One of SQM's main commitments consists of guaranteeing that we operate sustainably, with respect for the environment and neighboring communities, thereby ensuring compliance with current legislation. In keeping with this premise, employees at our Salar de Atacama site and the areas of Communities, Environment and Hydrogeology, participated in training focused on learning more about miscellaneous initiatives that enable us to work in harmony with our surroundings and avoid any potential impact associated with our activities.
Training is designed to provide participants an opportunity to discuss topics of interest such as the geological formations in the Salar de Atacama basin, the Authorized Extraction Plan approved under the environmental permit (RCA), the most relevant aspects of the Chilean environmental institutional arrangements, project assessments under SEA guidelines (Environmental Assessment System) and projects approved for the Salar de Atacama site.
The main objective consists of providing sound knowledge and information as a basis for good decision making at the production level, while also understanding the effect of our day-to-day decisions on creating synergies between environmental care and concern and operations.