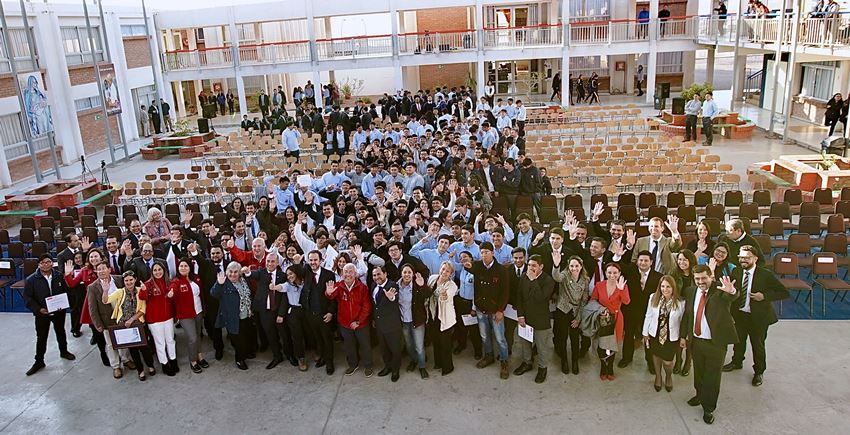 Three Hundred Students from Alto Hospicio Specialize in Mining Safety
04/Nov/2019
After completing the "Mining Safety Monitor" course, the students and 11 teachers from professional-technical schools in the area were certified at a ceremony led by the national director of the National Geology and Mining Service (Sernageomin), Alfonso Domeyko.
Professional-technical education in Alto Hospicio marked an important milestone by certifying 300 students and 11 teachers from the Hermano Fernando and Santo Domingo Sabio high schools in Mining Safety. After completing a demanding training program, these individuals are now able to identify the main risks in mining operations and apply management tools that help strengthen risk prevention activities in the industry.
This activity is groundbreaking in the Tarapacá Region since it is the only course certified by the National Geological and Mining Service (Sernageomin) targeted towards high school and professional-technical students and because it combines theory and practical classes.
Neil Rojas is a student from Hermanos Fernando High School specializing in metallurgy. As one of the students certified, she appreciated the opportunity to acquire new knowledge related to the industry where she wants to work after graduating. "It was a new experience because it is the first time I have seen a mining company's production processes up close. We had the opportunity to tour SQM's Nueva Victoria operations. The company opened its doors for us to learn how it works and all about its production processes. We really appreciate the invitation because we improved our knowledge of our specialty," she explained.
During the certification ceremony, Alfonzo Domeyko Letelier, the national director of Sernageomin, pointed out: "I am proud and honored to have attended this ceremony where we have trained more than 300 youth and 11 teachers from the district of Alto Hospicio on safety matters. One of our organization's main objectives is to educate mining industry workers on safety matters, which is why we are grateful to companies like SQM that help us complete this task."
Ismael López, Manager of SQM's Risk Prevention Department, commented: "For us it was a privilege to welcome these young people. We were able to show them our production processes at Nueva Victoria, the largest iodine production facility in the world. We also taught them how we address safety as a company and how we have been using the Lean methodology to improve our safety, production and cost indicators."
This initiative was launched by Tarapacá Regional Leadership and the Sernageomin Training Center in coordination with regional authorities from the mining and education ministries, as well as the Alto Hospicio Chamber of Industry. Support was also provided by some mining companies like SQM, which organized on-site technical visits for students to get an in-depth, insider perspective of the mining industry.