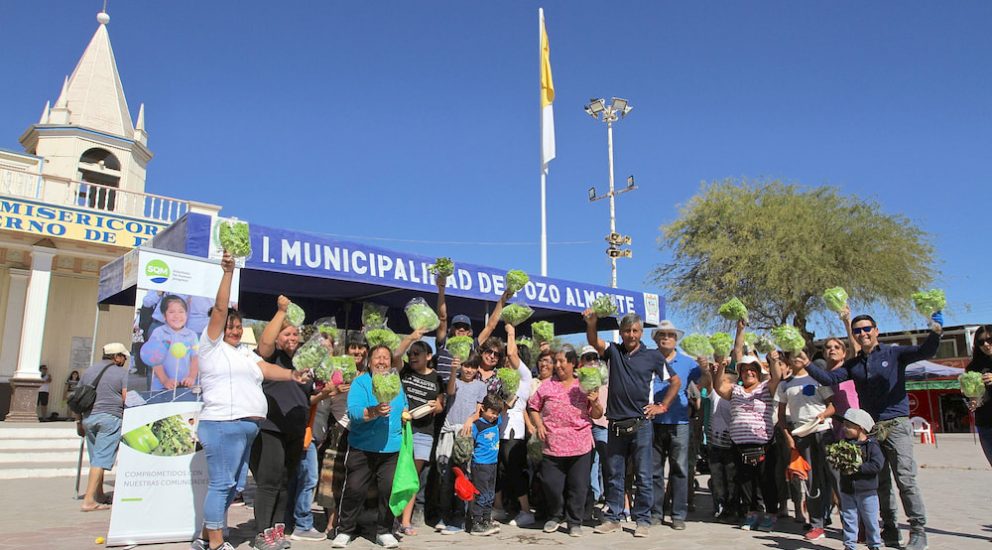 Farmers in La Tirana Join the Community to Celebrate Their First Lettuce Harvest
29/Jul/2019
The first 600 heads of hydroponic lettuce grown by the farmers were sampled by the townspeople and visitors that came to La Tirana to participate in the religious festival held on July 16th.
In the town's main square, farmers from the Pozo Almonte Agricultural Research and Development Center celebrated their first production milestone: the harvest of 600 heads of hydroponic lettuce of the "Baltimer" and "Cedar" varieties, which have already obtained sanitary permits from the Ministry of Health.
Local residents of La Tirana and parishioners visiting the town to participate in Chile's most important religious festival to worship the Virgin of Carmen had a chance to sample the products. They crowded around the stand to learn more about the pioneering, community-driven initiative.
Alejandro Riquelme, Head of Production Development at SQM, explained that the activity was a complete success and that "many people were surprised to learn that the fresh heads of lettuce were harvested by local producers in the heart of Pampa de Tamarugal, which piqued the interest of the community."
This was the result of extensive work between the farmers, SQM's Tamarugal Tierras Fértil Program and the Municipality of Pozo al Almonte, which led to the construction of a production center measuring 1,150 square meters. In addition to building the sophisticated greenhouse, the farmers were trained and advised throughout the production process. Given the positive results, projections call for production of 3,500 units each month to be sold at fairs and to restaurants and supermarkets in the region.
Pablo Pisani, Communications, Sustainability and Public Affairs Manager at SQM, commented: "Beyond the infrastructure, it is about ongoing support for the farmers to strengthen the family-based agriculture in the area and, thereby, help diversify the local economy. This milestone is the first of many we will accomplish together with the community."
The farmers are also using the hydroponic facility to produce melons, bell peppers, strawberries, beets and other crops.