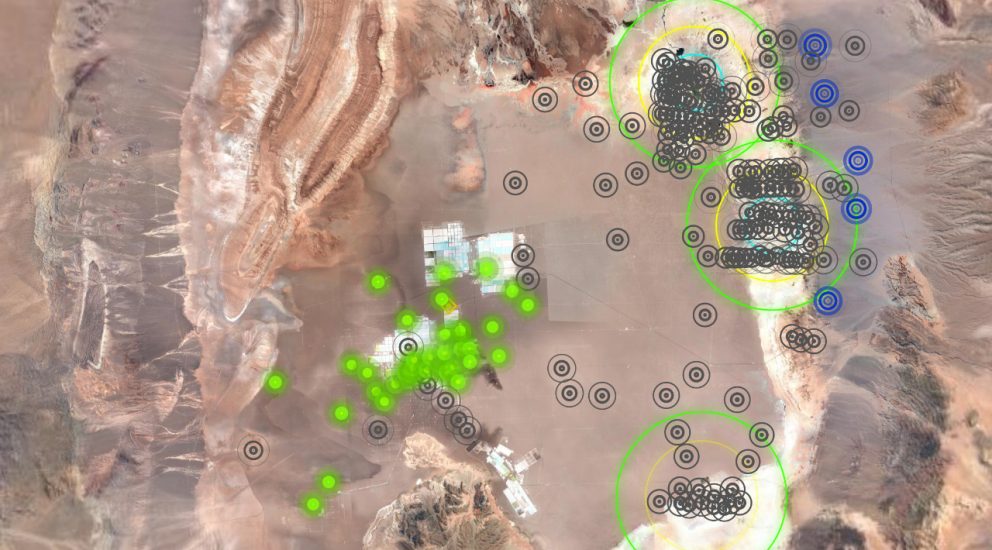 SQM Recognized by Antofagasta Industrial Association for Outstanding Sustainable Management
30/Dec/2020
The company earned the award for its initiative "Online Monitoring of Environmental Indicators and Extractions at Salar de Atacama Facility."
Unique in the domestic lithium industry, the system is used by SQM to publish daily reports on industrial water and brine extraction and other environmental information of interest. This act of transparency functions as a means of assurance for authorities, the community and interested parties.
Three individuals and seven companies from the Antofagasta Region were honored at the 2020 AIA Awards for their careers and outstanding management. "These awards highlight the contribution that local companies have made to our region's industrial, sustainable and technological development, particularly in light of our efforts as a trade association to support economic reactivation in the Antofagasta Region and throughout Chile," explained Marko Razmilic, president of both the AIA and the Antofagasta Region Mining Cluster Foundation.
One of the most important categories for this accolade is Sustainable Management, which is awarded for environmental protection. This year it was given to SQM for its project "Online Monitoring of Environmental Indicators and Extractions at Salar de Atacama Facility."
Although the Salar de Atacama lithium operations have always had an environmental monitoring system, for the first time ever the data is available on a daily basis and can be accessed by all interested persons and organizations. Thus, SQM has gone beyond other regional and national industry players to reinforce the creation of shared social value as well as concern and respect for people, the environment and communities.
The site (www.sqmenlinea.com) is a milestone towards sustainable mining, providing access to parameters and variables from approximately 300 measurement points set up by the company in its area of influence in the Salar de Atacama. Site visitors can access information regarding brine and industrial water extraction, meteorological data, biotic variables and other information of interest in order to learn more about its operations and the status of the environment.
According to Javier Silva, Director of Salar Contracts and Sustainable Management for SQM, "the site contains information on extractions and levels from the continuous measurement system and other readings taken on site by SQM personnel and external entities qualified to carry out these tasks. The frequency of these measurements is based on the Environmental Qualification Resolutions (RCA in Spanish) in force, and rulings from the Superintendency of the Environment."
The executive added, "This online monitoring system is designed to expand information on sensitive environmental systems and surrounding areas in order to enhance knowledge of their hydrogeological, hydrological and biotic dynamic. It also improves control in the event of deviations so that concrete, preventative actions can be taken to ensure that extraction levels meet environmental commitments. We are committed to making this information public as a means of data verification and in order to assure the sustainability of the Salar de Atacama."
Certifications and Sustainability
SQM's sustainability-related aspirations include goals in the following areas: Our Environment, Our Communities and Our Contribution to Sustainable Industries. More specifically, SQM commits to: "cutting brine extraction in the Salar de Atacama by half by 2030, which began with a 20% reduction in November 2020; reducing consumption of continental water at all operations in Chile by 65% by 2040, starting with 40% by 2030; and being carbon neutral in all our products by 2040 and in lithium, potassium chloride and iodine by 2030.
In order to report on its advances in sustainable management with greater transparency, SQM measures and certifies its annual sustainability report using the methodology developed by the Global Reporting Initiative, GRI. S&P Dow Jones Index recently announced the results of its latest assessment process. SQM qualified for both the DJSI Chile Index and the DJSI MILA Pacific Alliance, representing another major achievement for the company.
Furthermore, in September in the Salar de Atacama SQM began the self-assessment process developed by the Initiative for Responsible Mining Assurance, IRMA. IRMA is one of the most ambitious international certifications in sustainable mining, measuring improvements in employee health and safety, human rights, community involvement, pollution control, rights of indigenous peoples and transparency, among other requirements.