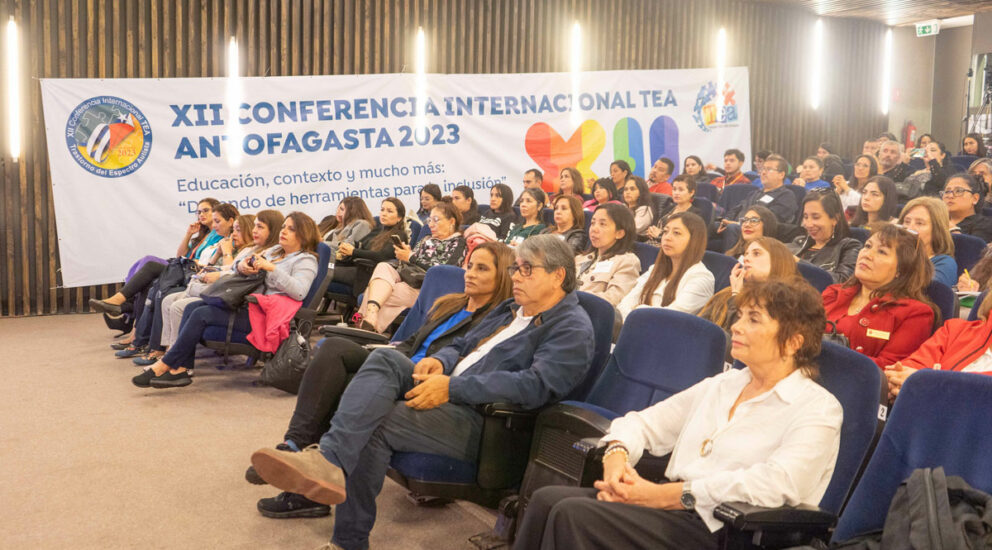 XII International ASD Conference 2023 held in Antofagasta was a success
03/Nov/2023
More than 100 people attended the meeting, which focused on providing tools for behavioral support of people on the autism spectrum.
Raising awareness and exchanging knowledge about autism spectrum disorders was the main objective of the XII International ASD Conference 2023 "Education, Context and Much More, Providing Tools for Inclusion," an initiative organized by the Teautismo Foundation with support from SQM.
The event took place at the Huanchaca Ruins in Antofagasta and was targeted towards special schools, teams from the Work Integration Program (PIES) and family members of people on the autism spectrum.  Participants learned how to manage challenging behaviors and the importance of the environment in preventing them.
The Regional Director of the Chilean National Disability Service (Senadis), Vianney Sierralta, took part in this event and commented "I believe that the most important aspect of this seminar were the experienced speakers presenting on new paradigms so participants can incorporate them in education, at home, or with their family."
Gloria Zamudio, director of the Teautismo Foundation said, "This type of initiative would not be possible without the support of SQM, which allows us to share it with Antofagasta, as well as national and international audiences via streaming."
For SQM this type of activity seeks to generate shared social value around education, aspiring to convey information to the community through experts in different areas.
"For SQM it is very important to be part of these issues. We believe that we have to support this cultural change, which is so new for us as a community," added Manuel Ossandón, SQM's Head of Community Relations.
One of the lecturers at the activity was Carmen Márquez López, who has a master's degree in Consulting and Organizational Development Processes from Universidad de Valladolid (Spain). Together with the foundation's team, she toured Tocopilla and María Elena, through the Krreteando por el Desierto program, giving a talk on positive behavioral management for people on the autism spectrum.
"We participated in day-long training sessions in Antofagasta, María Elena and Tocopilla, talking about the model of positive conceptual support, which is backed by scientific evidence to work on situations of dysregulation in people on the autism spectrum," explained the lecturer.
One of the attendees at the talk in Tocopilla was Mayra Bugueño, a speech therapist at the Carlos Condell de la Haza School in Tocopilla, who spoke about the importance of this type of activity.
"We could train ourselves, but there are costs involved because we are in Tocopilla and workshops are not usually held here, so we have to travel and that costs money. So the fact that it was done right here and free of charge is very valuable," said the professional.
Elizabeth Álvarez, a teacher at the Arturo Pérez Canto School in María Elena, pointed out that "it was an opportunity to learn more strategies to work with our children. If we don't understand them, we don't understand their needs, which are not special needs, but need special support."