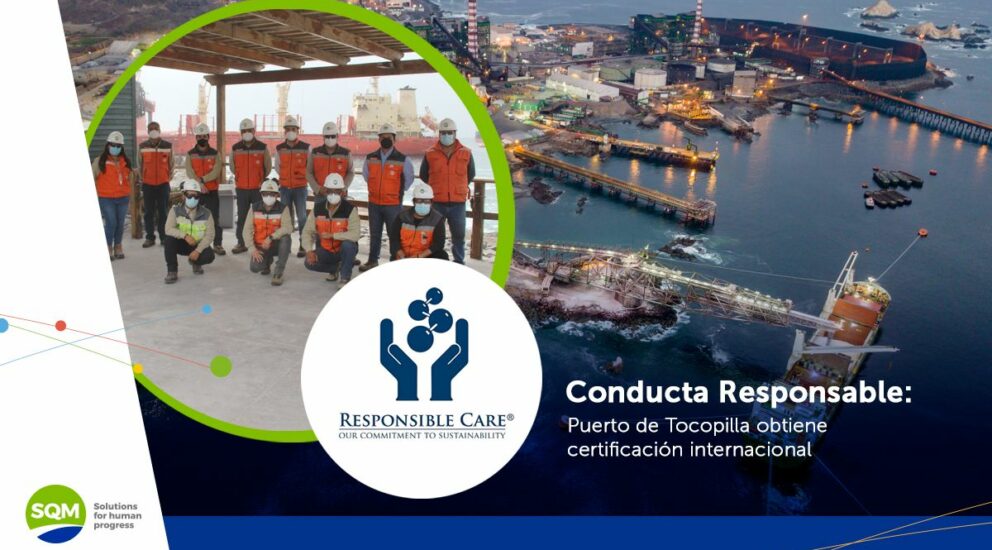 Responsible Care: Port of Tocopilla obtains international certification
20/Dec/2021
SQM's port facilities decided to voluntary participate in Responsible Care, a verification process to promote continuous improvement and excellence in the areas of occupational health, environmental protection, community engagement, industrial safety and facility security.
The traditional, historical port of Tocopilla is the point of departure for SQM's products being exported around the world and an important link in the company's production chain. It has adapted to the industry's new requirements and aspires to achieve high international standards and reinforce the value of sustainability with a focus on people, community engagement and the environment. It strives to do this in diverse ways, such as participating in the international verification process Responsible Care, an initiative led in Chile by the Chilean Chemical Industries Association (ASIQUIM).
Following a series of on-site audits, ASIQUIM verified the port's compliance with the six basic principles that govern the initiative, thus passing the certification process. With this accomplishment, it joins the select group of chemical companies meeting an international standard that goes beyond legal compliance in matters like Safety, Health, Environment and Corporate Social Responsibility.
Responsible Care is a voluntary commitment for the global chemical industry and is aligned with SQM's Sustainability Plan. It ensures compliance with the six basic principles promoted by this certification: continual improvement in environmental, health and safety performance; efficient use of resources; listening to, integrating and working with the surrounding community; and providing assistance to promote responsible management of chemical products.
Jorge Tellez, SQM's Operations Manager at the Port of Tocopilla, explains how work was defined on a road map marked by three milestones in order to contribute to the company's sustainability aspiration. These milestones were achieving Responsible Care verification in 2021, earning ISO 14,001 certification in the second half of 2021 and, after that, the goal would be to move forward in 2022 on the Eco Port certification given by the European port sector. All these efforts have a special seal and identity characteristic of the port city.
"We aspire to be the best port alternative for SQM and the best exit point for its products. All this is based on and aligned with the company's key pillars, which are people, from a safety perspective; processes, through standardization and continuous improvement; community; and respect for the environment. We have added a fourth value–sustainability–that challenges us to modernize this port partly through new investments but, more importantly, by harnessing our people's potential in order to generate new ways of working," Tellez explained.
Action plan
The executive attributed today's progress towards the port's goals of verification and certification to two factors: the management improvement processes based on the Lean M1 methodology and an investment plan that, according to him, enabled the company "to enhance the facilities with more, higher-standard storage yards, enclosed warehouses and additional conveyor belts. These investments also extended the useful life and increased the reliability of the port's mechanical arm, considered our most important asset and a symbol of SQM's production identity in Tocopilla".
In sustainability matters, he underscores that the port has campaigns on sustainable energy and water use, along with a plan to reduce waste and recycle industrial waste used in operations such as tarps, plastics and wooden pallets. He adds that the objective is to lengthen the product life cycle and create an alternative use, generating a circular economy with some elements or reducing them as much as possible, with targets for 2021 and 2022 of cutting waste by 20%.
As for community engagement, he underscores the importance of ongoing work and communication with different local players, such as schools in Tocopilla, the agreement with and support for vertical gardens, computer facilities and contributions in the fields of culture, sports and healthy living.