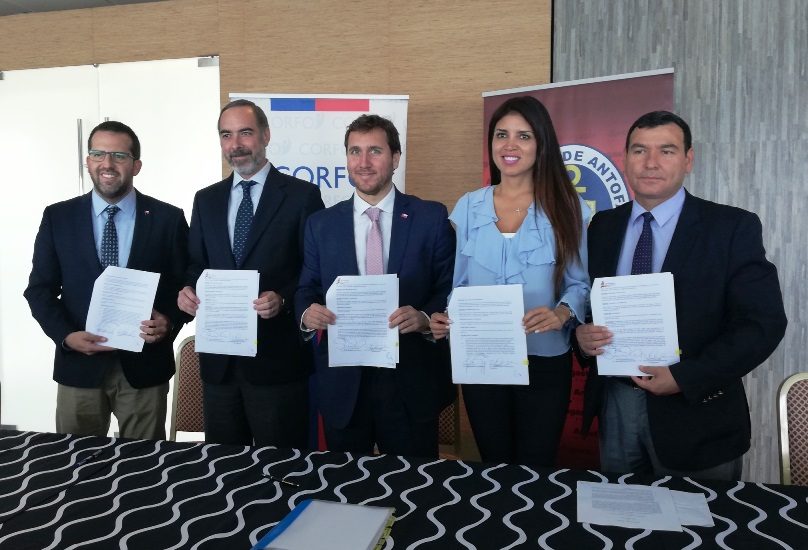 CORFO, SQM and Municipalities Sign Agreements to Complete First Delivery of Resources Agreed in Salar de Atacama Contract
03/Dec/2019
The municipalities of Antofagasta, San Pedro de Atacama and María Elena will receive annual contributions until the SQM contract expires in 2030.
The municipalities of Antofagasta, San Pedro de Atacama and María Elena signed agreements defining the conditions for the resources handed over annually by SQM until the contract with Corfo in the Salar de Atacama expires in 2030.
These agreements establish the contributions to be made as a percentage of SQM's sales, specifically 0.2% in San Pedro de Atacama, and 0.1% in both Antofagasta and María Elena. This year that percentage is equivalent to US$ 1,545,494 for San Pedro de Atacama, and US$ 772,747 for the other two municipalities.
"As Corfo, in our role of contributing to Chile's development, we have helped connect these contributions from SQM to the municipalities. They will be allocated to improving the quality of life of their residents through annual infrastructure improvements until 2030, which will result in visible progress in their districts. We are committed to regional development and decentralization, and, in this spirit, these agreements are a win-win for everyone," remarked Pablo Terrazas, Executive Vice President of Corfo.
"The contributions are framed within the corporate support we want to provide to regional development and also to the communities near our operations. We are part of the region, part of the community and, therefore, we want to contribute to their development," commented Javier Silva, SQM's Salar Contract Manager.
The municipalities may only invest the contributions in investment projects, which will be monitored by the Chilean Office of the Comptroller to make sure the resources are used in accordance with current regulations.
In Antofagasta, the contributions will be used for the "Plaza El Salar" project, while María Elena will build a multi-purpose facility to be used as a gymnasium and theater in the covered sector of the city hall building, which will provide diverse services to the community. San Pedro de Atacama has not yet earmarked it for a specific project but will select an initiative from its District Development Plan.
Investors Visit Salar de Atacama
On November 28th and 29th, Corfo joined several investors interested in adding value to lithium, touring SQM's operations in the mining claims that are owned by the state entity in Salar de Atacama.
The call for investors to participate in this process began in April of this year and will end in March 2020, with the grant being awarded in May 2020. The selected companies may purchase up to 25% of SQM's lithium production at a preferential market price and with guaranteed supply. They may also opt to use 10% of the resources that will be allocated to the consortium that is awarded funds from the Clean Technology Institute.
Examples of value-added lithium products that may be produced in Chile include electric vehicles, stationary storage batteries and new, more sophisticated lithium derivatives.
Comunidad
litio verde
Salar