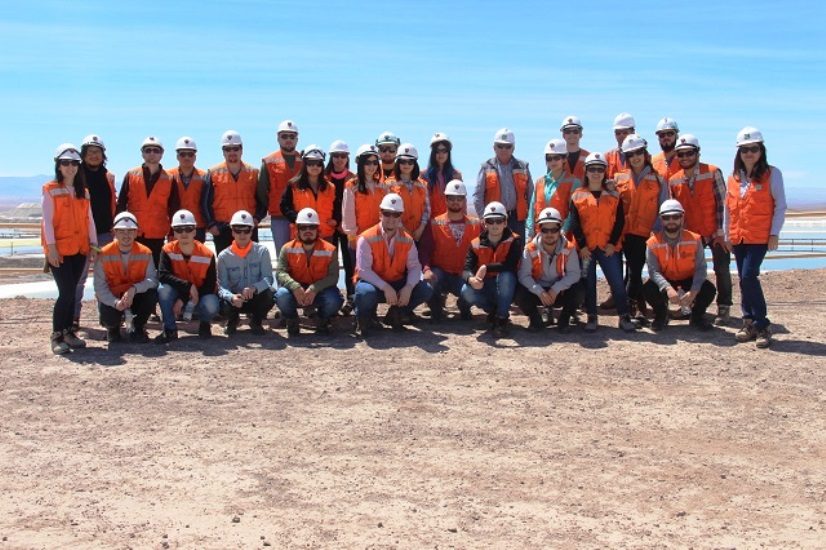 From Valpo to Coya
05/Dec/2019
Students from Universidad Católica de Valparaíso toured the plant to learn more about the facilities and the production processes for potassium nitrate and solar salts.
Twenty-eight future civil engineers specializing in extractive metallurgy left the colorful hills of the port city of Valparaíso (known colloquially as "Valpo") to delve into the pampa and get first-hand knowledge of the work done by the Iodine and Nitrates Senior Vice President in Coya Sur.
Before beginning their tour, they were given a detailed presentation explaining the process, including educational videos about the production chain from extracting raw materials to producing potassium nitrate and solar salts, in the case of Coya Sur, and iodine in Pedro de Valdivia. The students also learned more about the different uses and applications for these products, which are key to strategic industries for human development such as food, health and clean energy.
The delegation was led by Carlos Durán, Head of Operational Improvements, who began the tour at the iconic lookout point where they could appreciate the expanse and magnitude of the operations.
One by one, Durán answered all questions posed by the students, eager to learn, such as Valentina Alliende, a fourth-year student in the civil engineering program with a mention in extractive metallurgy. "I was really struck by the dimensions of the operations, especially the evaporation pools. We have seen several metal mines, but this is the first time we have seen chemical processes and, the truth is, they are really surprising.
Alliende added, "Our curriculum does not have courses that teach us about crystallization or pond evaporation. It is very focused on metal mining and we are realizing that there is much of the field that we aren't familiar with and that should be explored while at university."
For SQM it is important for students from programs such as metallurgy learn about its processes and for the company to contribute to training future industry professionals. "We invite all students to participate in SQM's apprentice program at our facilities. We need and want to work with the best, with people that want to learn, contribute and create, because our professionals' innovation and creativity are key in many of our processes," commented Leonor González, Head of Community Affairs.
These "Go and See" initiatives are led by the offices of Communications, Sustainability and Public Affairs, together with the Operations Division at Coya Sur, which have an "open-door policy" to regularly welcome delegations of university students looking to learn about the production processes behind the five business lines that SQM markets and sells on 6 continents.