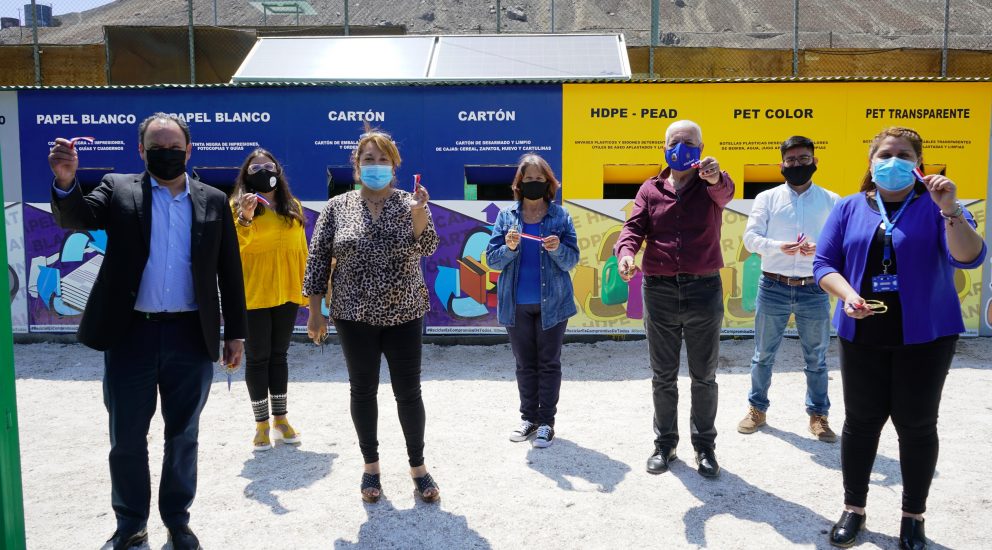 Region's First Smart Recycling Center Opens in Tocopilla
15/Jan/2021
Environmental protection and education are the core concepts behind the implementation of the first smart community recycling center inaugurated in the port city by SQM in partnership with the Mr. Barber Foundation.
This milestone is complemented by 12 mini-recycling points distributed throughout the city and a series of talks on effective recycling that are open to the entire community.
The emblematic Villa Prat will become the epicenter for recycling in Tocopilla, where residents can access the first smart recycling center for the following types of waste: aluminum cans, white paper, cardboard, colored and transparent PET and HDPE.
A 100% sustainable project, this community space unlike any other in the Antofagasta Region features cutting-edge technology and solar panels for energy autonomy to power the WiFi system and closed-circuit TVs used to monitor conditions in real time from any mobile device.
The recycling center has a storage capacity of 12×2.5 meters and will be open to the entire community regardless of where residents live. However, to bring recycling even closer to Tocopilla families, the project also calls for 12 mini-recycling points in different parts of the city that will be coordinated by neighbors from that particular area. To implement this, over 160 local families are participating in workshops on effective recycling designed to equip them with broad knowledge that will help users properly handle and sort household waste.
Pablo Pisani, Director of Communications, Sustainability and Public Affairs at SQM, commented: "Through the recycling center and the mini-recycling points we hope to make recycling a habit among Tocopilla families. This initiative was already implemented in María Elena and was well received by families there. We hope the same happens here, so we are also implementing a robust recycling program to train residents on recycling topics so they can become certified as environmental agents and promote proper use of the space."
Mariza Espinoza, president of the Tocopilla Neighborhood Council, explained: "As a neighborhood council, it is very important that they teach us the whole process. It is not enough to just install it and then tell us to use it. They are teaching us how the whole process works and that is very good because we will pass on that information to the rest of the community to learn step-by-step how to recycle."
Carolina Elgueta, director of the Mr. Barber foundation, commented: "For us it was essential to build networks and, to that end, we cultivated very good relationships with the municipality and SQM, based on the marvelous experience we had with the mining company in María Elena. When the idea of replicating the initiative in Tocopilla came up, we did not hesitate, even when we proposed involving the community through different neighborhood councils, which, for us, is key to any initiative. We ask the community to get the most they can out of the centers, since this is a community space designed to support and develop environmental awareness and a culture of recycling."
Meanwhile, Luis Moyano, Mayor of Tocopilla, remarked: "Recycling in the district is possible with involvement from everyone, to make sure that trash does not end up in landfills. We have been expanding green areas and implementing different environmental care programs, so we are very thankful to SQM and the Mr. Barber Foundation for helping beautify Tocopilla. By working together we really will go further."
The Recycling Center is open Monday to Friday from 10:00 a.m. to 6:00 p.m.