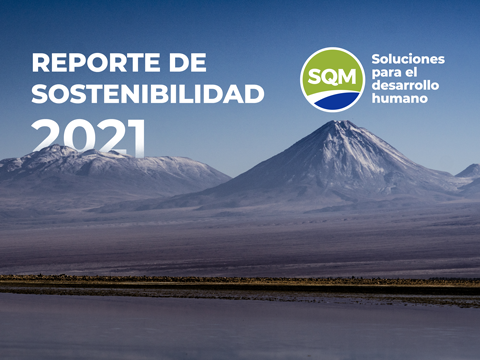 SQM 2021 Sustainability Report: Promoting a sustainable industry
10/May/2022
The co-creation of social value with community partnership, individual rights, innovation, environmental protection and operational excellence are some of the values enshrined in this new edition.
The presentation of the new 2021 version of SQM's Sustainability Report focuses on the rise in women in its workforce, environmental advances towards carbon neutrality and an expansive portfolio of community initiatives in the Tarapacá and Antofagasta regions in the areas of education, culture, social development, historic heritage and healthy living.
For the 13th year in a row, following the principles of the Global Reporting Initiative (GRI), SQM presented its report, which lays out its unwavering and comprehensive commitment to the industry's sustainability and future in the coming years. The report is based on the company's Responsible Business Strategy, Policy on Sustainability, Ethics and Human Rights and environmental, social and production goals and commitments.
Since 2020, this publication has included the Global Compact's Communication on Progress (COP), and for the first time, it includes a report on SASB standard indicators, for which SQM is situated in the chemical companies group. Since 2019, the Sustainability Report also has been externally verified by Deloitte Advisory SpA.
In this new version, the company highlights its Responsible Business Strategy and how it connects with the UN's 17 Sustainable Development Goals, showing SQM's main actions and progress in fulfilling the targets of the SDGs it supports.  The report also highlights the company's efforts in areas such as human rights and innovation, research and development, reporting on its management of these areas and related initiatives carried out in 2021.
"At SQM, we have made a commitment to sustainability with responsibility and have adopted this as one of our values, making it an essential part of our roadmap, along with Safety, Excellence, and Integrity. These values are based on three pillars of action: Our Environment, Our People and Our Contribution to Sustainable Industries. Upon this foundation, each year we set goals and take on commitments, which are set out in this report and are now part of our history and our future," affirmed José Miguel Berguño, SQM Senior VP of Corporate Services.
Among the company's main commitments, the current report ratifies its pledge to continue the process begun in November 2020 to halve its brine extraction by 2028. The report also reiterates the company's intention to reduce its freshwater consumption by 40% by 2030 and 65% by 2040, based on 2020 projections, and its determination to make all of its products carbon neutral by 2040.
KEY MILESTONES AND CHALLENGES           
Today, the company has 6,081 direct employees in Chile and around the world, 53% of them residing in the Tarapacá and Antofagasta regions. Of these, 18.2% are women, which is a 20% increase over 2020 and surpasses the national industry average. SQM also averages 9,036 direct employees annually and recorded close to 98,000 staff training hours in the latest period.
In the environmental sphere, over the past year SQM invested US$31.127 million, reducing its direct water consumption by 27% per ton of lithium carbonate produced and by 20% per ton of lithium hydroxide. In this same context, in 2021 a total of 1,315,814m3 of treated wastewater was reused in different stages of production.
In regard to pollutant emissions, the company reduced its emission intensity per US$ million in sales by 28% over 2020, and its emission intensity per ton produced by 9%. It also reduced its emissions per ton of lithium carbonate and lithium hydroxide produced by 6%, using 91.3% renewable energy.
As in each year, SQM and its neighboring communities co-create and implement diverse projects under four lines of action: Education and Culture, Social Development, Cultural and Historical Heritage and Community Wellness, Health and Safety. This bond with local communities was built on a foundation of transparency, respect, trust and direct involvement. As a result, in 2021 the company invested a total of US$5,449,296 in these programs in collaboration with 158 institutions, foundations and corporations in Chile, giving rise to 32 work and community relations groups and opportunities for multi-sector coordination, all still active, and benefiting thousands of families in the country's Norte Grande.
Lastly, in economic terms, the company recorded revenues of US$2.9 billion and had 720 suppliers in the Tarapacá and Antofagasta regions, representing 22.6% of its total purchases. Overall, in the past fiscal year, SQM achieved a customer satisfaction rate of 97.32%.
We invite you to read the 2021 Sustainability Plan here: https://www.sqm.com/sustentabilidad/reporte-de-sustentabilidad/